Philadelphia
Classic Philadelphia
Drinking History
By Sebastian Fortino
City Tavern
Today almost everyone has a touch of vintage in their lives, whether you collect vintage items, are a fan of Mad Men or watch Downton Abbey. Therefore, it should come as no surprise vintage cocktails have captured the hearts – and perhaps hangovers – of today's imbibers. Boasting 330 years of history Philadelphia is an ideal city to catch up on this classic trend.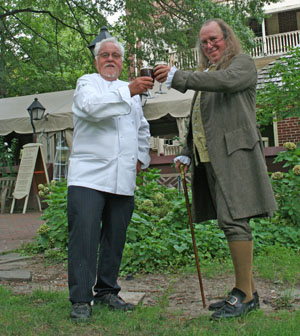 In fact, one could easily tour the city via venues mixing up some cocktail history. Consider stopping by The City Tavern, founded in 1773 mere blocks from Independence Hall in the Old City section of town. Their quaint bar features Early American antiques, a roaring fire during those colder months and historical drinks such as The Winter's Kiss, made with eggnog and Chambord, and The Tavern Warmer, made with warm apple cider, peach brandy, rum, whiskey and a cinnamon stick. In the summer it's called The Tavern Cooler, and made with chilled apple cider. 
The Tavern Warmer
1 oz   Peach Brandy
1/2 oz Jamaican Rum
3/4 oz Whiskey
8 oz   fresh apple cider
1   Cinnamon stick
Heat the apple cider in a small sauce pan over low heat until it reaches desired temperature.  Pour cider in a tall glass and add Brandy, Rum and Whiskey.  Garnish with the cinnamon stick and serve immediately.
"Any drink made with apple cider is satisfying but this one is a favorite because it's potent yet delicious," said Chef Walter Staib of the drink. Staib took over the iconic tavern nearly 20 years ago and added finessed-but-traditional recipes from Early American sources. In fact The Winter's Kiss came to Philadelphia from Germany's Black Forest and was first recorded here in the late 18th century.
The City Tavern
City Tavern
138 South 2nd Street
Philadelphia, PA  19106
(215) 413-1443
The Farmers' Cabinet
The Farmers' Cabinet, opened up last spring by Matthew and Pauline Schwartz, in the Washington Square West section of Philly, takes its name from mid-nineteenth farming guides once published in Philly and other cities.
"A lot of our aesthetics are drawn from early American saloons, but we elevate it with live prohibition jazz every evening. We want it to be an exciting, comfortable and nostalgic drinking environment," said Valerie Boyle, their bar manager. "The ambiance is further aided by candlelight and oil lamps."
Valerie certainly knows her cocktails and speaks lovingly of how classics have taken over the scene here. The cocktails we know as classic really grew with the country as they were defined in the 1800s, when liquor, bitters, sugar and ice became easier to procure and quite fashionable.
"Ice," Valerie said profoundly, "was a huge advancement of drinking culture. For instance you want a larger piece of ice for an Old Fashioned, while a Mint Julep really needs shaved ice to make a sort of slushy."
The bar does not stand on pretension – even if you only drink vodka tonics. However, if you are a novice to the world of classic cocktails they are willing to educate you. In fact they call their menu a "cocktail program" which boasts recipes from original sources dating back to the 1800s and early 1900s.
"We are really proud to serve The Philadelphia Scotchman, a drink which originated in 1930. Despite the name there is no Scotch in it. It consists of apple brandy, ruby port, ginger syrup, orange juice and club soda," Boyle said. "It's a favorite at the bar."
Of course part of their mission is to serve classic cocktails and the other is to build on classic drinks. This past summer they served up the Muriel on the Rocks made with a local gin, house-made blue Curacao, lime-juice, sugar, black Hawaiian sea salt, sage and egg whites…and they kindly shared recipe.

Murial on the Rocks
1.5 oz Bluecoat American Dry Gin 
1/2 oz blue tinted triple sec (Combier tinted with blue vegetable extract)
3/4 oz lime
3/4 oz simple syrup
1/2 oz egg white 
4 fresh sage leaves 
Black Hawaiian Sea Salt
Sage Leaves  
Build cocktail with one sage leaf, add egg white. Dry shake. Add ice. Shake until chilled. Strain into rocks glass garnished with remaining sage leaves and cracked ice. Top with black Hawaiian sage leaves and Black Hawaiian Sea Salt. 
"It really looks like the ocean captured in a glass," Boyle said fondly. 
The Farmer's Cabinet
The Farmers Cabinet
1113 Walnut Street
Philadelphia, PA  19107
(215) 923-1113
Chez Georges
If you are a Francophile or you happen to be in the Rittenhouse Square District of the city consider stopping at Chez Georges. This truly elegant and cozy bistro is tucked neatly into the basement of Le Bec Fin. The boîte has its roots in Philadelphia's famed restaurant renaissance of the 1970s and 80s.
However, times have changed and – in addition to revamping Le Bec Fin's look and menu – Chez Georges was born. Unlike the upstairs dining room reservations are simply not taken. The bistro captures the elegance of Paris and serves cocktails to match. The French 57 is a play on a French 75, created at the New York Bar in Paris in 1915. Some of the ingredients diverge from the original recipe, such as the inclusion of St. Germain liqueur, a heavenly substance made from Swiss elderberry flower.
The New Orleans Sazerac recalls French heritage via New Orleans. Peychauds bitters are featured but, while the French version uses cognac, the Louisiana incarnation uses rye whiskey. This drink certainly packs a kick, refined from the bitters and Pernod Absinthe Superieur, which is used in many of their drinks.
Sazerac
2 oz Rye whiskey
3/4 oz simple syrup
7 dashes Peychauds bitters
1/4 oz chilledAbsinthe.
Rim low ball glass with lemon twist.  Stir over ice without the Absinthe, strain into lowball glass; float chilled Absinthe on top and drop in a twist.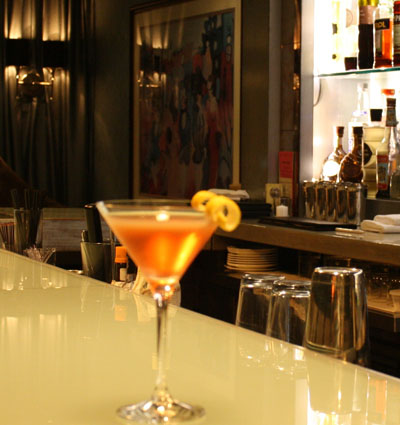 Another classic, or take on a classic, is perfect if you like rum and is called the Chartreuse Swizzle. In addition to rum this cocktail incorporates one of my favorite ingredients: herby, emerald colored Chartreuse served over refreshing crushed ice.  
So, the next time you're in The City of Brotherly Love remember there is more to please your palate than cheesesteaks and soft pretzels. Although…this native Philadelphian does admit they have their merits too.  
Chez Georges at Le Bec Fin
Le Bec Fin
1523 Walnut Street
Philadelphia, PA  19102
(215) 567-1000