Simple Syrup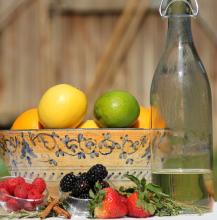 It is easy to make your own Simple Syrup, it is easy and cheap!
Ingredients:
Sugar - 1 Cup
Water - 1 Cup
Preparation:
In a sauce pan bring sugar and water to a boil. When it starts to boil turn the burner to low and continue to stir until the sugar is melted about 3 - 5 minutes. Let cool. You can store in the refrigerator for up to 30 days. It is great to keep on hand as it can also be used to sweeten iced tea, coffee, lemonade...
Instead of buying expensive syrups you can make your own by soaking fruit, herbs or spices to make an infused syrup. For stronger flavor you can add them as the syrup is simmering. Run the syrup through a sieve to strain all the particles out before storing.
Some favorites:
Raspberries
Orange
Grapefruit
Mint, Muddled to release the oil
Basil, Muddled
Rosemary
Thyme
Peach
Apple (great for fall, buy organic that have some taste not Red Delicious)
Pomegranate - yummy for margaritas
Lime
Espresso
Hot Peppers
Cinnamon
You get the point any flavor that you like! It helps mix well with the cocktails and diffuse the flavor through out the drink.