San Francisco - Where To Go
San Francisco - The Velvet Cantina
I took a weekend jaunt up to San Francisco last week to see some family and friends. After a long sunny day of walking around the Historic Mission district, The Embarcadero, and Land's End, we cooled our heels and satisfied our appetites in one of my favorite San Francisco restaurants, The Velvet Cantina. Located on 23rd attracting a young, hip and diverse crowd. It's a convenient place to stop on your way to a show, in the middle of a bar crawl, or after a day of sightseeing.
It's accommodating for big parties, quick friend- dates at the bar, or romantic date nights. The vibe is hip and party-like, with its moody club music and red-infused lighting. The chips are that perfect kind of crunchy, and the servers keep watch like vigilant hawks to swoop in and refill empty baskets. The salsa is picante and liquidy.
The drinks are, as they say in the Bay Area, hella strong. I went for the cilantro gimlet this time, with 100% Agave Silver Tequila, lime juice, agave nectar, and muddled cilantro. Classic flavor pairings, a simple mix. It was heavy on the tequila side – those drinks pack a wallop. But it's worth it for the top-shelf tequilas and mescals that The Velvet Cantina serves. Their margaritas are made with 100% Agave Dos Manos, Herradura Silver, or Antigua Silver. Good stuff, to say the least. You won't find a second-rate pre-made marg mix here. Only fresh fruit juices, smooth fiery tequilas, and high-end liqueurs.
You can also order shots from their selections of more than sixty different tequilas. As their informative menu explains, the silvers are aged fewer than 45 days in stainless steel, the reposados are aged from 2 months to one year in wooden barrels, and the wizened Anejos are aged for up to 3 years in wooden barrels. Depending on how much smooth agave or other complex flavors you want, you can choose the right tequila for what strikes your fancy.
I haven't even gotten to the food yet. If you can resist the temptation to fill up on the delicious, free, and copious chips and salsa that ceaselessly appear on your table, go for The Velvet Cantina's hearty entrees like the Chicken Mole, the Bordello Burrito, or the Shrimp Diablo. The latter is smothered in spicy garlic tomato sauce. If you're in the mood for lighter fare, the ceviche from the appetizers menu is a small refreshing citrus delight. If you have room for dessert, spring for the 'smores nachos, a genius food combination worthy of a medal. College students everywhere should be grateful. Fried flour tortilla strips dusted with cinnamon and sugar, crushed graham crackers, Mexican chocolate and flaming marshmallows. St. just off of Valencia, The Velvet Cantina is riding the wave of Mission District cool,
3349 23rd Street, San Francisco, CA 94110
On 23rd and Bartlett, between Mission and Valencia.
Ring-a-ding-ding: 415.648.4142
Sunday–Thursday: 5PM-12AM
Friday–Saturday: 5PM–2AM
San Francisco - Big
When you first walk into Big you notice the fact that it is not big at all, in fact an argument could be made for tiny.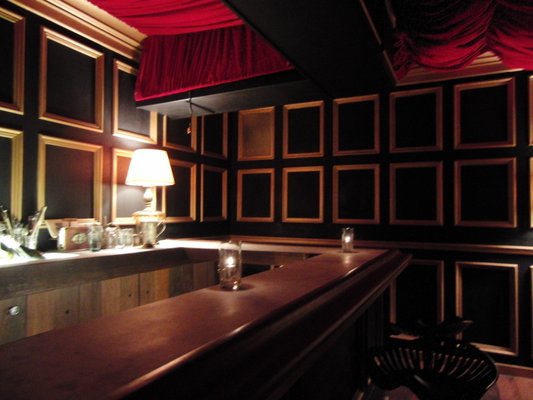 Then you pony yourself up to the bar and get a handcrafted cocktail from the mixologist manning the bar and realize that big isn't a description of the bar but rather the drinks. With a variety of top quality liquors, the freshest fruits, and homemade syrups the drinks are only limited by your sense of adventure. The mixologists seem almost like mad scientists as they sit behind the bar with their shakers, jiggers, eye droppers, and various other tools of the trade making the most wonderfully delicious concoctions. With no set menu, and the pension for experimentation, the bartenders only need to know what liquor you want and the taste profile you are in the mood for and sit back and enjoy the fruits of their labors. From the classics to the custom the drinks here are sure to please.
761 Post St
San Francisco, CA 94102
Big
San Francisco - Rickhouse
Does the thought of walking into a bourbon barrel and sitting down to enjoy a drink appeal to you? Then Rickhouse may just be the bar for you. Between the wood filled dcor and the bookcase of alcohol, complete with rolling ladder, there is much here to enjoy. With drinks covering the entire spectrum, from local and craft beers to boutique California wines to specialty mixed cocktails, they have a little something for everyone. There is an intimate loft area but these and other seating areas fill up quickly so if you want a seat come down early. They even serve punchbowls for groups, served with individual cups and an ornate punchbowl. The Payback Punch, with fresh blueberries, raspberries, and lemon wedges and a healthy helping of gin, is sure to please your group.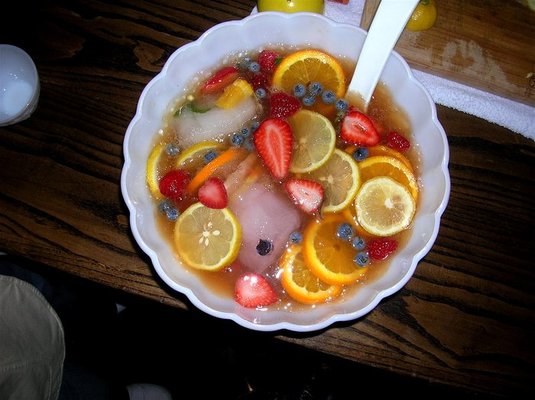 246 Kearny St
San Francisco, CA 94108
(415) 398-2827
Rickhouse
San Francisco - Bourbon and Branch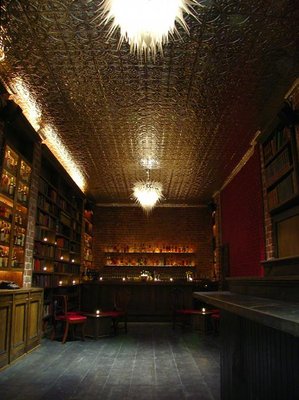 Do you want a true speakeasy experience? Then look no further than the Bourbon and Branch, with their secret rooms and passwords you will feel as if you have truly stepped back in time to when getting a drink was a taboo affair.  If you decide to drop by on a whim you better know the password to the library, aptly named as the entrance is hidden behind a bookshelf or else you will not be getting in. They have smaller bars and rooms available for those who make reservations. I know what you are thinking "Reservations? For a drink, you can't be serious," but I am, and it is definitely recommended as the library fills up fast.  As for the cocktails, they have a mastery of the classics, as any speakeasy should, such as the French 75 and the Gin Gimlet.  Come prepared for a good time and with password on hand and you shall not be disappointed by this San Francisco speakeasy.
501 Jones St
(between Ofarrell St & Geary St)
San Francisco, CA 94102
(415) 346-1735
Bourbon and Branch
San Francisco - Smuggler's Cove
If you are looking for somewhere to have a good drink and fun with friends then this is the den for you. The entire bar is decorated in a pirate theme, which may sound cheesy but trust me by the time you take the first sip of your drink all thoughts of cheese will be gone replaced soundly by those of rum. I say rum will be on your mind because this bar mainly serves rum, and lots of it, in keeping with the pirate theme. If you are a rum fan then this place is for you, with over eighty drinks on the menu and almost all of them rum drinks.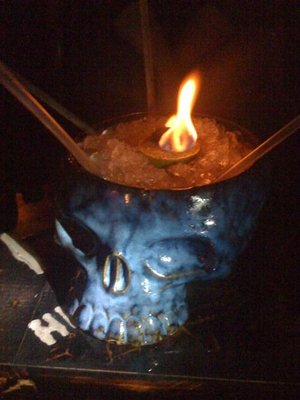 They have a Volcano Bowl, which is actually set on fire in front of you, and a Scorpion Bowl available to share with friends, recommended for four. Although this bar has three floors each floor is not particularly large and thus this place fills up fast, so come early if you don't want to wait to get in.
650 Gough St
(between Mcallister St & Ash St)
San Francisco CA 94102
(415) 869-1900
Smuggler's Cove