New York City - Where To Go
The Bar Downstairs

For small plates in the Midtown NYC on 5th Ave and 41 there is a cute little bar in the Hyatt Andaz called the Bar Downtairs, The Bar Downstairs is the place to go with a large group of friends, they have great tables for large groups. Located in the historic near Bryant Park and across from the Public Library, The Bar Downstairs features delicious small plates along with great cocktails.T heir cocktail menu is extensive. While we were there we tried the Bear Hug, fair quinoa vodka, lemon, rothman & winter pear liqueur and orange bitters. My favorite. Also, The Strength of 10, bulleit rye, cynar, Yellow chartreuse and peychaud's bitters and The Preachers Respite, bulleit rye, lemon, ginger syrup and cruzan blackstrap rum.
Our bartender, Marcello, even made us a work in progress. We blurred the recipe but if you stop by ask him to create for you one of his off the menu creations. Interestingly, they have a section called Flyers that are Mocktails. These are seriously good tasting drinks without any spirits. This would be great for friends that either don't drink or like other options besides just bring me a soda...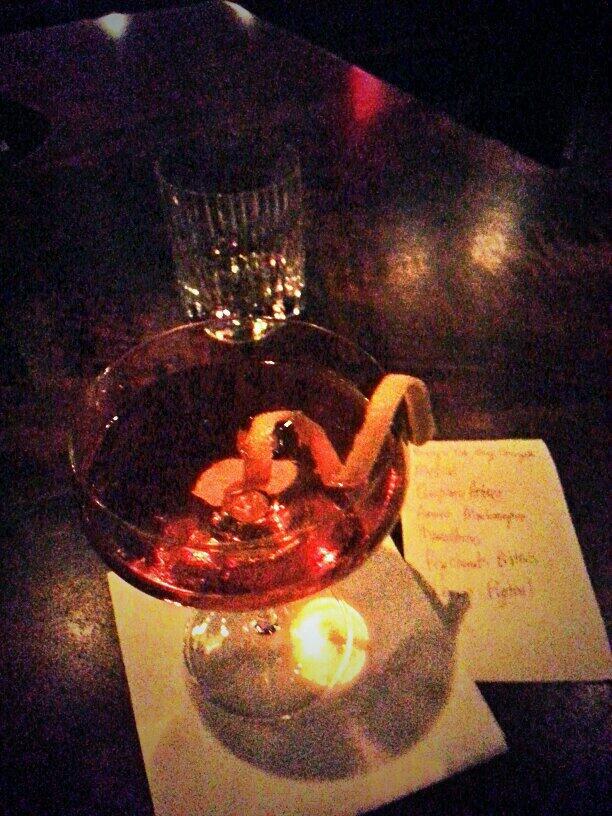 The small plates were good but the bill added up very quickly. We tried the empanadas - cilantro garlic sauce, they were okay but for the price you could get better from a street vendor. The house smoked pork belly - cauliflower - parsley - membrillo was amazing and we fought over the last little bite much like the roasted cauliflower - ajo blanco - toasted almonds. We also tried on of the chefs creations, a pasta dish with squid. Pretty amazing. Everything was made in house and wonderfully flavored.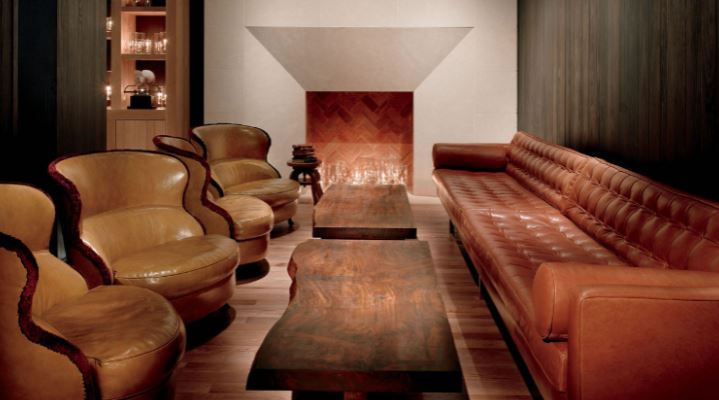 485 5th Avenue at 41st Street, New York, New York, USA, 10017 Tel: +1 212 601 1234
+1 212 601 1234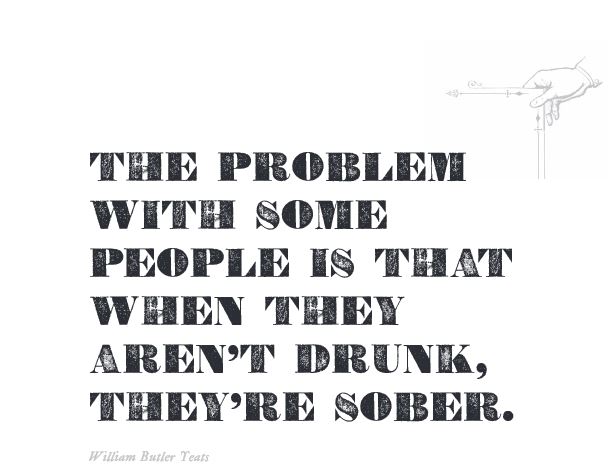 This was the best part of the menu, you know we all have friends like that.


Ward III in TriBeCa has a section on the menu that is Bespoke Cocktails. Your choices are Spirit, Texture, Flavor Fruit and Spice. You tell the bartender what you like and they will craft you a custom cocktail that will be named by you and kept in the permanent archives. So you could request Vodka, Clean, Herbacious, Cucumber and Mint that they would know the proportions to make you a cocktail that would meet your flavor profile. They also have a small bar menu that offers Duck Nachos and Duck Sliders... Did we mention they serve duck, yummm. Bartenders are great and really know there stuff. You can either order off the drink menu, which is extensive, have them craft you a Bespoke Cocktail or pick something simple from their impressive list of spirits. There were many of their whiskeys that would be excellent on the rocks just to sip, no need to bespoke. The atmosphere is cool and hip, the staff dresses to fit the speakeasy atmosphere and they were pleasant and helpful both times we went. The music is a bit of a disconnect but since we really did go for the music, not, we had a great time anyway. Suggestions, if you like the mixology idea and want to go for a Bespoke Cocktail, look at the lists before you get there and have a general idea. We had one young woman down the bar that took quite a bit of time to choose. Hey we're thirsty here people...
http://www.ward3tribeca.com/menu/bespoke
111 Reade Street, New York, New York
212-240-9194
212-240-9194
NYC - Experimental Cocktail Club
In May, Romée de Goriainoff opened the doors to the Lower East Side location of his Parisian hit, The Experimental Cocktail Club. The menu features 14 drinks made by mixologist Nicolas de Soto, plus one beer selection and a menu of bar snacks supplied by The Fat Radish. It's a cozy, civilized space, and Goriainoff and Co. plan to keep it that way. If you want to secure a stool, send a reservation request via e-mail. The bar is open every night from 7 p.m. - 4 a.m.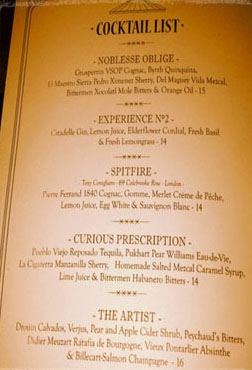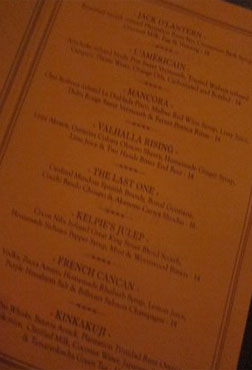 The Experimental Cocktail Club
191 Chrystie Street, Lower East Side
No phone, e-mail for reservations to get in.
NYC - Pegu Club
From the Ethos Page on their web site:
We won't bore you with a dissertation; our goal is simply to do lots of little things well.  We consider ourselves "gatekeepers" of the classic cocktail culture, and at the end of the day relish in the fine art of making drinks.
Profile
Mixologist Audrey Saunders, who made her chops creating the drink list for Bemelmans Bar, has teamed up with the owners of Flatiron Lounge and Zinc Bar to revive the art of the drink at this upstairs cocktail joint. The name pays tribute to a storied, late-19th century British officers club in Burma, and the out-of-context colonial style has a light, escapist feel—organic with palm plants, low wood tables that are both polished and rough-hewn, more...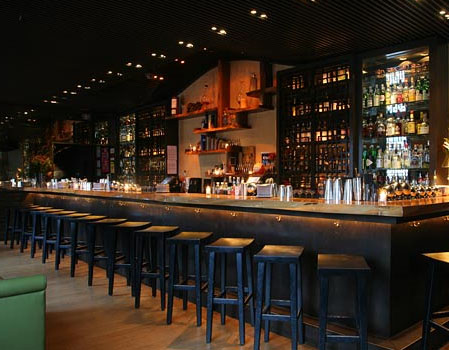 77 W Houston St
New York, NY 10013
Neighborhood: SoHo
212-473-7348
212-473-7348    
http://www.peguclub.com
NYC - Flatiron Lounge
1920's ambiance, great drinks, Co-owner Julie Reiner's mixology skills bring the best to the table.  Make reservations and go enjoy some of the best cocktails around.  Try some like Afterglow or the Brown Derby of the inventive drink menu.  Beautiful bar built in the late 1920s.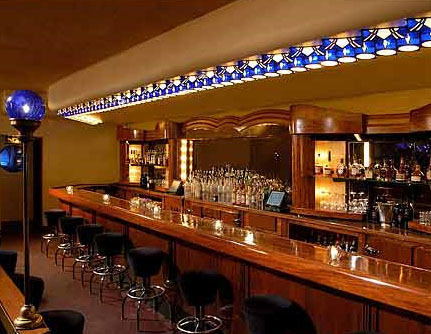 37 W 19th St
(between Avenue Of The Americas & 5th Ave)
New York, NY 10011
Neighborhood: Flatiron
(212) 727-7741
(212) 727-7741
http://www.flatironlounge.com
NYC - Milk & Honey
Make sure to make a reservation to get in and remember that this is an all cash place.  The drinks run about $15 per and there is no menu, you just tell your server your flavor profile and they bring you something that fits.  Good service with lots of knowledge.
Milk & Honey is owner Sasha's personal retaliation against celebrity-obsessed nightlife. One of the bar's rules prohibits "name-dropping and starfucking"; only mellow, non-famous folk receive the unlisted address; and all must call ahead to be buzzed in through the surveillance system-equipped door. The space encompasses a candlelit lounge, a four-seat bar and a few reservation-only booths. Sasha himself meticulously prepares each expensive cocktail, with blood oranges for screwdrivers and fresh mint for mojitos..  more…
Sasha says: more…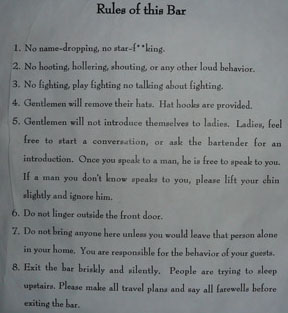 134 Eldridge St
(between Broome St & Delancey St)
New York, NY 10002
Neighborhood: Lower East Side
(212) 625-3397
(212) 625-3397
NYC - Angel's Share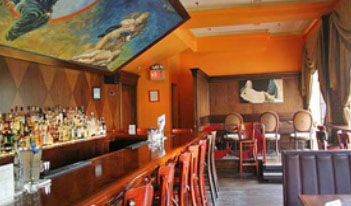 In the East Village, 8 Stuyvesant Street, then go to the 2nd floor, through a Japanese restaurant and find a non-descript wooden door. No standing, no groups of more than four.  An eastern-influenced lounge where the cocktails are measured with precision then served in perfectly chilled glasses. Could they be Japanese mathematicians or physics buffs on the side?  The perfection of the drinks might lead you to think so.  Bar food is available but is hit or miss. 
Village Yokocho
8 Stuyvesant St
New York, NY 10003
Neighborhood: East Village
(212) 777-5415
(212) 777-5415