Tropical Lifesaver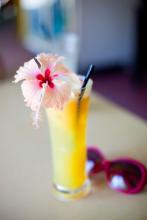 Great by the pool drink that tastes amazingly like a lifesaver from when you were eight! Imagine yourself floating in the pool with one of these of these or mixing up a batch for a group of friend as a late summer party.
Ingredients:
2 oz Absolute Citron®
1 oz Malibu Coconut Run®
1 oz Melon Liqueur
Splash of Sour Mix
Splash of Pineapple Juice
Preparation:
In shaker glass with ice pour all ingredients and shake well. Pour into a tall glass and garnish with a orange and a cherry.