Miami - Where To Go
The Cocktail Collection - Upstairs atTabacco Road
http://tobacco-road.com/upstairs/
A little blurb from the brothers - We are a new bar in Miami's oldest existing bar. The Cocktail Collection is the brain child of Leo Holtzman (restauranteur, mixologist and magician) and his brother Sam Holtzman (designer) and current partner of Tobacco Road, Patrick Gleeber. The three teamed up in 2013 to create a cocktail lounge that celebrated the history of Tobacco Road and offered "mixology" style cocktails with out the pretentiousness of that word... The result is the Cocktail Collection. Let us show you how great a cocktail can be.
So we decided to try it out and we were glad we did.  There were 4 of us and we showed up for happyhour which is a nice 7 - 9 pm they're open Wed - Sat 7pm - 2am  The best cocktails that we tried were, the Smoke Fashion a riff on an Old Fashion with Bourbon, Bitters and smoke that is captured in the glass as the mixologist burns a wood block.  Very cool.  The Chile Mule which had the opportunity to be yet another take on a mule but was interesting and very different.  Vodka, Ginger Beer and Serrano peppers.  The ginger and the peppers kinda duked it out for the spice notes and the vodka just came along for the ride.  A couple of our friends tried the Hemingway a south Florida staple and agreed that it was amazing, a great balance of rum and grapefruit juice over crushed ice.   Everyone there was very nice and went out of their way to be friendly but the best part was since it was Thursday night and a little slow, Leo put on a little magic show for us at the bar.  We'll be back for the fun and the great cocktails.
The Broken Shaker
http://thefreehand.com/venues/the-broken-shaker/
2727 Indian Creek Dr, Miami Beach, FL, 33140

Miami Beach, Florida

 
Located in a 1930's art deco hotel this is amazing.  Try the Garden Gimlet, Five Spice Old Fashion or Pimm's Goblet.  Ginger in drinks are popping up everywhere for fall and this one paired with Gin and Pimms is exceptional.  All are incredible in a beautiful unique setting in Miami Beach.
Shots Miami
Miami New Times Blog:
Have you heard the one about the interactive shots bar?  You know...where you not only take a shot ... you are the shot?  Neither did we -- until now.  Allow us to explain.

Shots Miami co-owners Oscar Zapata and David Estrada (no relation to Erik -- we asked) felt that it wasn't enough to just do shots on a Friday with friends -- you had to get in there and live the shot, so they conceived Shots Miami, an interactive shots bar opening soon in Wynwood.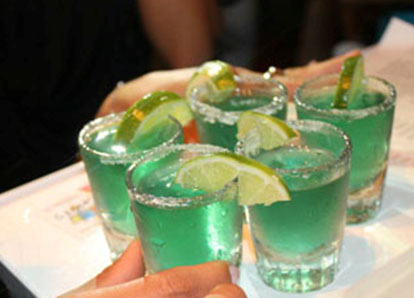 Here's how it works:
Choose your shot from their shot book. There are about 165 to choose from with names like
Rellenito, Crazy Cooch, Mani Culi Teteo, The Brain, Flash, O Shot, Erotic Fantasy, Arrepentido, Despierta Muertos, Que Dolor, Soplon, Hand Job, Suero Cock, Bon Bonsito, Coochie Coochie, Flansito, Captain America, and Jessica Rabbit. Each shot comes with a story ... and an activity.

For instance, the Superman, a blue and red layered shot, requires you to wear a cape as you down the elixer. The Brain comes with geek glasses (and hopefully a trillion-dollar social media company). Sort of like karaoke of the mouth.  More…
311 NW 24th St.
Miami, Florida 33127
(305) 336-3967
Shots Miami
Miami – The Corner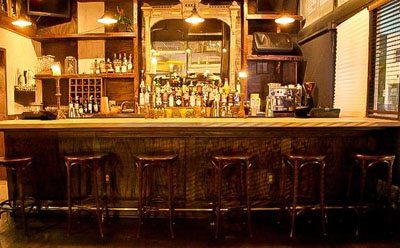 With a rich reclaimed wood interior, The Corner, offers up a great place to kick back and enjoy a drink.  In fact it's a great place to get more than one, with a large selection of craft beers and house made cocktails there is sure to be a few drinks you won't be able to resist trying.  If you get hungry they even have a bar menu, complete with apps and sandwiches.  This bar gives you the feeling that you could sit back and drink and eat all night, and you quite literally as the bar doesn't close around eight in the morning, yes that's right just about sunrise.  Some things to take note of are its location, not the best area of town, and that after midnight they allow smoking inside.  If this isn't enough to detour you then you will be rewarded with tasty libations such as Death in the Afternoon, Absinthe and Brut Champagne, or a delicious craft beer such as an Orange Blossom Pilsner, a local Florida beer.
1035 N Miami Ave
Ste 101
Miami, FL 33136
(305) 961-7887
Miami – Living Room at the W

If you are looking for an upscale bar that serves great cocktails and food then you need to look no further that Living Room.  With a richly furnished interior, that looks like it was designed by an artist rather that an decorator, and an outdoor patio that is decked out with different seating areas and lots of shade, an important factor in outdoor seating in Florida, Living Room has something for everyone.  The drinks are not to be overshadowed by the design, with mixologists who can create you a drink from your favorite liquor and flavor profiles or simply make your favorite classic to perfection.  If the décor is art for the eyes then the drinks are definitely art for the tongue.  The super swank atmosphere and amazing drinks, however, do come at a price, quite literally as the cocktails here are expensive, but for the quality of the bar and drinks you will soon lose yourself to the overall appeal of Living Room.
2201 Collins Ave
Miami Beach, FL 33139
(305) 938-3000
Living Room
Miami – Haven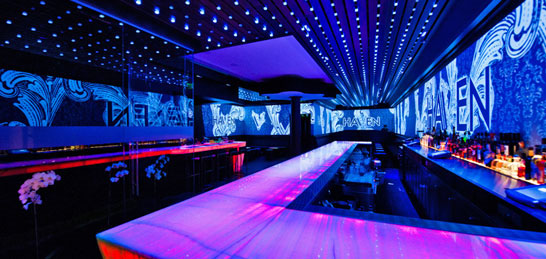 If you are looking to go out for a night on the town then look no further then Haven.  Start out with fantastic small plates for dinner, with selections ranging from sushi to sliders, each with their own upscale twist.  The sliders are more than just mini burgers; they have crab cake sliders and even a duck and quail slider.  Then move into the drinks and dancing with expertly blended cocktails and plenty of room to dance.  With concoctions such as Fever, a Grey Goose Poire, jalapeno, lychee, and pear prosecco, and Covet, Hennessy VS, apple, King's Ginger, and candied ginger, there are all kinds of interesting drinks to try, of course if you aren't feeling too adventurous they also have all the traditional drinks down pat.  As the name suggests this place is indeed a haven, but watch out for the prices, they can sneak up on you, and the later it gets the louder the crowd can be, but if this doesn't deter you then be prepared for a memorable night out.
1237 Lincoln Rd
Miami Beach, FL 33139
(305) 987-8885
Haven