Los Angeles - Where To Go
Messhall
4500 Los Feliz Blvd, Los Angeles, CA
www.messhallkitchen.com

The name calls to mind an army or school cafeteria serving uniform uninspiring meals, but Messhall Kitchen in Los Feliz is anything but. If you're looking for a great date night on the East Side, why not give them a try? They're the kind of place that will give you a cocktail you didn't even realize you wanted until now. The bartenders are very skilled and creative and will give you thoughtful recommendations.

Messhall is famous for their signature vodka sodas. Some of their unique flavors include sour-cherry almond, apricot-orange crush, and strawberry-lemon verbena. They make their soda syrups in house, and the result is sweet and refreshing. I tried the cantaloupe vodka soda. It was like drinking a sparkling melon.
But while the vodka sodas are novel and sweet, I found them a little simplistic compared to Messhall's complex cocktails. Their list is impressive: a mix of bourbon, rum, scotch, gin, and vodka drinks, with even a cachaca cocktail in there, as well as the intimidating B.A. Baracus, which promises "all of the rums, all of the juices, none of the pity." Okay then. To continue on the cantaloupe theme, I tried the Shotgun Wedding, with Uncle Val's Gin, aperol, cantaloupe, ginger, and fizzy water. I loved how the bitterness of the aperol fused with the sweetness of the cantaloupe and the spicy heat of the ginger. I prefer gin to vodka so I liked this much better than the cantaloupe vodka soda. If you're feeling dangerous, go for the "Burning Trees," served with arbol chile-infused mezcal, citrus and agave. If you're in more a playful sparkly mood, go for the "Pillow Fight," an aperol champagne cocktail with grapefruit liqueur and lemon.
If you trust the bartenders, check the top of the menu for the "Feeling Lucky" options. "Roll The Dice" for 9 dollars and get any drink the bartender whips up for you. Or play "Loaded Dice" for $11, choose a spirit, get a drink.
Messhall has a full menu too, including a raw bar with a selection of east coast and west coast oysters. Show up on a Monday night for $12 craft burgers and $5 drafts or house bourbons. On Tuesday nights, it's $1.50 oysters, $1.50 tacos, and $5 drafts. You can't beat that. Or come to Throwback Thursday for "classic cocktails at classic prices."
Happy Hour is Mon-Fri 4-6pm, with $5 drafts, $6 house wines, and $8 bartenders' choice.
Messhall's atmosphere is perfect for dates, happy hour, or large dinners with friends.
Eighty-Two
eightytwo.la
707 E 4th place, Los Angeles, CA
Remember when you were a kid and your parents gave you money to go hang out at the arcade while they ran errands? Did you ever wish that as an adult you could still do that? Just hang out at an arcade and play video games and pin ball all day? Well now you can. Head to downtown Los Angeles to find Eighty-Two, a bar full of old video games. It's what you always dreamed of as a kid, except now you are old enough to drink.
For the first few months of Eighty-Two's existence, it was almost impossible to get in the front door, because the line wrapped around the block. But I was finally able to go a few weeks ago, and was delighted!
Eighty-Two is divided into two sides, a breezeway between and a sparse patio connected to both, interspersed with high tables and with a wraparound bench.
The first side, where the bar is, is filled with all your classic video games. Street Fighter, Burger Time, Centipede, Donkey Kong, Mortal Kombat, Ms. Pacman, Off Road, Space Invaders, and so many more. Above the bar is a projection screen with "scenes" from Street Fighter in all its tacky 80s glory.
A change machine awaits your dollars; it's usually only 50 cents to a dollar for one play. Cup holders and trays rest on either side of the game consoles. No need to place your beer on the floor and have it knocked over by an eager gamer. You can play most games solo or with a friend, which is what makes it a perfect date night venue if you're bringing someone fun, spunky, and a little whimsical.
The bar at Eighty-Two is well-stocked with ten draft beers, eight cans/bottles, and a full craft cocktail menu. Their rotating draft menu usually has a nice mix of IPAs, belgians, and lagers. Their craft menu features cold brew coffee cocktails with coffee from Silverlake's LAMILL Coffeehouse. Go into Wizard Mode before you play for rye whiskey, cold brew coffee, and vanilla black tea. or "Power Up" with chocolate rum, cold brew, vanilla black tea, and cream. All that caffeine will sure to keep you amped up and gaming for hours. If you're not in the mood for coffee, go for one of their other craft cocktails, like the futuristic 2084, with bourbon, ginger, honey, lemon, cucumber, ginger beer, and mint. It's like a darker Pimms Cup. Harken back to your Mario Days with a Princess Peach - vodka, lemon, agave, peach puree.
Cross the breezeway to The Pinball Room. Here is the place for those channeling their inner Tommy. Almost twenty different pinball games await you.
Eighty-Two works on multiple levels. First, its target demographic is undoubtedly the Nintendo Generation. People around my age have deep fondness for video games. We grew up on them, so the nostalgia is a huge draw. Not only that, the folks from the generation preceding us are probably eager to show off their Pinball Wizard skills. But even if you didn't grow up on Sega, Playstation, or Atari, even if you are a video game novice, Eighty-Two offers more than the nostalgia factor. The option to have fun, to play. To be silly. We can do more than sit at the bar and have a conversation. We can do more than try new drinks. (Not that the drinks here aren't worth trying!) The novelty is accessible to all. So showcase your videogaming talents at Eighty-Two.

Let's start with the basics. It's in a weird part of downtown LA. But then again, I find a lot of downtown  LA kind of weird, and maybe that's what's so exciting about it. The warehouses have big grid like windows with just the right number of random broken panes to look artfully constructed for a film set. (That's LA – where the genuine is always colliding with the artifice, even in your mind). Some of these old industrial edifices remain creepily abandoned, while others have been given an expensive makeover with promises of hipness – romantic lofts, art galleries, and dance clubs. Villains Tavern, established 2010, sits at the intersection of two of these Warehouse District streets, across from a Lucky Jeans building and flanked by a large parking lot. It's not easy (or advisable) to get there by public transit. But isn't that what you'd expect from a bar called Villains?  Everything wears the veneer of danger.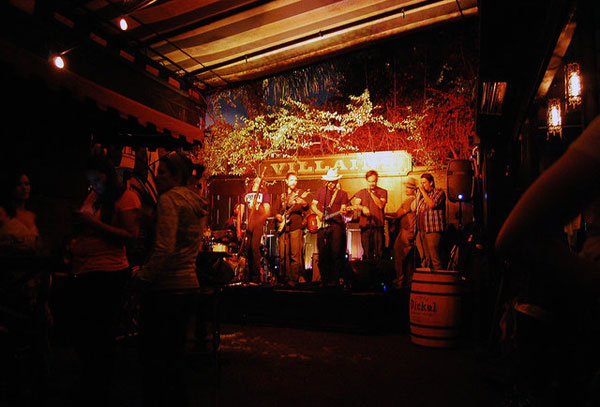 Beyond Villains's enclosed outdoor patio is a small but beautifully decorated two story bar and restaurant. Vintage bottles in blue, yellow, orange, and green line shelves in the high arch window above the front door. The mirror behind the bar is framed in symmetrical and ornate Gotchic-style cathedral arches. Medieval and Victorian paintings hang on the wall.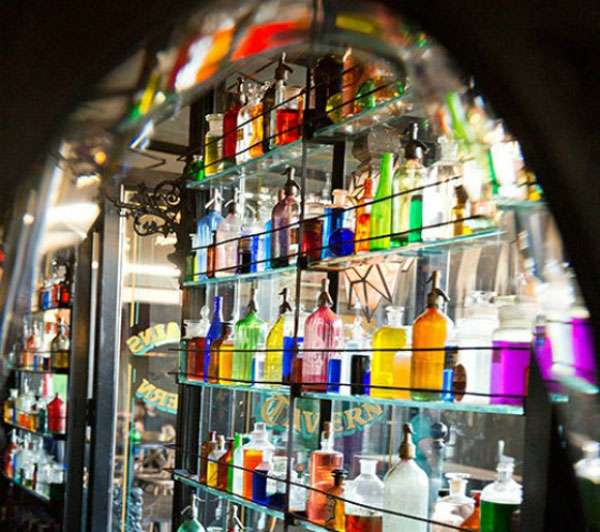 If you're one to scoff at mason jars, shaved ice, unusual garnishes, or vintage medicine bottles, Villains is not the place for you. The four-year old bar and blues music venue is proudly riding the mixology trends, and they serve it well. You might have to wait a few minutes for their well-bicepped-from-tossing-cocktail-shakers-all-day bartenders to whip you up an $8 Bella Donna at Happy Hour, but I assure you it's worth your patience. Following the obvious fact of science that cold air sinks, the bartender will strain this minty citrusy Maker's Mark cocktail into a Mason Jar, and then pack a heaping dome of shaved ice on top, like a snowcone, and pierce it with a straw. Your cocktail will stay nice and chilly under its igloo. Plus, it's really pretty.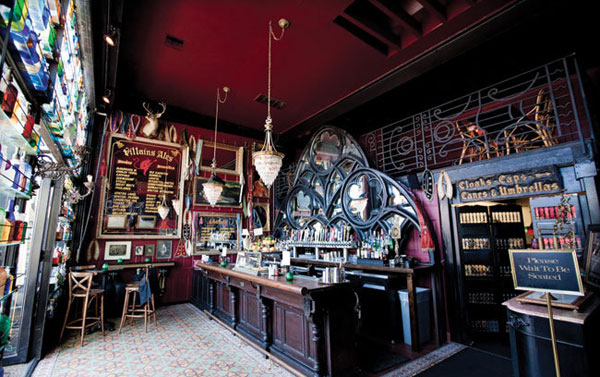 All of the cocktails at Villains reference bad guys in literature in history. It's a nice touch. They have a nice mix of spirit-bases too, which I found refreshing. I get tired of bars that offer ten vodka drinks and maybe one with tequila or rum. Villains offers cocktails made from cachaca, Chivas Regal 12 year scotch, Absolut Elyx, Avion Reposado, hibiscus and jasmine tea infused gin, and much more. At Villains, you can pick your poison. And they'll most likely have it. They also make interesting combinations  - like aperol and prosecco in the Vin Amaro.
Hungry? Even their happy hour menu is cheap and filling. Expect to not be able to finish your piled-high basket of fries or tempura-battered spicy green beans.
On weekends, Villains hosts a series of music events featuring afrobeat, disco, house, and soul Djs, live performers, and special guests. All of this adds up to the moral of our story: the people who created Villains are good guys.
1356 Palmetto St, Los Angeles CA
HOURS:
Tuesday - Friday: 5:30pm - 2AM
Saturday-Sunday:3pm-2am
I'm not going to act like a hipster. If you live in L.A., you've probably heard of this place.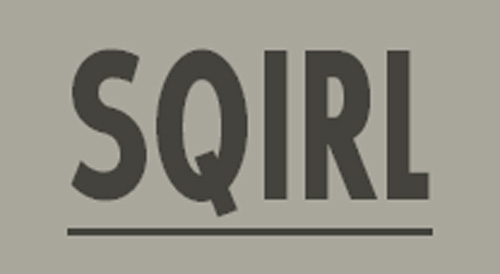 In fact, even if you live somewhere else, you might recognize the name Sqirl, because a few months ago, Bon Appetit profiled the eclectic gourmet hotspot. And now the long lines are even longer out the door. In the heart of Virgil Village, flanked by pupuserias, you'll find this tiny kitchen brunch space.
Here's my problem when I go out to brunch. I can never decide between savory and sweet. I know that I'm supposed to have something substantial and protein-rich in the morning, but nothing sounds more delicious than a sweet pastry or some jam-smothered French toast. What do I do? Somehow, at Sqirl, it's easier to find a compromise. Their savory selections are so flavor-rich and full of such divergent elements that they satisfy all my cravings. Take for instance their Kokuho Rose Brown Rice Bowl. It's made with Sorrel Pesto, Preserved Meyer Lemon, Lacto Fermented Hot Sauce, Black Radish, French Sheep Feta, Poached Egg. It's carby, citrusy, spicy, creamy, full of greens and topped with a nice fresh egg. It's really quite delicious. You can get a similar selection with cilantro, mint, ginger, and lemongrass. Or try one of their daily quiches made with market greens.
Sqirl began as a preserves store, serving burnt brioche and homemade locally sourced preserves, made by Jessica Koslow. Think flavors like olallieberry, Rutiz blackberry and lemon verbena, or strawberry rose geranium. Now the full-fledged breakfast restaurant serves these small batch creations with burnt brioche toast and house-made ricotta. The results are divine.
Some of the daily specials you could get at Sqirl include seared polenta cake with summer vegetable fricasse and fried egg. Come for lunch and try their signature "kaboulleh" with kale, caulifflower, sumac, aleppo, and currants. But if you're thinking Sqirl is primarily a vegetarian/vegan place, you're wrong. They go for meats as daring as pork brain scramble. You can also order a Warm Roast Lamb Sandwich with Saffron Aioli, Confit Tomato, Arugula Pesto, Greens on Ciabatta bread.
What I like about Sqirl is not just their gourmet creativity, their playful mix of flavors, but how good their homemade stuff is. Their house-made ricotta is creamy and simply smooth. Their jams are out of this world - not too sweet, just the right texture, well balanced. Sqirl also offers jam-making classes so that locals can learn how to make preserves as creative and tasty as Koslow's.

For small plates in the DTLA scene, The Gorbals is the place to go. Located in the historic Alexandria hotel at 5th and Spring Streets in Downtown LA, The Gorbals features delicious gourmet small plates along with very daring cocktails. Their cocktail menu touts the delightfully understated headline, "Fancy Drinks." Go bold with "Neon Knives," a blend of mescal, cynar, chartreuse, and orange-rhubarb bitters. Or mellow and citrus with "It's bourbon, honey" with Heaven Hill Bourbon. Orange Blossom Honey, Angostura, and Lemon Fizz. I was particularly taken with "It's just adultery," which blended smoked porter with agave, hibiscus, thyme, and bourbon. Each flavor stood out on its own while simultaneously blending with the others. It is definitely in my Top 10 Cocktails list.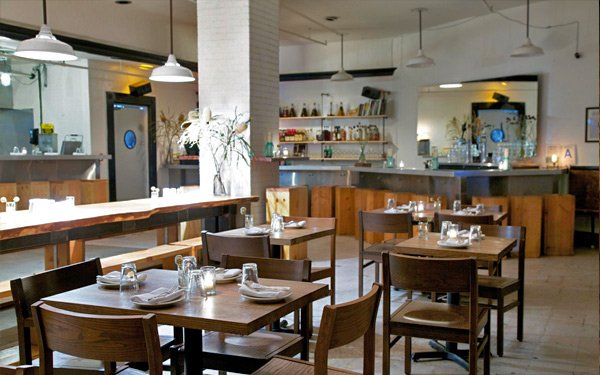 The menu options are quick to arrive, easy to share, and satisfying. The food menu is divided into plates "small," "medium," "large," and the "Very Large" (which require 24 hours notice by phone). The tomato fries with Thai basil and cilantro aioli are a must, as are the latkes. It's a rotating menu, so there are always new things to try. Unfortunately, that also means your favorites may take a vacation from the menu for awhile. But do make an attempt to visit the restaurant when they are serving their trio of smoked cucumbers. I never knew cucumber could be smoked, and that plate was like a revelation. If you have a large party reservation, be bold and call a day ahead to order the Very Large pig head with seasonal garnishes or the whole bone roasted tenderloin. The Gorbals has a chic yet casual vibe; the dining room has a mix of small two-person tables, church-pew benches lining the walls, and long wooden tables for large parties or multiples. Edison lights swing from the ceiling as ambient pop music adds to the atmosphere. Bar seating is available as well, where a respectable selection of drafts are available, including Stone Smoked Porter, Smog City IPA, Ommegang Hennipin Saison, and Black Market Imperial Red, as well as whines of the red, white, rose, and sparkling variety.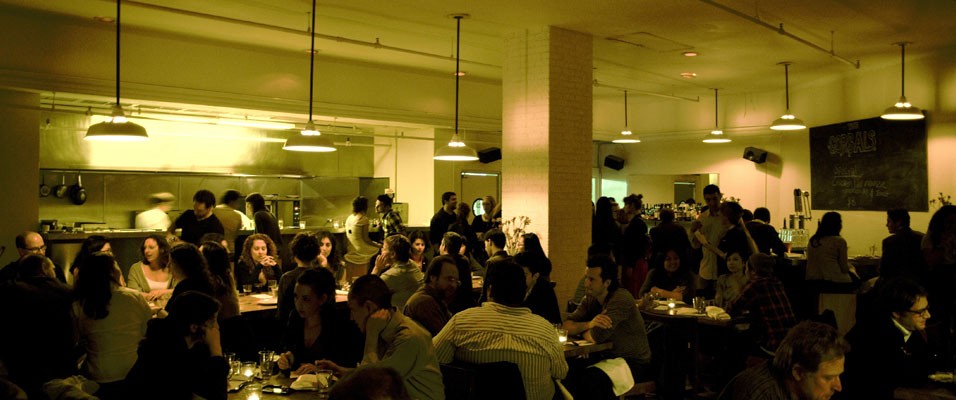 216 5th Street
Los Angeles, California 90013
Phone:
213-488-3408
By Lauren Eggert-Crowe
Church and State
Who would have thought that a snack foods factory would one day get upgraded to a gourmet French bistro? In the newly re-commercialized Arts District of Downtown LA, you can find Church & State, housed in the old NABISCO factory, built in 1925. For the past five and a half years, Church & State has been offering "seasonal produce of the highest quality, and products from 100% humanely raised, treated, and naturally fed animals: 100% grass-fed, pasture raised beef and lamb, cage-free poultry, sustainable seafood."
Their menu of seasonals and classics is complemented by a full bar of French wines and craft cocktails.
The décor of Church and State is charming. A rainbow of Edison lights are strung from corner to corner. Tea lights give a warm glow to each bistro table. Chalk boards line the walls. The bustling, brightly lit kitchen is visible from the rows of tables in the dining area.
No matter your alcohol of choice, Church & State has a cocktail for you. There's the Vesper Martini, for those inspired by James Bond's signature drink in Casino Royale. Or the intriguing Stumble & Fall, a bourbon cocktail containing the unique flavor combinations of walnut liqueur, pear, lemon, and rosemary. The Tap Out features El Jimador tequila and Tapatio-infused honey. These craft cocktails are nicely paired with a diverse hors d'ouevres menu which includes, as any French Bistro worth its salt should, escargot.
I had only eaten snails once in my life before this. At Le Bec Fin in Philadelphia, in 2001. I am of the opinion that escagot are basically a rubbery vehicle for garlic butter. But done right, they are a garlicy, buttery, briney treat. Church & State's Escargot get an A+ for presentation. The appetizer arrives on a plate of 6 white ceramic egg cups, each topped with a ballooning puff pastry crust. Pierce the golden-brown pastry crust with your fork and it steams, they are that fresh out of the oven. Inside is a single snail marinating in hot garlic butter. Get it all in one bite – flaky pastry, escargot, and garlic and spices. A perfect little appetizer.
Another hors d'ouevers that must be tried is the crostinis served with lavender honey goat cheese. The latter is served in a 4 oz ball jar that seemed to be bottomless. The waitstaff kept bringing us more crostinis and bread and still there was more sweet fragrant cheese to be scooped up.
My cocktails of choice to pair with these appetizers were two whiskey drinks, shared between me and my dining companion. The aptly named Fireside Chat is a warm spicy cocktail with chocolate bitters, orange oil, and firelit coffee liqueur. It tasted like Christmas. The earthier, darker Charro Negro is a Scotch cocktail that features nocino walnut liqueur and orange zest.
For entree, I chose the Coq Au Vin, paired with a garrigue red wine whose dry, earthy finish complemented the rich and fruity sauce, fragrant pearl onions, and dark, very meaty chicken. My companion ordered the Saint Jacques et Choux Fleurs seared scallops, which were so light and tender they tasted like they had been scooped out of the ocean an hour earlier and placed immediately in the frying pan.
There was so much more to try, but alas, our stomachs or livers do not have infinite capacity. Had we not been too full for dessert, I would have tried the crème brulee, the chocolate coffee custard with crème chantilly, or the chocolate tart with salted caramel. 

Among the pupuserias and donut shops of East Hollywood sits The Virgil, an intimate, darkly lit lounge  catering to those who crave unique and unusual cocktails.
Bartenders dressed in garb just slightly reminiscent of the 1890s (vests and collared shirts, but no ridiculous mustaches) take to microwave-sized blocks of ice with a chisel to chip off perfect glassy cubes. (Drinks are served "on a rock," according to the menu) Brushed steel vases of raspberries and limes line the bars, at the ready for the skilled mixologists searching for a garnish.
For atmosphere, you've got some options. For a quieter evening, hit The Virgil on a Sunday with friends for drinks and a round of Backgammon. But if you prefer dueling jazzhouse and "funkmosphere" Djs in two lounges packed with the young hunting singles of Silverlake, your best bet is a Friday or Saturday night. Pick a side when you enter. The Stage Side on the left, often featuring live musical acts or Djs, or the B-side on the right, a smaller lounge room with a stack of board games, a jukebox, and a photo booth. Happy hour runs from 7 – 9pm nightly, and all night on Tuesdays. Show up for $15 whiskey flights on Whiskey Wednesdays and take advantage of the free jukebox. There's a monthly variety show called The Victory Lap, a weekly comedy show called Hot Tub, board games and/or movie showings on Sunday nights, as well as literary readings, and musical performances.
The drinks are reasonable priced. Craft cocktails run from $10 - $12, only $6 at Happy Hour. 
Room and Board is a gin and cognac drink, sweetened with lavender honey and finished with saison and lemon. Intrigued by the combination, I ordered it. The saison gave it a forward bitter flavor, which overpowered the rest of the hints. It wasn't overwhelming, but the citrus notes were strong enough to make it difficult to detect the lavender honey, which I found a little disappointing. I was intrigued by the Llama to Lima, however, which featured Peruvian Brandy and lime. Not a combination you see very often, and I was glad to have tried it. Next time I go, I plan to try the Frostbite (fire-roasted jalapeno tequila, cantaloupe, agave, lime).
But if you ask me, the standouts on the menu are the Wu-Tang Fizz and the Uncle Weeber's Old Fashioned. Wu-Tang boasts a dreamy roster of ingredients: bourbon, vanilla, cream, egg white, orange bitters, citrus, soda. Like an antique egg cream soda grew up and rebelled against its parents. The egg whites are whipped to creamy frothy perfection, making this drink a true treat. Uncle Weeber's Old Fashioned hits you with the spiciness of barbecue bitters that linger and expand on the palate long after you sip. Since two of the listed ingredients are "smoke and magic," we can only assume that the bartenders work some voodoo behind the counter to make it so delicious.
Lauren Eggert-Crowe (laureneggertcrowe.com)
@laureggertcrowe on Twitter
Los Angeles - The Varnish
If you are looking for the exclusive speakeasy feel then look no further than The Varnish. Although it's the not so secret, secret bar, located in Cole's, behind an unmarked door, very speakeasyesque. They keep the atmosphere dim and intimate, perfect for a romantic interlude or a relaxing drink with a few friends, expect to wait to get in. Once inside you see why the wait, with a small bar and only 30 or so tables space is at a premium, but this adds to the intimate feeling that makes this such an appealing place to kick back and enjoy your favorite cocktail, whether a classic such as an Old Fashioned or a house specialty such as the Palma Fizz, a gingery vodka drink with rose water and seltzer.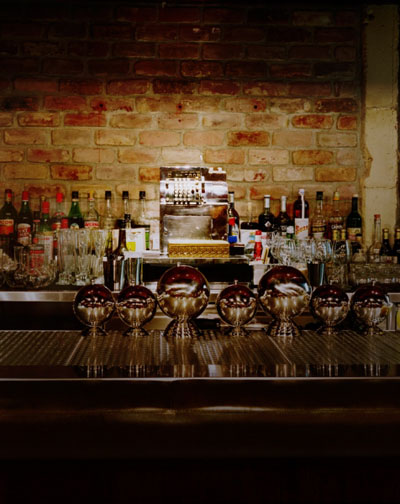 A knowledgeable bar staff and amazing drinks, served with hand chipped ice and metal straws and stirrers just add to the overall charm of this bar. Opt for the bartender's choice, you won't be disappointed, tell the bartender your favorite taste profile and liquors and enjoy a custom cocktail crafted for you. The drinks are a bit pricey, but between the ambiance and the tasty and potent beverages, you definitely get what you pay for.
118 E 6th St
Los Angeles, CA 90014
(213) 622-9999
(213) 622-9999
The Varnish
Los Angeles - The Writer's Room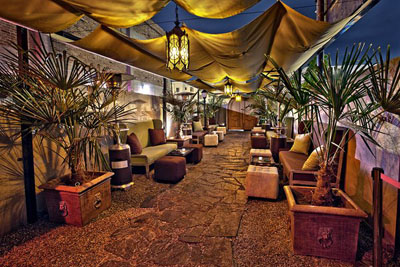 The Writer's Room aims for quiet style amid Hollywood bar scene
By Charlie Amter, LA Times
There are precious few bars in Los Angeles that are welcoming, upscale and have a legitimate claim on pre-1950s Hollywood drinking history. This weekend sees the return of a great one, the Writer's Room, a space that once belonged to the famed Musso & Frank Grill. In its early days it was referred to as the "back room," where writers such as Raymond Chandler and F. Scott Fitzgerald were rumored to toss back gimlets. More...
6685 Hollywood Blvd
Los Angeles, CA 90028
(323) 491-4148
(323) 491-4148
Los Angeles - Mixology 101
Mixology 101 is like an oasis tucked nicely above the hustle and bustle of the Grove. Located on the second floor, Mixology 101 has a great open feel with large windows that let you look down on the rabble outside, as well as an outdoor patio where you can sit and enjoy the wonderful weather, which in LA is all the time.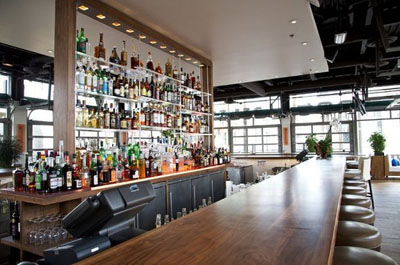 As the lounge portion of the Planet Dailies located across the way, Mixology 101 has a selection of small plates and appetizers from Planet Dailies, but the true reason to visit is the large selection of specialty cocktails that they have available. With drinks ranging from the classics to some that will surely become your new favorites. Each drink is expertly composed by the mixologist when you order it, this is not your typical shake and serve bar, the drinks are handcrafted individually from fresh ingredients, and this is directly reflected in the taste and quality of the drinks. Some of the more notable drinks are the Spicy Fifty martini, made with vanilla, elderflower, lime, honey, and chili pepper, and the Black Manhattan, made with bourbon, vermouth, and bitters. The mixologists take pride and care in the drinks that they send out, and the fact that all of the ingredients are fresh means a little longer wait than most people are used to for a typical beverage, but once you taste the quality of the drink you will surely understand why.
6333 W 3rd St
Ste O20
Los Angeles, CA 90036
(323) 370-6560
(323) 370-6560
Mixology 101
Los Angeles - Library Bar at Hollywood Roosevelt Hotel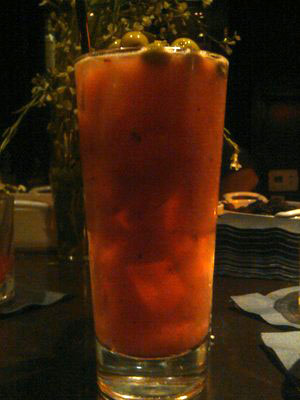 This gem of a bar is located in the lobby of the Roosevelt Hotel in Hollywood. It's a gem not only because it is a wonderful place to grab a drink but also because it's small, small enough to fit into a jewelry box, its tiny so if you come on a busy night be prepared to squeeze in. This small size makes it feel incredibly intimate, but its popularity can make it a bit crowded, arrive early if you want a seat. Once you get inside and make your way to the bar you will experience what is best described as a farmer's market of mixology. All of the ingredients are of the freshest quality possible, they will even alter a recipe for the night if the ingredients are not available. They have a huge selection of fruits, herbs, and liquors to create from. With no set drink menu you can order a drink you have gotten there before, or if you are feeling adventurous, or just trying it out for the first time, you can simply tell the bartender what you like, liquor and taste profile, and sit back as they create a drink to match your mood and preferences. While the drinks here are on the top of the price range, the time and attention to detail that is given to each drink make it well worth the cost. Some of the popular adult beverages include Matt's 17 Step Bloody Mary, a classic re-envisioning of a Bloody Mary, and the Little Italy, a cocktail comprised of rye, cynar, and sweet vermouth.
7000 Hollywood Blvd
Hollywood, CA 90028