La Fleur d'Amour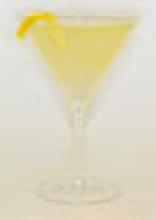 "La Fleur d'Amour" created by Fleur Bailey
Don't let the pretty feminine name of this cocktail fool you into thinking it will be a dainty treat. While the name means "The Flower of Love", the idea in this sense is more of a passionate, fiery Cleopatra than a sweet Cinderella.
Passion, power and spice are what this libation represents combining two of my greatest loves in a beverage, pear and ginger, and the marriage between them makes for an almighty potion. I always like to use fresh ingredients in my drinks and ginger provides that unmistakable fervor.
La Fleur d'Amour is versatile enough you can drink it without the sparkling wine if you like a strong cocktail and appreciate the kick of ginger. It's also a nice brunch alternative to a mimosa or Kir Royale if you use just a little of the mix in a glass of bubbly. A strong mimosa that is, this is one of those libations that go down as easy as lemonade, so keep that in mind before you're responsible for your guests passing out for the afternoon.
While there are variations of pear-flavored vodkas, it's worthwhile to honor the French with this one because Grey Goose makes the cleanest, most delicate pear-flavored vodka than any other I've tried. They use the Anjou Pear that is cultivated in the Loire Valley, with water naturally filtered through Champagne limestone. They call theirs the "World's Best Tasting Vodka", and in this case I have to agree.
Ingredients:
2 oz Grey Goose La Poire
Five thin slices fresh ginger
¼ oz Cointreau or Triple Sec
¼ oz simple syrup
½ oz fresh lemon juice
Sparkling wine
Preparation:
Muddle the ginger with the vodka. Add the Cointreau, simple syrup and lemon juice. Shake well with ice, strain into a chilled martini glass and top with just a splash of champagne.
Garnish – twist of a lemon peel.