Flavored Ice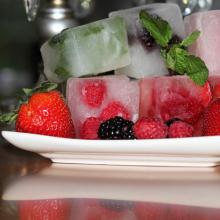 Keep your pitchers of drinks from tasting like water by the end. Mix up a small batch of the drink, add fruit or herbs and freeze over night. Great fun and beautiful to look at either in individual drinks or in a pitcher of your favorite cocktails. This works just as well with non alcoholic drinks. You can use tea, lemon juice and mint to make a cool additions to a brunch selection for non drinkers.
Ingredients:
drink that the ice will be added to - must not be pure alcohol as it will not freeze
Any fruit or herb, Mint, Strawberries, Basil, Mango or anything that will complement the flavors of the drink.
Preparation:
Mix your base and add alcohol if included. Pour into a baking dish or other container to freeze filling 2/3 of the way up. We used a silicone corn bread pan that was deep and square but a mini brownie pan would work just as well. If desired add fruit and herbs. Freeze overnight and enjoy!