Slow Screw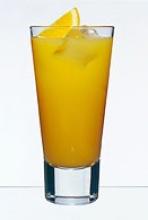 A variation on a Screwdriver the Slow Screw gets its name from the use of "Sloe" gin as opposed to vodka. 
Ingredients:
1 1/2 oz sloe gin
3 oz fresh orange juice
Preparation:
In shaker glass with ice pour in sloe gin and orange juice Shake well and pour into a highball glass.  Garnish with an orange wedge.