New Years Eve Cocktails
We can take planning the perfect New Years Eve Party to a whole new level. From great punches to stand alone cocktails we can provide recipes that are tried and true. We mix all of our recipes, classic and our own and make sure the proportions and taste will appeal to a broad range of tastes. Go with what you like and see which ones work for you. We recommend pretesting, oh darn, the cocktails before the party and then putting out all the ingredients for just a few.
Oh be Joyful is the perfect elegant New Years Eve Cocktail. A step above most cocktails this works best is small gatherings or parties where there is a bartender present. The sound of ice in the shaker, frozen cocktail glasses and the wonder taste of an elegant drink elevates your party to something special.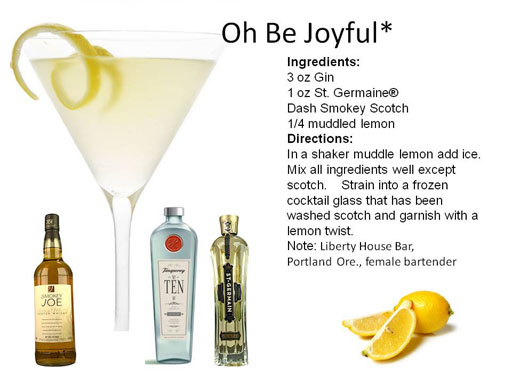 Orange Cardamon Gin And Tonic is a great winter drink for Gin lovers. The Root liqueur gives it a botanical spicy flavor like root beer and the Dry Fly Gin has just the right balance, not too much juniper, to blend it all together. Adding notes of orange citrus makes it the perfect winter drink. Experiment with the Gins if you prefer a London Dry style but we really liked the smoothness of this drink. It could convert a few non-Gin drinkers!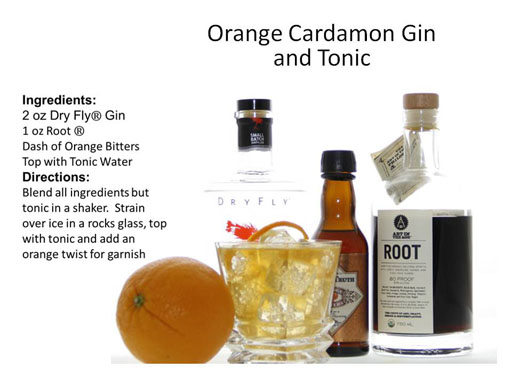 Partridge In A Pear Tree rocks, we love winter pears and this cocktail is amazing. The Pear Cinnamon Italian Soda, (purchased at World Market), pairs up with the liqueur and pear flavored Vodka with a hint of cinnamon.This could be one of those drinks that become your go to drink for both fall and winter!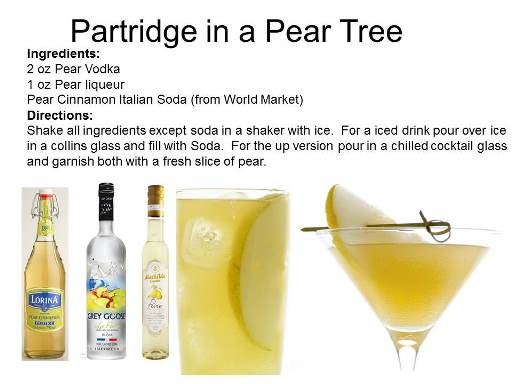 Fresh, clean and with a great fall to winter taste. Turkey Cinnamon Sour a Wild Turkey drink will please the whiskey cocktail drinker. Not too sweet with a fair bit of sour from the lemon and a touch of sweet from the soda this is a great entry level cocktail. Easy to make and even easier to drink.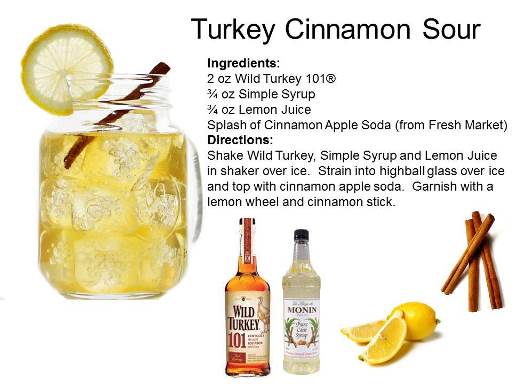 Elegant and sophisticated in both looks and taste the Enlightened Martini is pretty amazing. We started by using organic Dry Fly® Gin, a light clean gin with a smooth taste and just the barest hint of juniper. This drink combines that with substituting the vermouth with another botanicals, Elderflower Liqueur. We used Thatchers® which is also organic for one of the smoothest takes on a martini we've had in a while.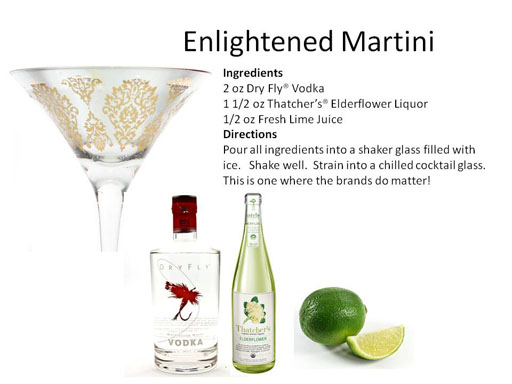 The blend of dark rum, chocolate and honey make Sweet Yulea warm cozy drink. Great for after dinner or sipping with your pals it has enough taste to hold up to dessert as well. This drink in one hand and a bowl of ice cream in the other... HEAVEN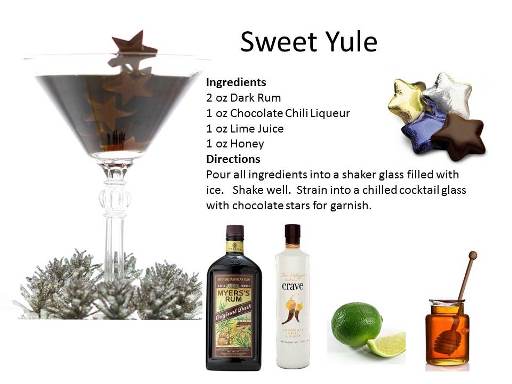 Bourbon and citrus make the perfect holiday blend. Boxing Day is an easy going cocktail that keeps a party going and can be sipped over a long evening. The blood orange and lemon are a perfect balance to the sweet of the bourbon and simple syrup. This could easily turn into a year around favorite.
A fun twist on a Margarita Xmas Margarita that's red and green for Christmas. The ginger beer goes well with the Tequila and adds a nice tang. A pretty fun take on the classic Margarita on the rocks!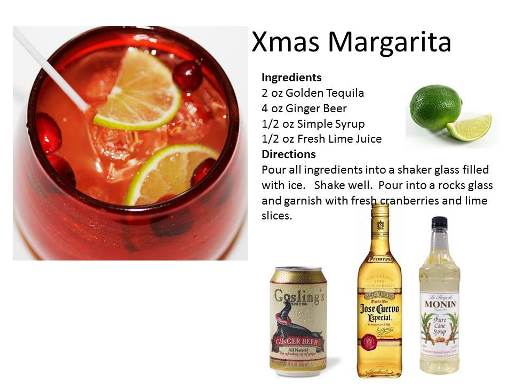 Spiced Coconut Eggnog is a tropical twist on an eggnog drink with dark rum and coconut. To add a little more kick it is paired with some coconut Vodka. Too high proof for your party? Go to 1 oz Dark Rum and 1/2 oz Coconut Vodka. Love the addition of the Coconut and Cinnamon for a fun holiday taste. Anyone for a Christmas Luau?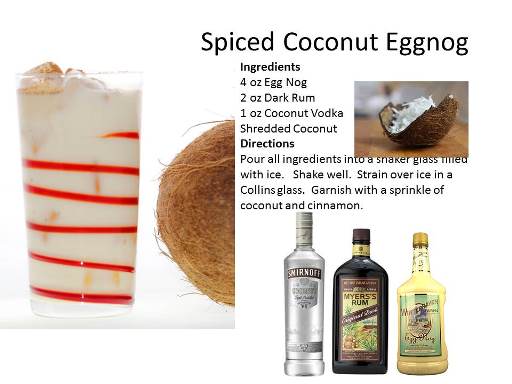 If you like gingerbread you'll like Cinnamon And Spice Gingerbread Martini. It is a fun holiday drink with a comfort food taste. We used this amazing, albeit expensive, maple syrup. There are times when using the best of something pays off. A very different unique cocktail that will be a hit at your holiday bash!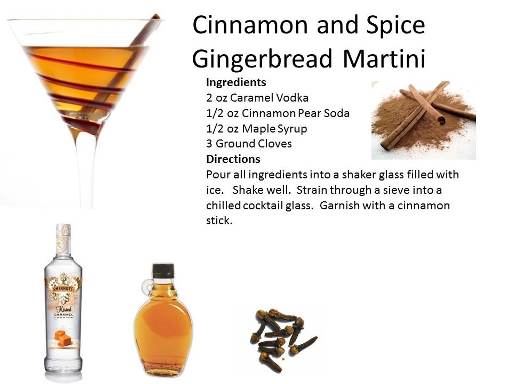 Nothing says the holidays like a little sparkle! We made a kickin' Devils Food Chocolate Martini and added chocolate stars and real editable gold flakes. (available on Amazon) This is a fun girly drink and one of the few that when you finish the drink well you have to eat the chocolate stars. Oh darn! Holiday cocktails should be fun and that's just what this one is, fun.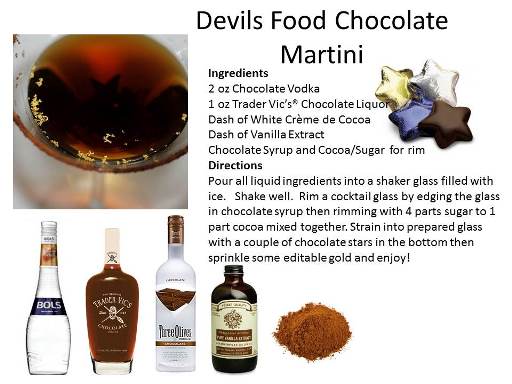 Christmas Citrus is perfect for the holiday season from Thanksgiving through Christmas. It makes up in a great batch punch for larger groups. Colorful, tasty and beautiful. Everything you want to have for a cocktail party.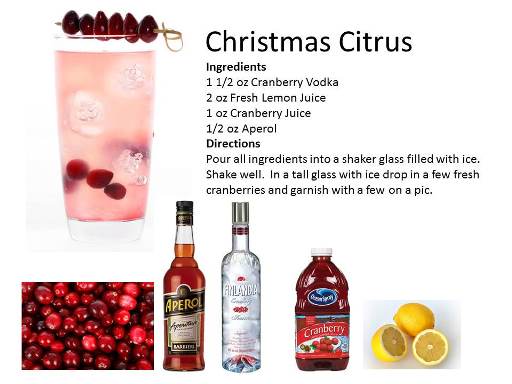 Earthy botanical, Santas Mule drink with the combination of the sweet of the cranberry Vodka and the spicy notes of the Green Chartreuse and Ginger Beer, this is a different kinda cocktail that could make Santa trade his reindeer in for this mule. Move over Rudolf!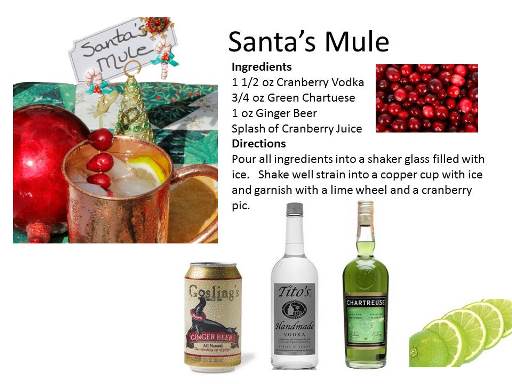 For the Rye drinkers in your group a fun and festive approach to a holiday cocktail is the Salty Caramel Sour. You omit the candy if you want as the caramel syrup does most of the work but that little hint of chocolate is really quite tasty. Your preference.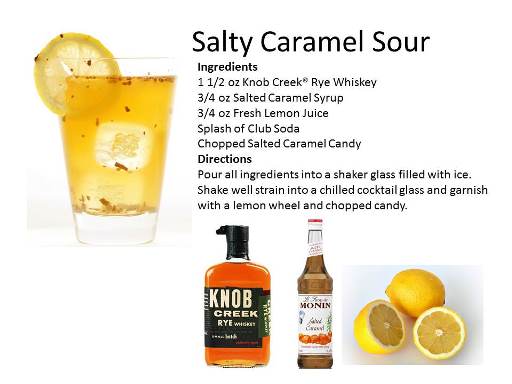 We have to admit that we really have fun making up the names of these drinks! The Crazy Elf is a wonderful play off the flavors of the Tennessee Honey and sweet and spice notes. The Rosemary makes this drink. It also makes a beautiful holiday presentation for your cocktail event.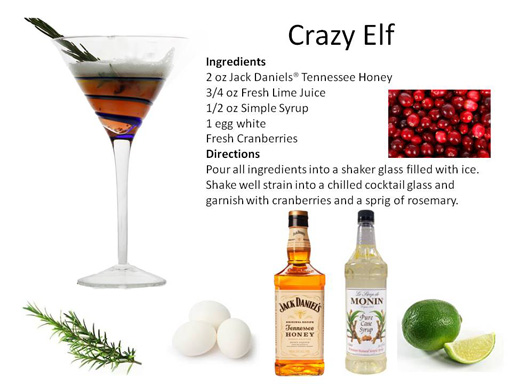 Santas Ice Tea is a great iced tea drink that could also be served warm. We preferred it chilled but either way its a great cocktail. The whiskey and the chai tea really complement each other and the cherry liqueur off set the spice notes and sweetened up the tea. Yum is all we have to say. Great winter drink!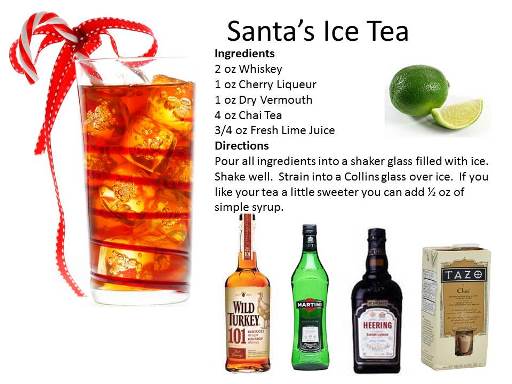 A creamy holiday cocktail that looks as pretty as it tastes. Candy Cane Martini is a yummy holiday drink. Add a candy cane tied with a holiday ribbon for a festive presentation. Cocktail glasses can be prepared/chilled in the fridge the day before the event. The syrup will swirl better if both the glass and syrup are chilled.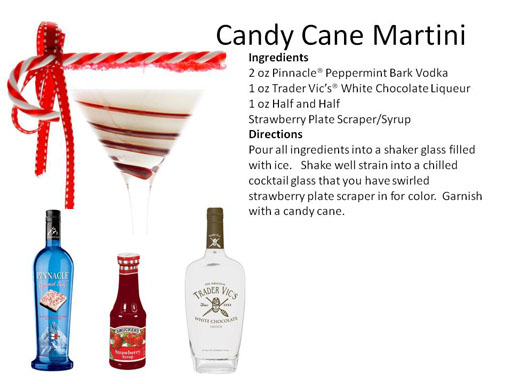 Angel's Kiss is a sweet layered drink that has been around since the 80's. Too fun but just one can go a long away.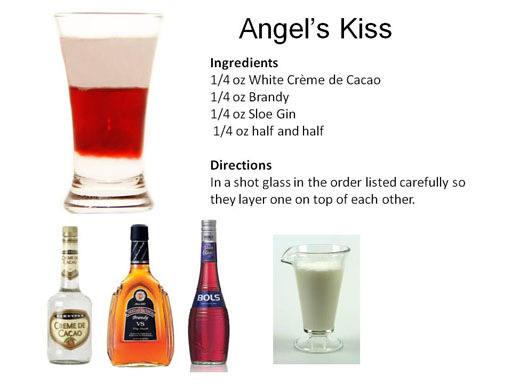 Two of my favorites Champagne and Vodka. Just a tip to make this the best tasting brunch drink, chill the Vodka in the freezer before mixing your Arctic Kiss while the chilling over ice works it introduces water into the drink through the shards of ice!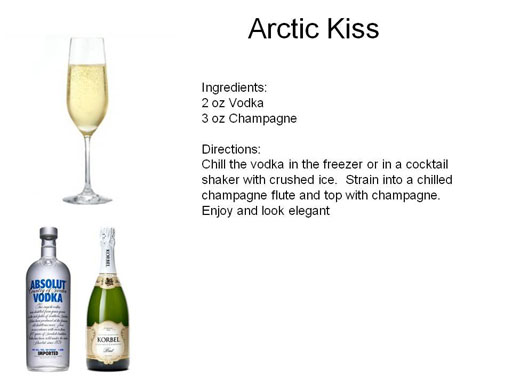 Bacardi Cocktails were originally a Daiquiri served straight up just Rum and lime juice. As the drink became Americanized it included grenadine which gives it a sweeter taste and red color.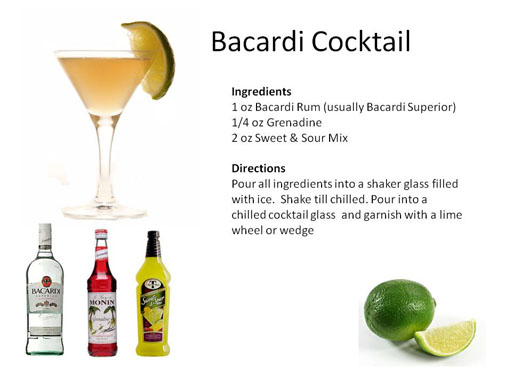 There have been whole blogs books and articles written on the Martini and if it should be shaken or stirred. Stirring is recommended for all drinks that do not contain fruit juice as it keeps the ice pieces created when shaking from diluting the drink. Martini people take their gin very seriously. So let's break it down, Martinis = Gin and Vermouth. Modern Martinis use dry or white Vermouth. Now a days a dry Martini is one that has very little Vermouth, the dryer the smaller the portion of Vermouth to Gin, those with more Vermouth are wet. A dirty Martini is one where the brine from the olive jar is poured into the drink adding a salty taste. When you move into Vodka Martinis these are not true Martinis but are part of the drinks that are called Martinis or fill in the blank – tinis. Since we are more interested in what tasted good, a personal choice, we have a variety of Martinis including some that are tini's called that more because of the glass they are served in as opposed to being a classic Martini. So have yours shaken or stirred, it's up to you! Just enjoy. Like all spirit only drinks this is where you want to spend you dollars on the good stuff. Have a Gin tasting party with everyone bringing different brands and you'll find that the tastes vary wildly. Have fun and bottoms up.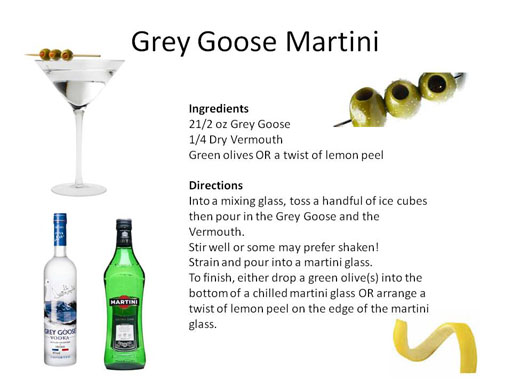 Black Russians first appeared in 1949, and is ascribed to Gustave Tops, a Belgian bartender, who created it at the Hotel Metropole located in Brussels in honor of Perle Mesta, the US ambassador to Luxembourg. The cocktail name stems from the use of vodka, a stereotypical Russian drink and the blackness of the coffee liqueur. The drink remains popular even today with its strong taste and great kick.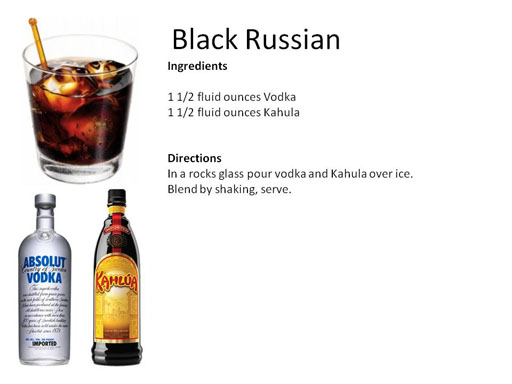 Classic is good, Champagne Cocktail fits that description. Perfect for almost any celebration, easy to set up and serve. Classics are classics for a reason!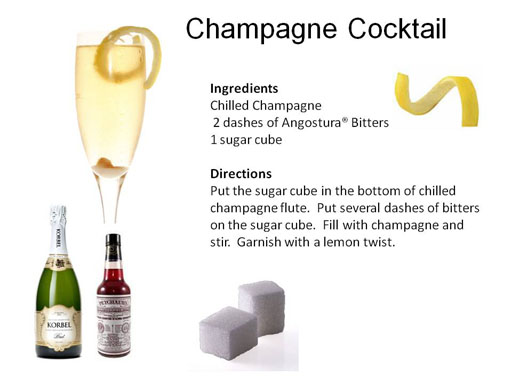 One theory on the origin of the Gibson has Charles Dana Gibson responsible for the creation of the Gibson, when he supposedly asked Charley Connolly, the bartender of the Players Club in New York City, to improve upon the martini's recipe, so Connolly simply substituted an onion for the olive and named the drink after the patron. Another story given by Charles McCabe of the San Francisco Chronicle states it is from San Francisco. A.P. Gibson remembered that when he was a boy, his great-uncle, prominent San Francisco businessman Walter D. K. Gibson (1864–1938), was said to have created it at the Bohemian Club in the 1890s. Whatever the origin the drink remains a classic twist on the martini. Simple and clean usually served with a single onion it remains a standard.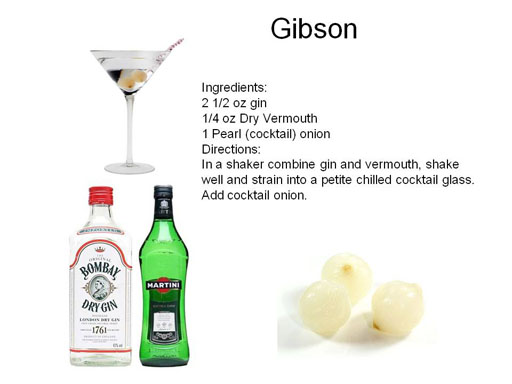 A great cold weather drink, the Nutty Irishman, we think ski lodge good, sitting before a roaring fire with a great book and your feet propped up. Rich and decadent a perfect guilty pleasure.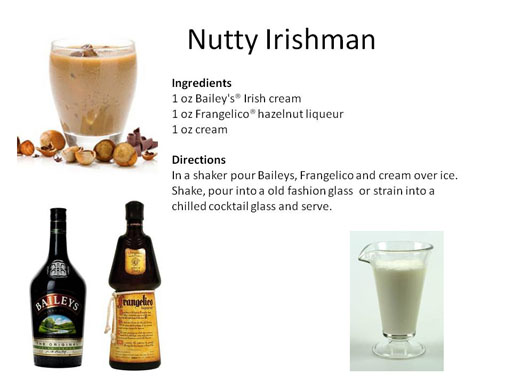 OMG, this is like drinking your favorite candy bar! Salted Caramel Martini is awesome if you you want something sweet and yummy. Vanilla Vodka, Frangelico and Kahlua along with some salted Caramel Syrup blend to perfection.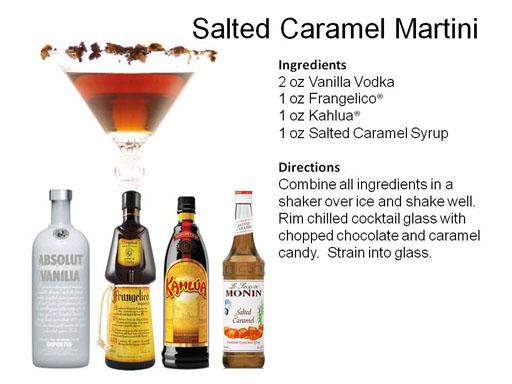 The perfect after dinner drink or fun drink to share with the girls S'mores Martini is yummy. This drink is sweet, strong and smooth. Not to mention it tastes just like S'mores!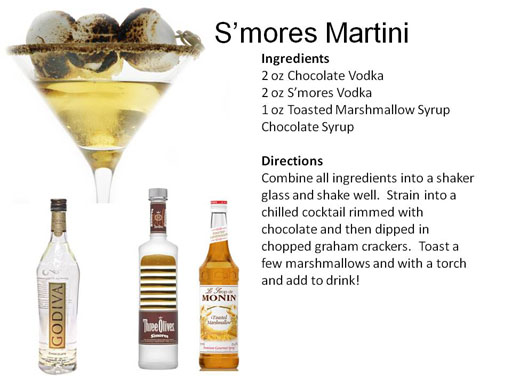 A very interesting the Volcano looking drink as it layers itself as you pour. Lots of fun for a brunch or baby shower it tastes great and looks really fun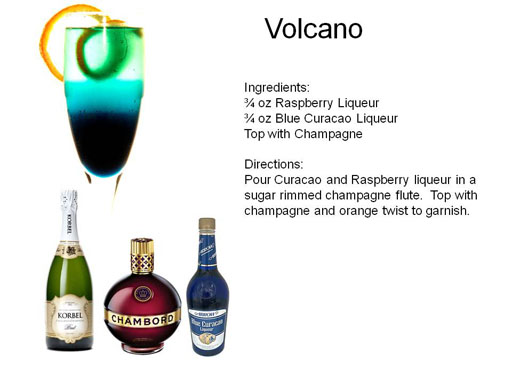 New Years Eve Punch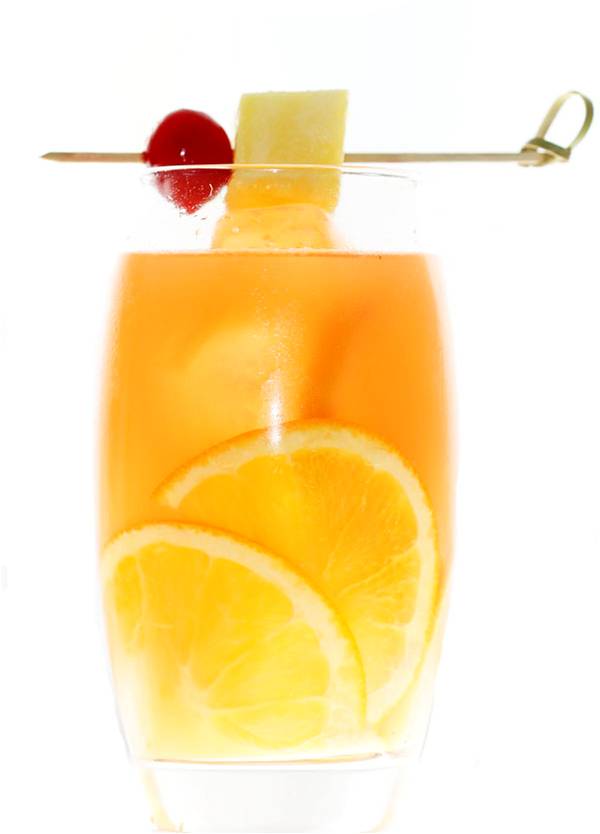 A light fun Punch drink that works up well in a batch. This punch has a fairly low proof but lots of flavor. Nice punch to serve to make sure all your guests have an option to stronger libations. Tastes a lot like citrus fruit punch with just a little tang from the sake. Very tasty. 
Ingredients:
2 Cups Sake
1 Cup Maraschino Liqueur
4 Cups Fresh Pineapple Juice
4 Cups Fresh Orange Juice
2 Cups Fresh Lemon Juice
Makes about a gallon and a half of punch.
Prep:
Mix up the spirits ahead of time and put in the fridge. Slice oranges and lemons and place them in the punch bowl along with 1 jar of strained whole maraschino cherries. Cut fresh pineapple spears or flags and set them up with the glasses.
Bahaman Breeze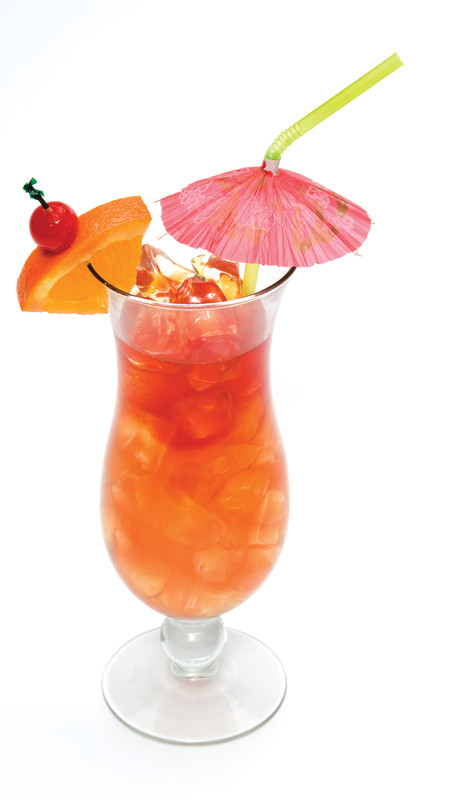 Very Tropical with a nice kick, this punch will be sure to make your party like a day at the beach. Light on mixers and higher proof make sure to serve this with food.
Ingredients:
2 cups Dark Rum
2 cups Coconut Rum
1 cup Apricot Brandy
1 cup Banana Liquor
1/2 cup grenadine
1/2 cup honey
2 cups Orange Juice
2 cups Pineapple Juice
Makes about a gallon and a half of punch.
Prep:
Mix up in advance and chill. Make ice cubes from a mixture of orange and pineapple juice flavored with enough grenadine to turn the ice to a reddish gold. These look so pretty floating in the punch bowl. Prepare sliced oranges and pineapple flags for garnish. Enjoy!
Thanksgiving Spice: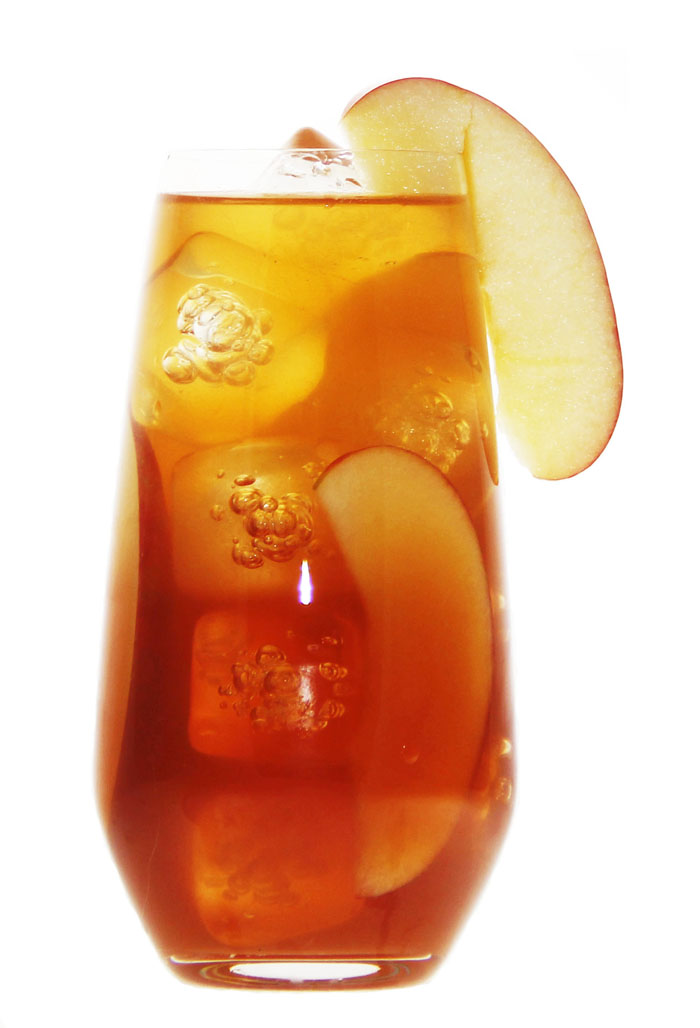 This is the perfect Thanksgiving drink. It goes well before during and after dinner, is low proof, can be served as a punch for a large group.
Ingredients:
2 cups Brandy
4 cups Apple Cider (half gallon)
1/2 cup Aperol
1 cup Cranberry Juice
Makes about 1 gallon of punch.
Prep:
Thin slice apples and drop those into the punch bowl. Pre-freeze Apple Cider in an ice cube tray to use as ice to keep the punch from watering down. Makes approximately one gallon. Add cinnamon sticks as a stirrer if desired.
Stiff Upper Lip: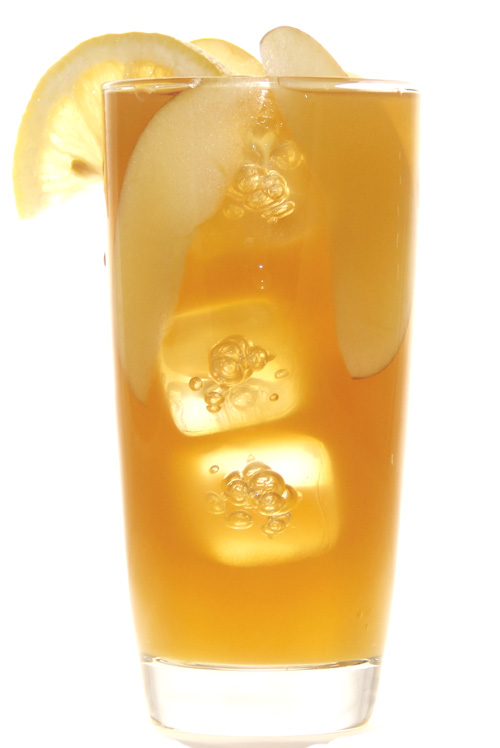 A stronger more adult cider drink Stiff Upper Lip will give you just the opposite if you drink too many. The lemon and gin along with the apple cider makes for a refreshing fall drink. Be aware it packs a punch but doesn't taste like it!
Ingredients:
3 Cups Gin
4 Cups Apple Cider
1/2 Cup Triple Sec
Lemon Slices
Sliced Apples
Makes about 1 gallon of punch.
Prep:
Mix all ingredients together and chill. In a punch bowl over ice add more sliced apples and punch. Serve in prepared punch glasses with thin lemon slices and cinnamon sticks.
Christmas Citrus: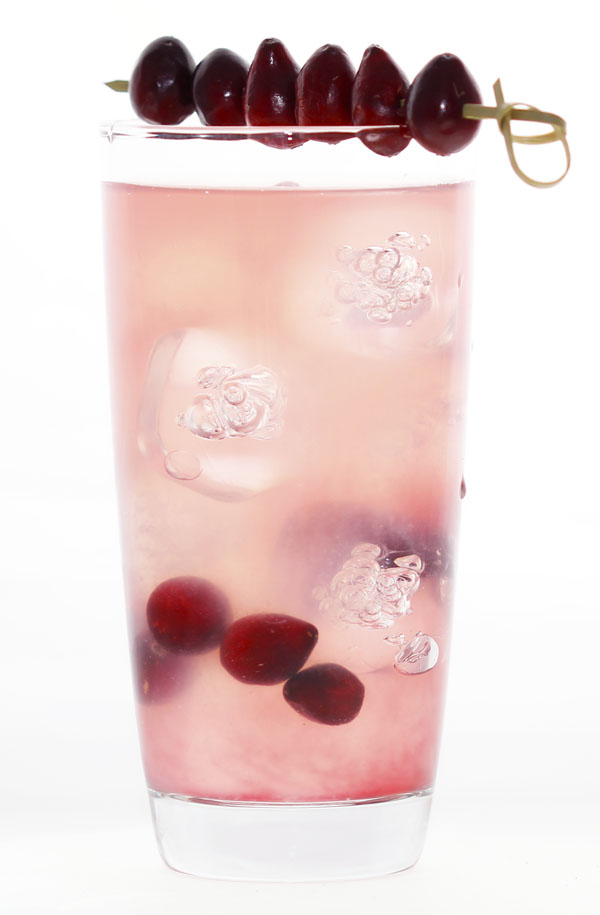 This drink is perfect for the holiday season from Thanksgiving through Christmas. It makes up in a great batch punch for larger groups. Colorful, tasty and beautiful. Everything you want to have for a cocktail party.
Ingredients:
2.5 Cups Cranberry Vodka
3.5 Cups Lemonade
1.5 Cups Cranberry Juice
1 Cup Aperol
Prep:
Mix all liquids together and chill for at least 4 hours. Make ice from equal parts of lemonade and cranberry juice. Thin slice lemons and limes and add fresh cranberries. Place all sliced fruit in the punch bowl and add prepared ice and punch. So beautiful and festive.
Amaretto Cider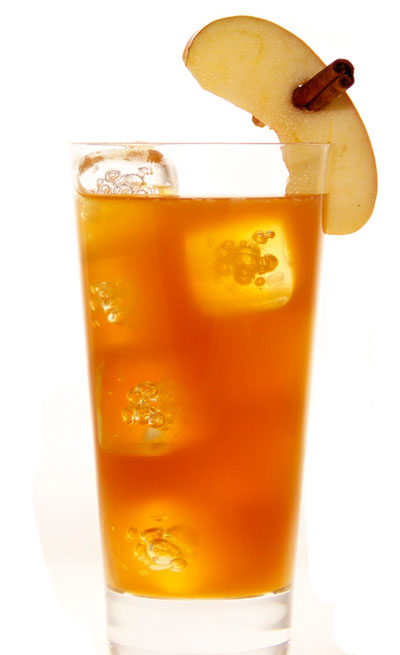 Perfect for a holiday punch bowl and a great fall drink Amaretto Cider hits all the right party vibes. Light, clean not too strong. Add a bowl of sliced apples and set up glasses with a cinnamon stick in each one and let the party begin.
Ingredients:
3 Cups Amaretto
1 Cup Triple Sec
4 Cups Apple Cider
Sliced Apples
Cinnamon Sticks
Prep:
We used Cointreau for a Triple Sec and added apple slices for a wonderful warm punch. Warm your Apple Cider in a crock pot until just before the party starts. Add Amaretto and Cointreau along with the apples. Stir well. You can add a little simple syrup if you need to sweeten. Garnish punch glasses with lemon wheels and cinnamon sticks.