Drinking Vinegars and Shrubs hit Mixology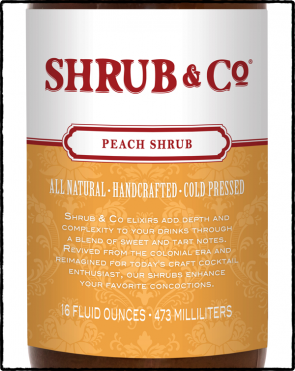 Drinking vinegars have been around for centuries and have been showing up in Mixology Bars and recipes over the last few years.  There are a few ready made drinking vinegars and shrubs that are readily available to be used in drinks like the SOM brand produced by the Pok Pok restaurant in Portland, OR.  Another good source is Shrub and Company which also has some great recipes for using their vinegars.  Pok Pok Drinking Vinegars include Apple, Pomegranate, Pineapple, Tamarind, Raspberry, Ginger and Thai Basil.  We tried all of them and we liked the Pomegranate, Pineapple, Raspberry and Ginger the best.  The Apple, Tamarind and Thai Basil were earthier and would most likely take a little longer to find the perfect drink to complement their unique taste.
The great part of drinking vinegars is the they are very easy to make and great fun to experiment with different fruits, vinegars and sweeteners to make the ones that fit your taste profile. 
The history of drinking vinegars goes back to ancient Babylonia and have been used for multiple purposes.  From its healing properties, ability to kill germs, preserve food and as a digestive aide, vinegar has been around since people determined that wine will eventually turn into vinegar if left long enough.  Caesar's armies drank vinegar as did Hannibal's.    There are many Biblical references of vinegar that was drunk after being sweetened with honey.  The drink may go all the way back to Hippocrates and was called Oxymel which was used medicinally.  It was just a mix of water, honey and vinegar.
One of the best ancient stores involves Cleopatra and a pearl.  She bet her lover Marc Anthony that she could spend 10 million sesterces on one meal.  In order to do this she put a very large pearl in vinegar disolved it and then drank it as a cocktail.  For many years this was supposed to be just legend but Discovery channel set out to replicate the experiment just to see if it could be done!  Click here to read the full story of a very expensive bar bet.
In Colonial times vinegar was used in "Haymakers" punch.  Other names it went by included switchel or switzel.  It contained water, a sweetener, (honey, molasses, maple syrup or sugar), ginger and cider vinegar.  This drink helped rehydrate the farmers working in the fields harvesting the hay by hand, hence the name, Haymaker.  Since all the ingredients were high in potassium it allowed them to work longer and experience less fatigue.  Much like the energy drinks of today.
There are also shrubs, vinegars that include fruit and sometimes alcohol.  The name most likely is from the Arabic word for drink.  There are multiple ways to make shrubs some take a couple weeks others in less than an hour.  We've gathered a couple of recipes to get you started.
Strawberry Shrub:
1 cup of mashed fruit most berries work really well we used strawberries for the example below.
1 cup cider vinegar
1 c sugar
Blueberry Shrub:
Mix vinegar and berries together and heat to boiling.  Continue to boil for 10 minutes.  Strain out the berry pulp using cheese cloth.  While still hot add sugar then allow to cool.  Mix until the sugar dissolves.  Stores in the refrigerator for up to 30 days.  Mix with club soda in a 1:5 ratio or to taste.
4 cups fresh blueberries
2 cups cider vinegar
2 cups sugar
Using non-metal container add blueberries and vinegar.  Refrigerate for 3 days.   Pour through a sieve into a bowl mashing the fruit to release the liquid.  Pour the liquid into a medium sauce pan and add sugar.  Boil for 3 minutes then allow to cool.  Chill and use in a 1:4 ratio with either water or club soda.
We adapted a couple of our drinks, Strawberry Thyme Lemonade and and Basil Blueberry Lemonade, to try out the taste of our homemade shrubs by substituting the shrub for the lemonade.  We also went Organic to try the healthiest attempt at a cocktail.  The vinegar ended up taking on much of the same flavor as the lemonade did, sweet and tart at the same time.  There is a residual smell of vinegar but after the first couple of sips it didn't seem as strong.
Basil Blueberry Lemonade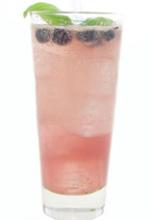 2 oz of Organic Vodka, we used Square One
1/4 cup Organic Blueberries
4 med sized Organic Basil leaves
1 oz Blueberry Shrub
4 oz of Club Soda
In a large glass shaker muddle blueberries and basil. Add all liquid ingredients except soda. Stir and strain into a collins glass filled with ice. Top with club soda. Add a few blueberries and garnish with a piece of basil.
Strawberry Thyme Lemonade

2 oz of Organic Vodka, we used Square One
1 cup Organic Strawberries, save a hand full for garnish
2 med sized Organic Thyme Stems
1 oz Strawberry Shrub
4 oz of Club Soda
In a large glass shaker muddle strawberries and 1 stem of thyme. Add all liquid ingredients except soda. Stir and strain into a collins glass filled with ice. Top with club soda. Add a few sliced strawberries and garnish with a thyme stem and a lime slice and whole strawberry.