Coco Light Martini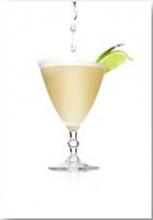 A recipe from our friends at Ciroc, the Coco Light Martini is the perfect cocktail for relaxing by the pool on a beautiful summer's day.  The best part of this drink is that it has Coconut water in it, which is good for you so this is really a health drink... well maybe not but we can pretend!
Ingredients:
1 1/2 oz Ciroc Coconut
1 1/2 oz Coconut Water
1 oz Pineapple Juice
1/4 oz Fresh Lime Juice
Preparation:
Shake all ingredients over ice and strain into a chilled cocktail glass.  Garnish with a lime wheel.