Chicago - Where To Go
Chicago - The Matchbox
This place is tiny! Legally no more than 30 people are allowed in the place so it comes by its name naturally. The Matchbox calls itself "Chicago's Most Intimate Bar." It's a mere three feet wide at its narrowest and about 10 feet at its widest point. The Matchbox draws a variety of people of all ages tending towards those over 25. If you're claustrophobic you can go outdoors to the tables and chairs on the sidewalk fronting Odgen Avenue, weather permitting.
It has a wide variety of liquor and beer, unusual tequilas, single-malt bourbons and small-batch whiskeys. Handmade cocktails featuring house-infused spirits especially vodka are not to be missed.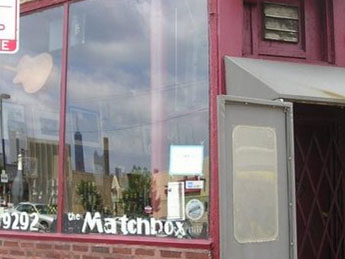 770 N Milwaukee Ave
Chicago, IL 60642
Neighborhoods: River West, Noble Square
(312) 666-9292
Chicago - Violet Hour
This is a love it or hate is place with it being very good for couples or small groups of friends. Not so great for singles or large groups. The drinks are amazing and truly crafted by mixologists that know what they are doing.
Check out what the Backyard Bartender had to say.
Just a few El stops away from the Whistler is the Violet Hour, known as THE Chicago cocktail bar. The Whistler and the Violet Hour were my two very favorite bars in Chicago, and Sarah and I hit them up in the same night, which, of course, begs a comparison, The Whistler was delightfully chill, probably the most relaxed atmosphere I've ever found at a dedicated cocktail bar. The whole vibe was very laid-back, very under-the-radar. In the very best way, the Violet Hour is the Whistler's exact opposite; they are both hard to find, both have amazing cocktails, and that's where the similarities end. The Violet Hour is dramatic, from the velvet curtains at the entrance to the Alice-in-wonderland decor to the painstaking presentation of the cocktails. Does it feel like a neighborhood bar? Absolutely not. Does it feel like an experience? Oh, hell yes. More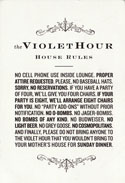 1520 N Damen Ave
(between Wicker Park Ave & Pierce Ave)
Chicago, IL 60622
Neighborhood: Wicker Park
(773) 252-1500
The Violet Hour
Chicago Curio/Gilt Bar
There is an upstairs bar Gilt and a downstairs bar Curio. Funny the upstairs bar takes CC but the Curio is Cash Only. The menu at Curio is heavy into to the brown liquors more of a pre-prohibition feel as is the decor with the dark tones leather heavy furniture and dark lighting. Very Speakeasyish, you feel like you've taken a sexy step back in time. Did however use the flashlight app on my phone to read the menu, it is really dark down here.
Speaking of your phone, most likely it won't have any reception so make sure your friends can find you beforehand. Drinks are well crafted and the variety is good. These guys really know what they are doing. You can also order some of the deserts from Gilt if you want an after dinner drink and dessert.
230 W Kinzie St
Chicago, IL 60654
312) 464-9544
Gilt
Chicago - The Whistler
If you can get past the hipster vibe and onto the drinking inside the Whistler may be your place. Drinks run about $10 and usually take about 15 minutes to get so if you need to have something in front of you at all times order about half way through your previous drink. The reason for the wait is that all the drinks are hand crafted and these guys know what they are doing. Everything was creative and well balanced with flavor and kick. The drinks were strong without being overpowering and the bartenders were nice about helping you find something you would like. They have live music and/or DJs most nights but for the most part the music is at a level where you can talk and hang out with friends or a date.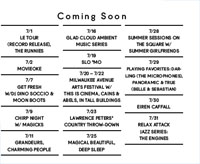 Nice patio outside and weather permitting it is a laid back alternative to the bar. Some basic outdoor furniture and twinkle lights make it relaxing and comfortable.
2421 N Milwaukee Ave
(between Fullerton Ave & Richmond St)
Chicago, IL 60647
(773) 227-3530
(773) 227-3530
Whistler