Christmas Cocktails
Christmas through New Years Eve is all about friends, family, dressing up and great parties, cocktails and food. Cocktails are a way to enjoy those time together. Think of the cocktails as another layer of taste that should bring something to the table regardless of if it is the food or cocktail. We have punches, classic drinks, dessert drinks, low proof and well higher proof but all tested and tasting like they should. Find one or more that appeals to you and add them to your menu!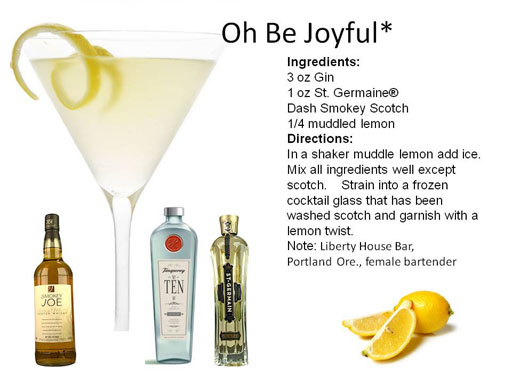 We just love this drink.  It came to us via a friend who imbibed this cocktail at the Liberty House in Portland.  He didn't remember the mixologist's name but did remember the drink.  This is just enough twist on a martini to be very special and unique.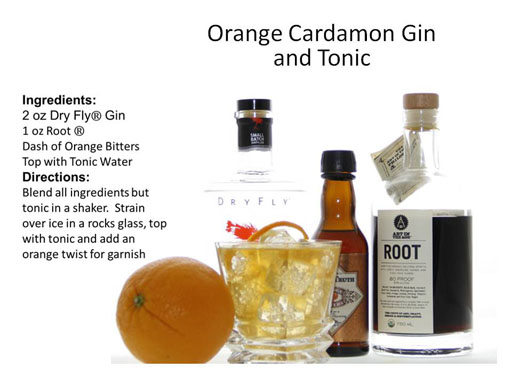 This is an interesting drink made with organic Gin and Root Liqueur.  Root is a very cool liqueur made from some of the same ingredients used (a long time ago), to make Root Beer.  We've been having a blast playing with it and if you're interested check out their link.  Root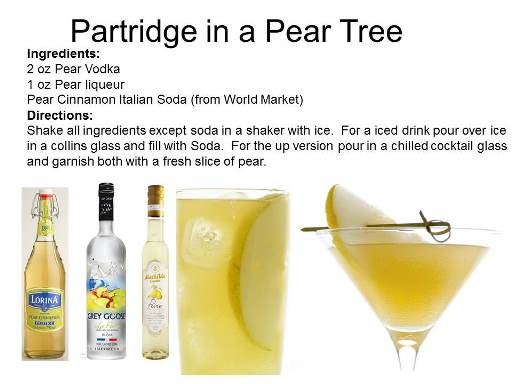 If you like pears you'll love this.  Equally good server on the rocks or straight up this drink from from fall to NYE with ease.  Fun fizzy and light this drink is a sure crowd pleaser great for a party or brunch.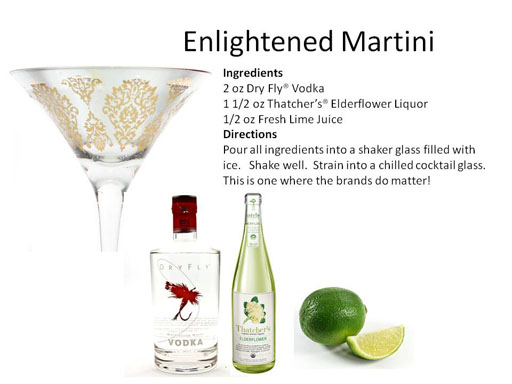 Enlightened Martini is one where the ingredients do matter.  We tried out the line of Dry Fly organic spirits and we really like both the Vodka and the Whiskey.  Here we paired the Vodka with an organic Elderflower liqueur.  All we can say about this is one is not enough.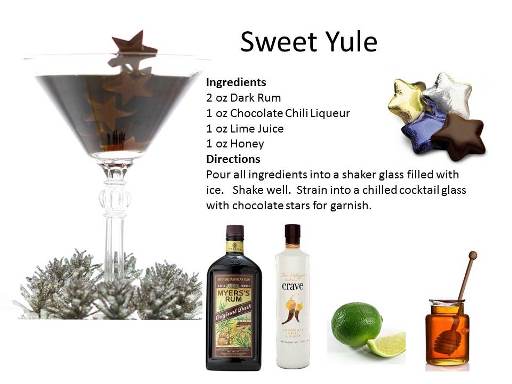 Sweet Yule is sweet and spicy all at the same time.  We used Myer's dark rum and Crave to give it a rich robust flavor and then added a little Orange Blossom honey to sweeten it up.  Then we added a hint of citrus with a squeeze of time and dropped some chocolate stars in the bottom.  Bottom's up!
Boxing Day is traditionally December 26th when the wealthy would give gifts to those less fortunate.  Well we're fortunate to share this with all the Bourbon drinkers out there and you don't even have to save it till the 26th!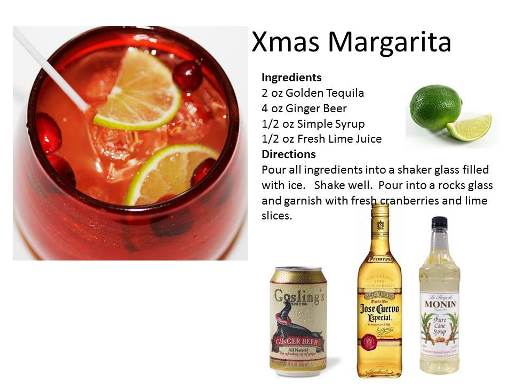 If you love ginger and Tequila this is a great combo.  The tastes of ginger, lime and fresh cranberries give this drink a tart kick.  We sweetened it up with just a little simple syrup but if you prefer you can omit for a wonderful clean tasting margarita.  We added the limes and cranberries for garnish for a colorful and pretty drink.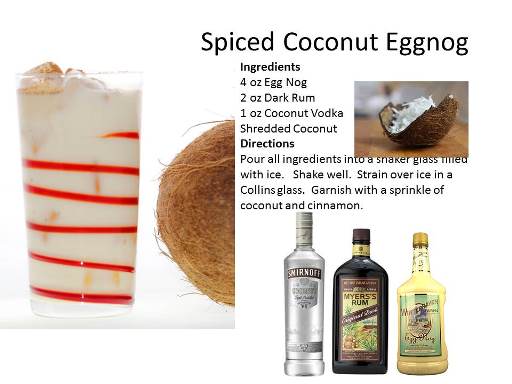 Can you say Christmas Luau?  This is a fun drink that balances the right egg nog with the flavor of the dark rum and coconut vodka.  They combine to create quite a kick.  A fun twist on the classic egg nog drinks so put pull out the flowers, make a lei and do the hula around the fire pit!  It's all fun.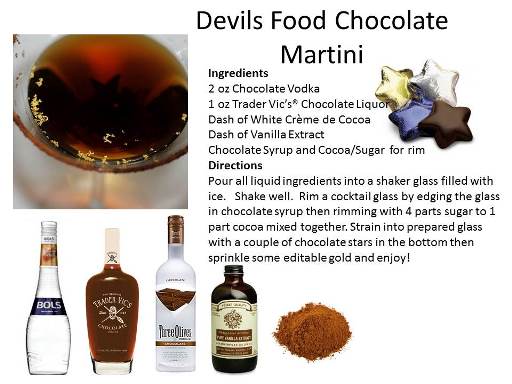 We worked really hard on this one, in fact we just kept making them so we could refine and try the results.  Well, that's how we spun it...  This is really good and great for a holiday dessert or festive cocktail.  To set these up for parties rim the cocktail glasses in advance and put the stars in the bottom.  Chill in the refrigerator until guests start to arrive.  Everyone loved the little sprinkle of editable gold.  Perfect to ring in the new year with class!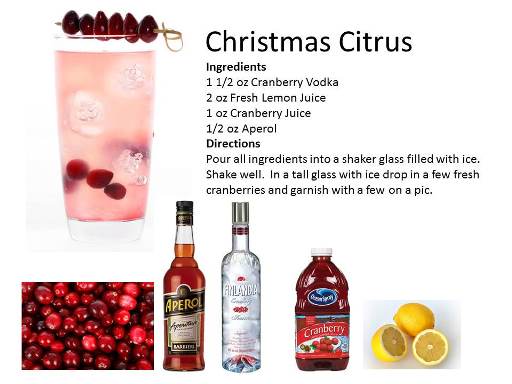 This is our answer to too much sweet.  We love the tart of the cranberry juice and lemon.  Add in cranberry Vodka and Aperol for just a little sweet and you have a great citrus and fruit drink that looks as good as it tastes.  We garnished it with fresh cranberries.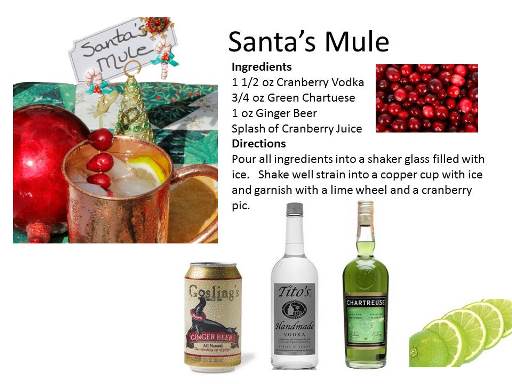 A Christmas riff on the classic Mule.  We used ginger beer Tito's Vodka, we love this vodka it's one of our favorites, and a bit of Green Chartreuse.  Clean, crisp and interesting you can garnish with fresh cranberries on a pic and lime wheels.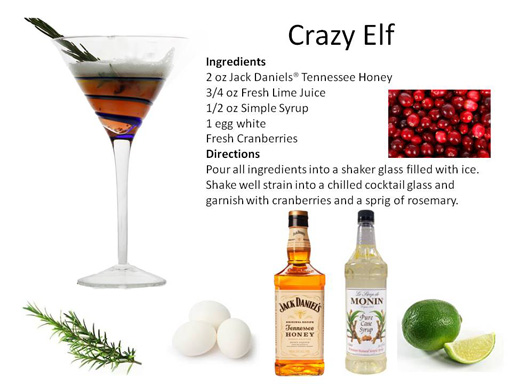 Tennessee Honey fits perfectly with the holidays, sweet and savory it makes a great cocktail.  We blended it with rosemary, lime juice to cut the sweet and an egg white foam.  Yum, this is a step above your normal cocktail.  Great for smaller parties where you have time to mix those special drinks.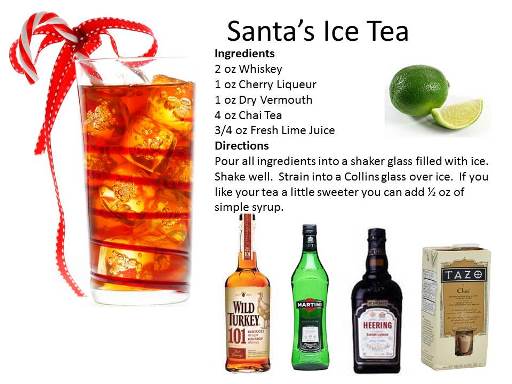 We used Wild Turkey 101 to this cocktail with Chai tea and Cherry Heering.  It not only is delicious but has a nice little kick to keep Santa warm as he makes his round the world trip on Christmas Eve.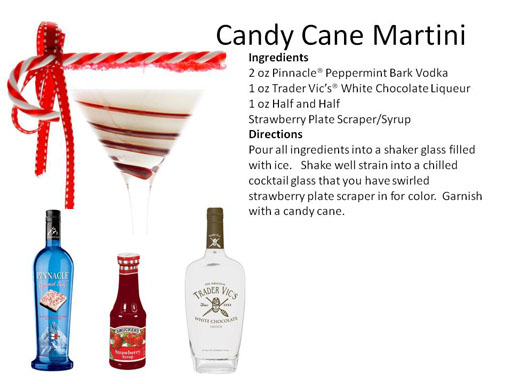 This is a candy cane in a glass dripped in white chocolate.  A fun festive drink make sure to prepare the glasses ahead of time and store in the fridge.  If both the glass and the syrup are cold they will stick better and not run!  Enjoy.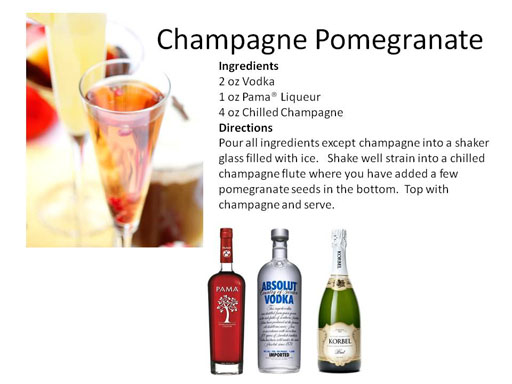 What would the holidays be with out sparkling wine and Champagne.  This is a deceptively light drink with a sweet finish.  The Vodka and Pama play well with the sparkling wine and the pomegranate seeds add some visual interest and well some anti oxidants if we want to be a little healthy.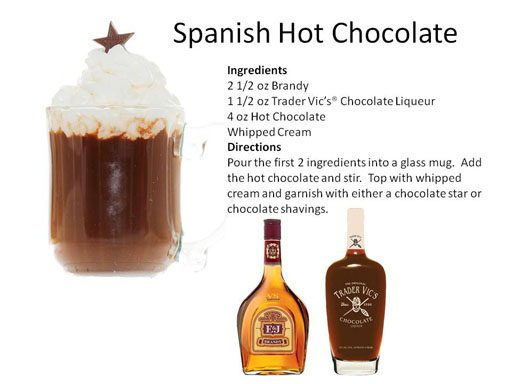 Hot chocolate, brandy and chocolate liqueur.  What could be better?  Topped off with whipped cream and a chocolate star this cocktail will help keep your guests warm and toasty.  Make the hot chocolate in keep warm in a crock pot then add the brandy and liqueur as you serve.  A chocolate lovers dream.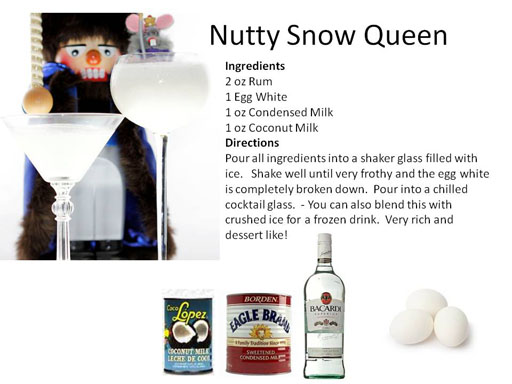 As if the Nutcracker wasn't sweet enough we put together this very sweet but oh so good drink.  One goes a long way and it's more of a dessert than an all evening long cocktail.  Frozen or on the rocks this drink will be the perfect way for the girls to finish up a night at the ballet.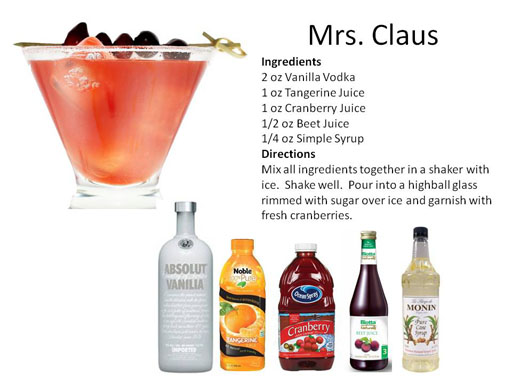 One of the best we've tasted and oh so different.  We started seeing vegetables used in cocktails and we love the color that beet juice gives drinks.  A great blend of flavors and botanicals this one is awesome.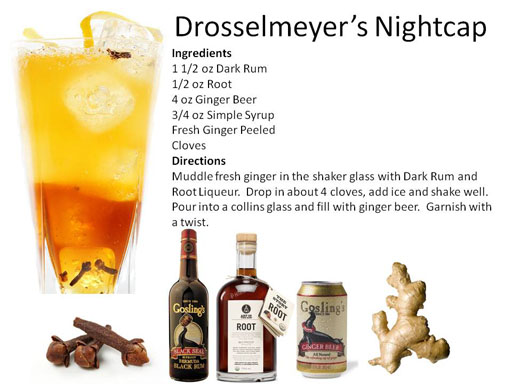 We keep going back to Root, it plays well with so many things.  A twist on a Dark N Stormy we added cloves and fresh ginger to finish up this spicy interesting drink.  Give it a try and you'll see what we're talking about.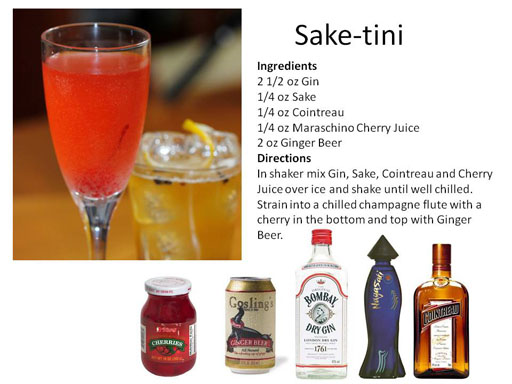 This is too fun.  Colorful and pretty with fun ingredients that mix well together.  A interesting combo of east meets west.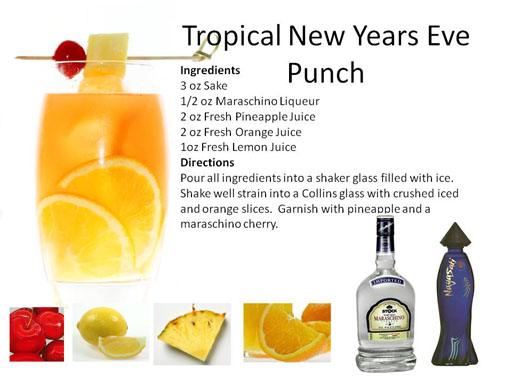 A punch that is on the lighter side for those guests who like to keep thing going all night.  Mixes up well in advance and just pour over a glass with fruit and ice already in it for color.  A nice option for a lower proof.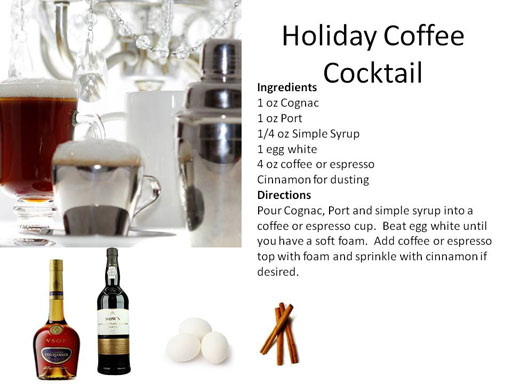 Holiday brunches don't have to serve just boring mimosa's, not that there is anything wrong with them!  The cognac and port go beautifully with coffee and the egg white foam is pretty without adding too much sweet.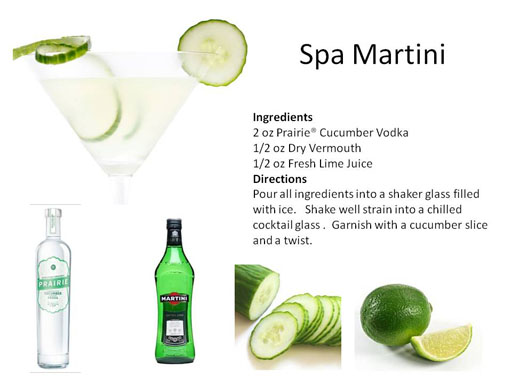 After the holiday rush you need a spa day.  Even if you spent all your money and can't afford one it still feels like a day at the spa with this drink.  We used Prairie organic Vodka, amazing.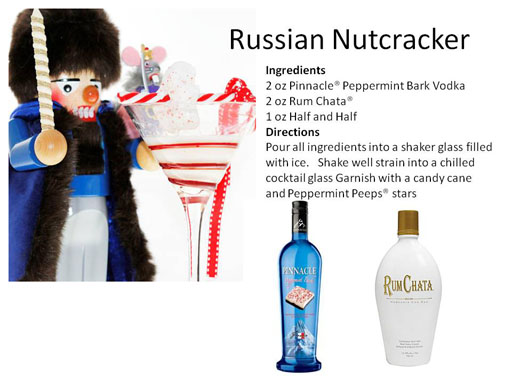 This drink is just fun.  If you love Rum Chata you'll love this drink!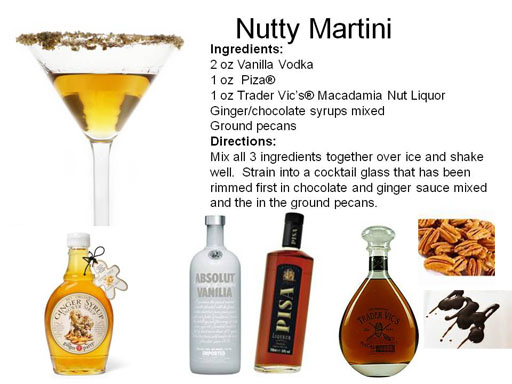 We love discovering new liqueurs to play with.  Pisa is a very interesting nut liqueur and we love the Trader Vic's macadamian nut liqueur.  And yes the Pisa bottle is leaning on its side.  Read about this wonderful liqueur from Tuscany.  Pisa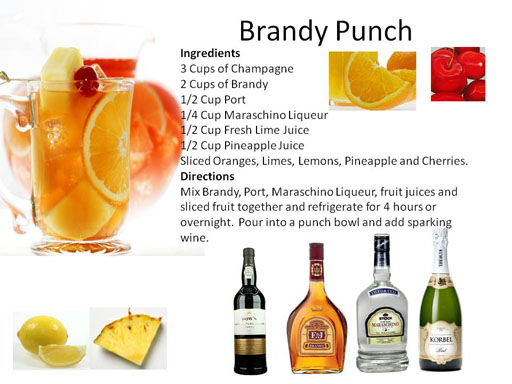 For easy party giving a punch is the way to go.  Mix up all ingredients except sparkling wine and store overnight or for 4 hours pre party in the fridge.  Pull out and add sparkling wine.  Set the bowl on ice so it doesn't get watered down and set up the punch glass with the fruit in the bottom.  Add an ice bucket and guests and serve themselves!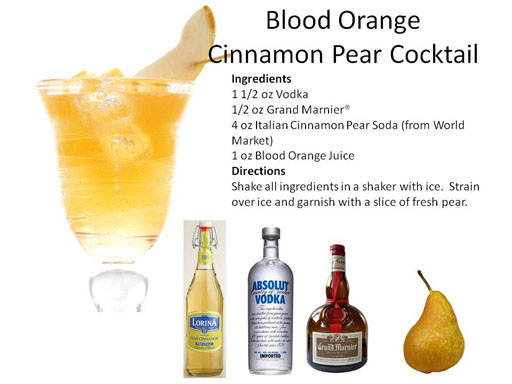 We're made for this Cinnamon Pear Soda from World Market so we had to come up with the perfect cocktail for it and I think we did.  Give it a try.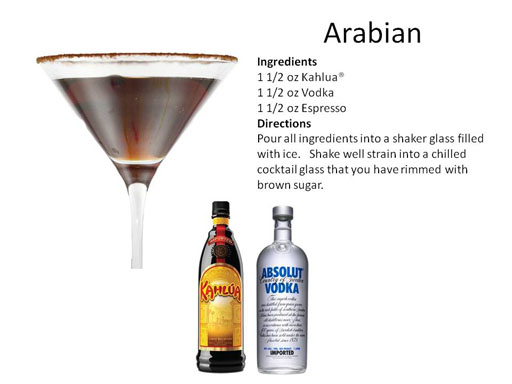 Espresso, Kahlua and Vodka.  A little fine brown sugar on the rim and sip.  ahhhh.....