Chicago - City Events
Chicago Gourmet Artisan Cocktail Dinner - June 25th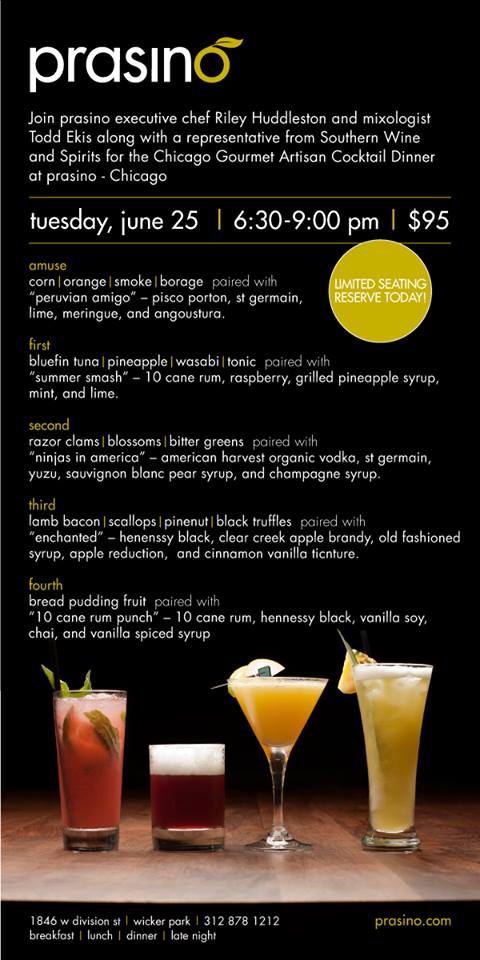 Great dinner with master mixologist Todd Elkis. With Southern Wine and Spirits providing the spirits it should be amazing.
prasino
1846 W. Division St.
Chicago, IL 60622
Phone: 312-878-1212
2014 Taste of Chicago – July 10-14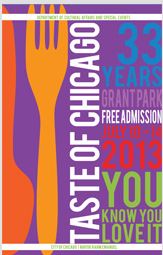 Where: Grant Park -- north/south between Monroe Avenue and Balbo Drive, east/west between Michigan Avenue and Lake Shore Drive.
Official Dates: July 11-14, 2013
Hours: 11:00 a.m. - 9:00 p.m. 
Admission: Admission and events are free, but you obviously have to pay for food and drinks. Purchases are made by ticket only. Tickets are sold in strips of 12 for $8. Large items are generally 9-10 tickets, side portions 6-7 tickets, soft drinks 4 tickets. All daily restaurants offer a small "Taste" portion for 2-3 tickets -- a great way to sample a large variety of all the food available. Tickets are available for purchase on the day of the event.
Music:  (Opening acts are listed first)
Wednesday, July 10, 5:30pm
Delta Spirit
fun.
Concert Seating Tickets for fun. are Sold Out!
Robin Thicke
Thursday, July 11, 5:30pm
Estelle
Robin Thicke
Buy Tickets
Friday, July 12, 5:30pm
Robert Plant
Presented by 93XRT
The Lone Bellow
Robert Plant Presents The Sensational Space Shifters
Concert Seating Tickets for fun. are Sold Out!
Saturday, July 13, 11amIM5
Presented by Radio Disney AM 1300
**FREE CONCERT**
Chloe and Halle
IM5
Jill Scott
Saturday, July 13, 5:30pm
Maxi Priest
Jill Scott
Neon Trees
Sunday, July 14, 4pm
Presented by Bud Light
The Mowgli's
Neon Trees
Taste of Chicago is still a free admission festival, however this year tickets to the seating area at the Petrillo Music Shell will be available for sale in early June and can be purchased for $25 per ticket for all shows.  fun is sold out for seating but you can still catch them on the lawn seating which accommodates more than 30,000 people and is still free.
Chicago Historical Society Events: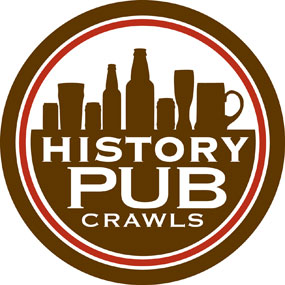 Chicago's Greatest Dives – (Bars)
Thursday, July 6 and Friday August 9, 6:30 p.m.-9:00 p.m.
Feeling a bit in the poor house?  Join us as we pour into some of Chicago's best dive bars.  We'll learn about the history behind each drinking den we visit and discuss the history behind moonshine, bathtub gin, and other historic homemade drinks.
Cost: $40, $35 members
Thursday, July 18, 6:30–9:30
Friday, August 9
Booze, Bars, and Bootlegging!  Prohibition Era Chicago
Sunday, July 28th, 1:00 p.m.–4:00 p.m.
Sunday, August 19th, 1:00 p.m.-4:00 p.m.
Find out what makes Chicago untouchable. Get a taste of infamous speakeasies frequented by some of Chicago's infamous gangsters like Capone, Moran, and Dillinger. On this trolley tour, learn how prohibition came to be, some fascinating facts about the era, and how it ultimately shaped the city and its image.
Cost: $40, $35 members
Sunday, July 28
Sunday, August 26