LA Brunch
I speak as a devout parishioner of the Church of Brunch. Sunday morning is a day for a slow-rolling wake-up time, donning a lace sundress and floral slingbacks, and joining the hungry congregation on patios, or oak tables or cushioned red booths. It's a Sunday (or Saturday!) tradition of nourishment, mindfulness, and communion. We Instagram our Florentine Benedicts to remind ourselves, "I am here. This is what I did today. Here is simple beauty."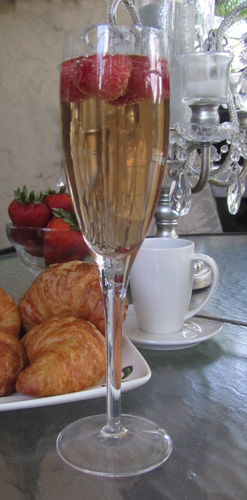 Brunch is not like other meals. It can start early in the day or as late as 1 pm. It accomodates and forgives all wildness from the night before. Hangovers and walk-of-shamers are both welcome at the Church of Brunch. It's a meal meant not to be rushed, but consumed slowly, with many a deep breath and a sip of tea or mimosa in between each bite.
And of course, brunch is an experience. You want to consider the environment of your brunch place of choice, and how you want to spend your Sunday. To that end, I've compiled a list of my favorite brunch spots in Los Angeles, and the accompanying pre-or-post activities.
If you crave some hip East-Side Sunday strolling, get a table at this Echo Park fixture and enjoy their fried egg sandwich with caramelized onions, arugula, tomato and gruyere. Got more of a sweet tooth in the morning? Order the brioche French Toast for rich doughy eggy goodness.
Afterwards, walk around the newly reopened Echo Park lake, perhaps joining a pickup game of soccer on the lawn if you're not too stuffed from brunch, or perusing the handbags and shoes for sale at the Swap Meet. Take a pedalboat tour around the lake to observe the lotus blossoms up close. Pick up a used novel at Stories Books & Cafe and some records from Origami Vinyl to enjoy when you head home.
The Larchmont Famers Market is one of those Sunday staples that every Angelino should try eventually. Get there early to avoid the lines at this popular artisan bakery. If you can handle heavy sweet richness in the morning, and if you have a companion who will share, go for their famous red and blue velvet pancakes with cream cheese frosting, powdered sugar and walnuts. Emphasis on the "cake" in pancake. If you'd rather have protein, any of their Benedicts or Huevos Rancheros will hit the spot. But the basil-infused hollandaise sauce on their Veggie Benedict is a revelation.
Pick up a blueberry smoothie to go, or a bag of neon French macarons for later, and then feast your eyes at the Farmers Market next door. The heaps of waxy purple peppers, bouquets of kale, and crates of watermelons or dark rainbow carrots will tempt you to buy ambitiously. (As an alternative, if you're too broke for brunch at the Bungalow, you can get enough free samples from the peach vendors and hummus and olive booths to last you all day!)
Brunch at home!
Not that there aren't hundreds of terrific brunch spots in L.A., but sometimes there is nothing like a Church of Brunch Service you don't even have to change out of your pajamas for. The aforementioned Larchmont Farmers Market, or the Silverlake Farmers Market, or Santa Monica Farmers Market, will supply you with just about everything you need to feed your hungry family or friends in the comfort of your own breakfast nook. Get aspirational and try your hand at a souffle. Luxe up your basic French Toast by adding a few dashes of cardamom, pure orange extract and pure almond extract to the batter. Or spread your table with yogurt, olives, Armenian bread, breakfast meat, sliced cucumbers, grapes, figs, salt, spices, honey and goat cheese for an a la carte style Turkish Breakfast. Every combination works! Add some of our brunch drinks to pull everything together.
We all work hard in L.A., and soon enough Monday will come around and remind us of traffic and deadlines. So give yourself the day off on Sunday. Let's bow our heads at the aroma of fresh pancakes. And go in quiche.