Boston - Where To Go
Boston - Cuchi Cuchi:
Old Hollywood Style with New World Flavors
Sitting at the end of a 40ft solid wood bar intimately lit with painted, glass-shaded lamps, I can't help but stare as the lips of the lady beside me kiss the edge of her vintage, French 75 cocktail. Fortunately, she's my date; unmistakably, I've found myself at Cuchi Cuchi this evening. As I take in the classic Hollywood glamour around me, the bartender bedecked in jewels, feathers, and fishnets fashions me a frisky old-fashioned, with just a hint of fruit and a classic maraschino cherry, from behind the glittered-flaked bar. This describes what you can expect from an evening spent at Cuchi Cuchi. Glamour, romance, and wonderful handcrafted cocktails are their expertise. Whether you are looking for a place to take a date, a place to meet up with friends, or just a place to get a bite to eat, look no further. While the ambiance is certainly romantic, groups will find this establishment equally comfortable with its intimate lighting, cozy surroundings, and perfectly portioned small plates excellent for inspiring conversation. No matter what your reasons for visiting Cuchi Cuchi neither the staff nor the atmosphere will disappoint.
From vintage to groundbreaking their cocktails are absolutely divine. All of their drinks are made to order with the utmost of care. When I got a drink that called for crushed ice I was surprised when they actually crushed the ice by hand in a glass with a muddler. My date enjoyed her French 75 champagne flute with gin, champagne, fresh lemon juice, and powdered sugar, while I went with an Old Fashioned made with Bulleit Bourbon, bitters, and a real maraschino cherry. After we had our first round of classic cocktails, we decided to venture to the other side of their menu to sample their original creations. We had a hard time stopping ourselves once we tried their original cocktails, we had quite a few, and even ended up going back a second night for more. The ones we tried included, but were not limited to the delicious and refreshing "Beet of My Heart" with Zubrowka organic vodka, ginger brandy, ginger-beet syrup, ginger beer, and lemon. The combination of the ginger and the beet flavors made the drink light and easy to drink without feeling like you were drinking just beet juice or just alcohol. Next was the "Gin Before Breakfast" a mix of muddled kiwi, powdered sugar, gin, elderflower liqueur and lemon juice, with a champagne float. This combination was easily just the right amount of sweetness from the elderflower and sugar offsetting the tartness of the lemon and the dryness of the champagne. The "Gin Before Breakfast" is perfectly suited to any point during the day, but you wont be able to get it at Cuchi Cuchi until they open at 5:30pm. "Salome's Potion" was another evening favorite with muddled blackberries, basil and Hendricks gin. This straightforward and simple drink is perfect the way it is. Balanced to perfection, you get all of the flavors melding together in harmony, but as smooth as they taste, they are pretty much pure gin and will catch you quite off guard if you have too many. Finally we have the French Tickler, St. Germain, Bombay, Lillet, lemon, and a cava float. Listed on a tab stuck in the corner, this drink was barely on the menu but it is anything but an afterthought. A fairly new recipe created by one of their expert mixologists, it was quite divine. The St. Germain and Lillet, give this drink a great herbal quality with a unique flavor that is difficult to describe, but not to be missed. Honestly all of the drinks we sampled were wonderful and if you cannot find something on the menu that suits your tastes, the bar staff will happily make you whatever you want. I provided them with recipe for a new-to-them drink called the Yellow Parrrot, and they made it right away. Their cocktail list is impressive to say the least, with everything from sweet and spicy to pure classics. Generally, I think anyone would be hard pressed not to find at least one drink that sounds irresistible.
795 Main St, Cambridge, MA 02139
(617) 864-2929
Boston – Drink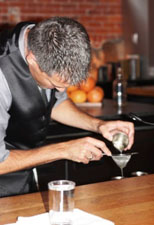 Amazing drinks with great Bartenders - Best time to go is mid-week as it gets very busy and the wait can get long.  Come early and grab a seat at the bar and watch the show, which would be the bartenders.  Put yourself in their hands with a few of your favorite things as a guide.  No menu and they do make normal bar drinks if you have a favorite.  Be warned it costs the same for a standard drink as it does for a hand crafted drink with your taste profile.  So throw caution to the winds and let them take good care of you doing what they do best.  They do serve small plates and they are small so if you come hungry either order a lot or be prepare to be buzzed!
348 Congress St
Boston, MA 02228
Neighborhoods: Waterfront, South Boston
(617) 695-1806
(617) 695-1806
Drink
Boston - Eastern Standard Kitchen
Eastern Standard Kitchen has hearty welcoming food that makes you feel immediately at home, even if you have never eaten anything like it in your own home.  The food is absolutely delicious and prepared with the utmost care.  The dishes are deceivingly simple, while they only contain a few ingredients, they are perfectly balanced and the flavors blend perfectly.  Then come your drinks, heavenly, which are painstakingly crafted at the bar.  With a combination of traditional and original cocktails to delight your senses, there is no way you cannot find something to suit your tastes.  For those who prefer not to take the spirit route, Eastern Standard Kitchen also has a wonderful selection of fine wines and craft beers.  While dining there I enjoyed more than one Narragansett, Near and Dear rye whiskey, vermouth, absinthe, and orange bitters, which was surprisingly smooth with a hint of herbals from the absinthe and the richness you expect from any good rye.  After dinner and drinks you may be tempted to beg off from dessert but this would be a mistake, and this is coming from someone who is not a big fan of dessert in general.  I had the Butterscotch Bread Pudding and it was amazing, I don't even like butterscotch, topped with praline ice cream and salted caramel.  Our waiter convinced us to pair it with a wonderful dessert wine that was just a tad tart to help to offset the sweetness of the dessert and he could not have been more spot on in his recommendation.  Between the amazing food, handcrafted cocktails, and amazingly knowledgeable staff, Eastern Standard Kitchen is a not to miss stop if you are anywhere near the greater Boston area.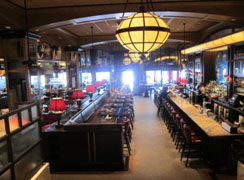 528 Commonwealth Ave
Boston, MA 02215
(617) 532-9100
(617) 532-9100
Eastern Standard Kitchen
Green Street

Green Street is a great place to have a few drinks and a bite to eat with a friend or two.  The restaurant is tucked away in a small spot off the main drag so you may have to wait to get a table as this popular spot fills up quickly but the drinks and food are most certainly worth the wait.  With many boutique alcohols and classic cocktail recipes anyone from the seasoned drinker to the novice taster can find something to enjoy.  The food is your traditional bar fare done right, with such comfort food classics as mac and cheese and burgers and fries.  When I stopped in I was treated to a fantastic rye old fashioned, my newest litmus test of a bar, that exceeded my expectations in every way.  Green Street is a great local spot that offers delicious but accessible food and drinks.
http://www.greenstreetgrill.com/
Green Street
280 Green St
Cambridge, MA 02139
Central Square
(617) 876-1655
(617) 876-1655
Boston - 28 Degrees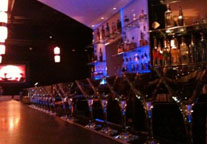 This may be the only place that you want to drink as much as you can so you have to go to the bathroom as often as possible!  Drinks are wonderful with a great staff.  If you like sweet and frozen try the frozen Bellini.  Some amazing Blueberry Martinis; try all the variations.  The menu is divided into different sections like straight up or hot so you can get drinks based on your favorite flavors. Ones we like are the Elderflower Aviator or the Flaming Cucumber. 
1 Appleton St
(between Tremont St & Berkeley St)
Boston, MA 02116
Neighborhood: South End
(617) 728-0728
(617) 728-0728
28 Degrees