Bluecoat American Gin
Sebastian Fortino sits down with Robert Cassell the Master Distiller of Philadelphia Distilling to talk about Bluecoat American Dry Gin. Cassell describes Bluecoat as "having soft juniper notes followed by bright citrus, with a hint of spice on the finish" and locals happily call it their gin.
Gin has come back to Philadelphia and not just in glasses and bottles but in stills as well. Bluecoat American Dry Gin, is produced in Philly. It's a relatively recent arrival on the gin scene and comes in a lovely blue bottle. Its name pays homage to the bluecoats worn by the Americans during the Revolution.
"Gin has a flavor spectrum of different stylistic interpretations due to all the botanicals that can be used. I wanted to define a portion of that as uniquely our own. During the inception of Bluecoat we were defining ourselves as an American premium gin at a time when there were only a miniscule number of gins being produced domestically," said Robert Cassell, the Master Distiller of Philadelphia Distilling. Bluecoat received a federal license to distill in December of 2005 and their first bottles were introduced in April of 2006.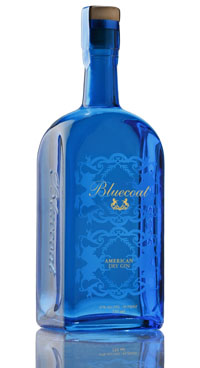 To get Bluecoat's unique flavor 17 different batches were crafted and tried until he found the balanced recipe, for which the spirit is known today. Cassell is also proud Bluecoat is made in the world's largest hand-hammered copper distilling pot.
Making gin is one thing but getting people who are attached to vodka to try it is something quite different. Since vodka has been the "norm" since the 1980s getting gin converts might prove difficult. Gin enthusiasts know many people consider the spirit "old-fashioned" but really, it's a time-honored classic. Cassell says the easiest way is to ask "vodka people" how they take their "voddy. " Someone who enjoys a standard vodka and tonic might not be too impressed with a room temperature sampling of dry gin. It might, perhaps, have too much flavor for them in that state. A good, dry gin is really a crisp, rich, wake-up call for the senses.
"If they drink their spirits with tonic, a splash of water, whatever, get them to sample them the same way and give them the experience of gin geared in a light that is still approachable to them, " Cassell said.
There are several recipes for cocktails on the Bluecoat website. However, Cassell said his current favorite is a classic Negroni made with his own gin. When asked for a recipe he said he likes to see how the bartender makes the drink.
"As a distiller, the best compliment a bartender can give me is to use my spirit in their cocktail. My reason for this feeling is because the customer at the bar is going to judge that bartender by the cocktail, not by what's in it, " Cassell said recently. "If the bartender admires my work enough to include it in their work, it's the best compliment I can receive. "
Therefore, Cassell did not share his favorite version. However, if you wish to try it in your own home a Negroni with Bluecoat consists of equal parts Bluecoat gin, sweet, red vermouth, and Campari bitters. An orange slice goes beautifully with the ruby red color and ice, of course, makes it chilled and refreshing. The citrus of the gin, the sweetness of the vermouth and the blood orange flavor of Campari (a great drink on its own) just makes everything better.
Bluecoat isn't the only spirit produced by the Philadelphia Distilling Company. They are revolutionizing the art of distilling in Philadelphia - and perhaps the country - with some other remarkable products. Midnight Mixologist will discuss their other products within the next few weeks.
12285 McNulty Road, #105
Philadelphia, PA 19154
(215) 671-0346
Check the website for retailer information