Zombie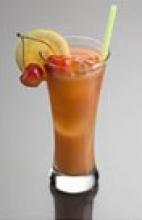 The Zombie is a cocktail made of a variety of fruit juices, liqueurs, and various rums, so named for its perceived effects upon the drinker with the amount of alcohol in them turning them in essence into a Zombie. It first appeared in the late 1930s, invented by Donn Beach of Hollywood's Don the Beachcomber restaurant. It became very popular after an appearance at the 1939 World's Fair. Legend has it that Donn Beach originally concocted the Zombie to help a hung-over customer get through a long day. According to the original recipe, the Zombie cocktail included three different kinds of rum, lime juice, falernum, Angostura bitters, Pernod, grenadine, and "Don's Mix," a combination of cinnamon syrup and grapefruit juice.Due to the popularity of the cocktail during the Tiki craze and the fact that Beach both kept his recipe secret and occasionally altered it, today there are many variations of the Zombie made at many restaurants and bars, some showing few similarities to the original cocktail. We have 2 of our favorites, the Zombie and The Zombie Returns. We suggest drinking these with friends during an evening of watching Walking Dead or any of your favorite Zombie movies, Zombieland!!! They are much more scary or funny depending. Either way it good to make sure you don't have much to do the next day.
Ingredients:
1/2 ounce white rum
1 1/2 ounces golden rum
1 ounce dark rum
1/2 ounce 151-proof rum
1 teaspoon pineapple juice
1 ounce lime juice
1 teaspoon papaya juice
1 teaspoon superfine sugar
Preparation:
Stir together all these ingredients except the 151 and pour into a 14-ounce collins glass three-fourths full of cracked ice. Float the 151 as a lid (by pouring it into a spoon and gently dipping it under the surface of the drink). Garnish with mint (either straight or dipped in lime juice and then superfine sugar) and/or fruit.
For a Batch use:
1 Cup White Rum
3 Cups Golden Rum
1.5 Cups Dark Rum
1 Cup 151
1 Cup Pineapple Juice
2 Cups Lime Juice
1 Cup Paypaya Juice
1/2 Cup Super Fine Sugar
In a punch bowl stir together all these ingredients except the 151. Slice up limes, oranges and use about 1 jar of marashino cherries and add to the punch.  Reserve 151 for adding to the top of each drink as you add them to a glass with ice.  Makes about 1.5 gallons.