Yellow Parrot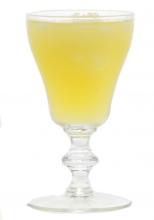 A great classic drink the Yellow Parrot can be made with either Pernod or Absinthe.  This drink is an herbal medley that will leave you relaxed and satisfied.
Ingredients:
1/2 oz Brandy
1/2 oz Pernod
1/2 oz Yellow Chartreuse
Preparation:
In a shaker with ice combine all ingredients and shake well.  Strain into a small up glass that has been filled with crushed ice.