Yellow Bird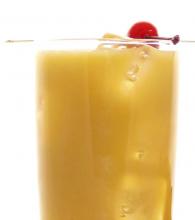 The Yellow Bird is a great classic summer drink.  The rums and citrus juices give it a tropical feel while the Galliano gives it an interesting twist.
Ingredients:
1 oz Light Rum
1 oz Dark Rum
1/4 oz Galliano®
1 1/4 oz Orange Juice
Juice of ½ Lime
Preparation:
Mix all  ingredients together over ice and shake well.  Strain into a glass that has been filled with crushed ice.  If you would like garnish with a cherry.