Xmas Margarita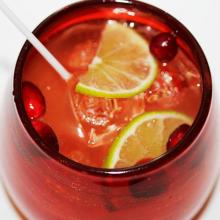 A fun twist on a Margarita with red and green for Christmas.  The ginger beer goes well with the Tequila and adds a nice tang.  A pretty fun take on the classic Margarita on the rocks!
Ingredients:
2 oz Golden Tequila
4 oz Ginger Beer
1/2 oz Simple Syrup
1/2 oz Fresh Lime Juice
Preparation:
Pour all ingredients into a shaker glass filled with ice.   Shake well.  Pour into a rocks glass and garnish with fresh cranberries and lime slices.