Wine Riot

Lauren Eggert-Crowe
On a warm Saturday night in May, I headed to downtown Los Angeles for the final night of Wine Riot, a multi-city three-day event. It's the wine tasting to end all wine tastings. The name alone gives the impression that this is not your ordinary tasting event. It promises something more energetic and edgy.
Convening on the top floor of the California Market Center, Wine Riot was set up similar to a regular wine tasting, in that patrons could wander from table to table and taste wines from hundreds of different vintages, from all over the world. But the similarities ended there.
Wine Riot was colorful and loud. The crowd skewed younger and more stylish than other wine tastings I've been to. Conversation and the DJ's hip-hop bounced off the concrete floors of the large open room.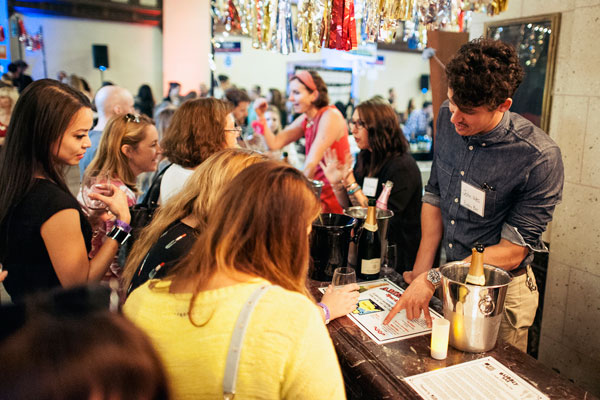 Aside from tasting wine, participants could drop in on 20-minute crash courses to brush up on their wine knowledge. You could learn about Spanish Reds, or Italian Reds, or Pinot Grigios, and taste 4 or 5 samples of each. There were also education booths: high tables backed by banner infographics explaining the difference between Old World Wines and New World Wines, or showing the fermentation process and difference between sweet and dry wines. The booths were eye-catching.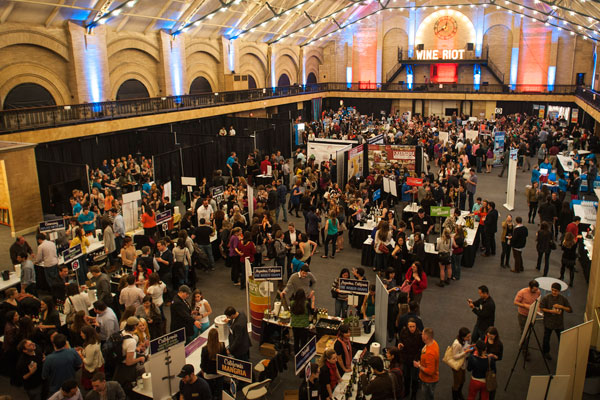 Wine Riot also had a photobooth station, replete with dozens of silly props like sparkly hats and boas, plus a collection of cards with cheeky captions like, "I like 'em big and juicy" or "I'll drink to that!"
One of the most innovative parts of wine riot is the social media component. Second Glass, the company founded by Tyler Balliet and Morgan First , the creators of Wine Riot, developed a smart phone app that lets participants keep track of all the wines they tasted at the event, make tasting notes, and give a "thumbs up" to the ones they like. This is quite handy when they are shopping later.
I spoke with Tyler Balliet about the success of Wine Riot and what the future holds for it.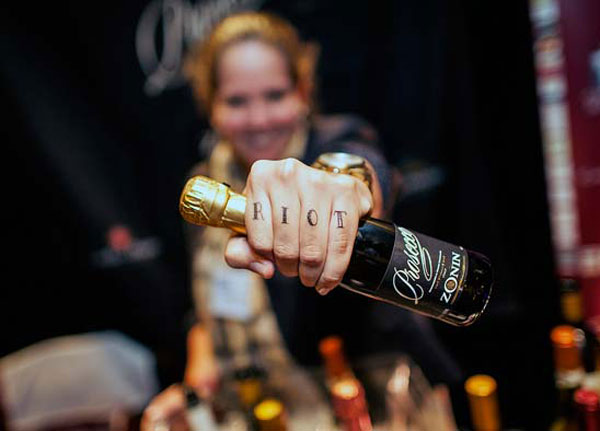 How did you come up with idea of Wine Riot?
Tyler Balliet: I started going to a lot of wine tastings, and I realized they failed both the attendees and the wineries. You go to a brightly lit room and they would just name the wines. People wouldn't know what to do. And the wineries wouldn't bring anything interesting to show people. It was frustrating. The wineries didn't find it that valuable. The wineries' issue is that they never really know how to talk to people that buy their product. They describe it with arcane language and technical information. It leaves people feeling like they're being talked down to. I wanted to update the wine tasting event for the new generation. How do I find out about things? How do I remember what I like? How do I want to learn about things? We wanted to create an event that answered those questions. My business partner and I just maxed out our credit cards and hoped people would show up.
How was the reception been?
This is the 6th year of the event. We've been running the company for 7 years now. It's been great. The wineries think it's really interesting. The wineries that come tell me it's the best event they do. The biggest and best reception is the attendees. They love it. Everybody comes and says they've never seen anything like it. We've sold over 50k tickets now for the events. We have a lot of people come to the events. I get emails almost every day telling me how much they love it and how great it is.
What are some of the things you hope people get out of wine riot?
The main thing is that they can come and kind of learn to trust themselves and trust what they like. It's an industry that's trying to tell people what they like. You can't tell people what they like. So one of the things we really push is additional confidence.
How do you see the event evolving in the future?
We've done a lot with it and we keep trying to add new things to the event. We've been working on a way for people to be able to buy wines at the events. Due to liquor laws in the U.S., that's not necessarily very easy. But over the last four years that's what we've been trying to solve. Ultimately I really want to get to the point where we can sell the wines or at least have people be able to buy the wines, not just that day, but forever. We do a lot of data analysis and research, and upwards to 80% of people that come to our events want to buy the wines, not just now, but for the next 6 – 9 months. Trying to figure out a way to sell the wine is the next step. The laws are not in our favor though. But I think that there's still some things we haven't tried yet.
What would you say is the most interesting thing you've discovered?
I think the most interesting data we've collected is based on the fact that we make this event for millennials. We've been trying to gather interesting data on millennials. When I started this company nobody thought millennials were buying wine. The most fascinating thing is, we collected interesting data last year where we found that if people know they like a wine, they are willing to spend twice as much. Restaurants explain food and cocktails on the menu, but with a $100 bottle of wine they don't explain anything about it. How much money the wine industry is leaving on the table? It's not the case that millennials aren't buying wine. We're doing more research in that realm. We've found we can present $50 bottles of wine at the event and people will buy them. Millennials don't want to waste money but they do have money to spend on the experiences.
We have events coming up this year that are all sparkling wines. It'll be super fun. We're trying a new thing there with a whole different kind of event. 
Wine Riot comes to New York City, Chicago, and Boston this fall, and back again to Los Angeles in November. If you live in or near one of those cities, I highly recommend checking it out. I promise you'll have a riotously good time.