White Summer Sangria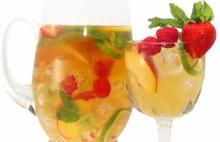 A great Sangria for summer parties, this is an easy to make party drink. Trick to keep it from watering down.  Use some of the sangria and put it in an ice cube tray.  Freeze and use as ice.  The ice will not water down your sangria as people drink the punch.  Add fruit and garnish to each glass and serve.
Ingredients:
1 bottle 750lt White Wine
1/4 cup Passion Fruit Juice
1 cup Lime Juice
Fresh Strawberries, peaches, pears, grapes, lemons, limes, raspberries and mint.
Preparation:
Pour all liquid ingredients into pitcher.  Stir well and add fruit.  Chill overnight, about 8 hours.  Add ice and serve.