Wedding Party Punchs
Party Punches:
When you are planning cocktails it may be wise to use economical punches; just make sure to label the bowls so that people know they are getting an alcoholic beverage.  There are fun cocktails that you can make into punches that range from low proof to moderate proof.&n bsp; For fruit punches make sure that you keep them a little on the lighter side as the amount of alcohol is easily masked by the fruit juice.   Make sure there are plenty of designated drivers if you go with the higher proof options.

Brandy Punch –
See above, with Champagne or Sparkling Wine, Brandy, Port, Maraschino Liqueur, Lime Juice, Pineapple juice with lots of fresh fruit this punch looks a good as it tastes.  Set up the glasses with the fruit already in them and then add a ladle to fill the glasses.  Just beautiful.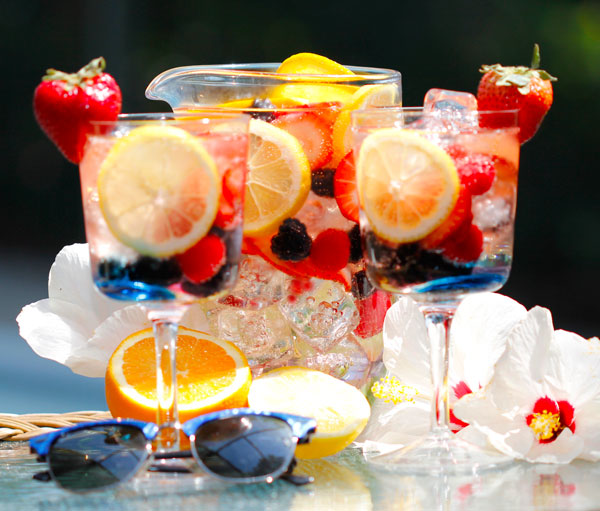 Hibiscus Punch – 2 cups Absolut® Hibiscus Vodka, ¼ Cup Hibiscus Simple Syrup, 2 bottle of Prosecco Sparkling wine.  Sliced Lemon, Orange and limes combined with fresh raspberries, blue berries and strawberries.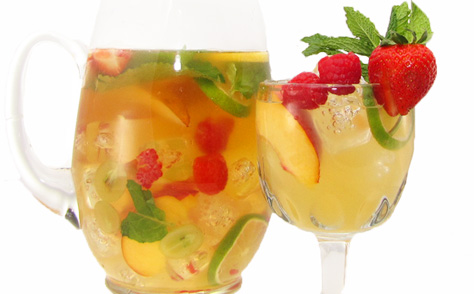 White Summer Sangria –
1 750 bottle of white wine, ½ cup passion fruit juice, 1 cup lime juice.  Fresh strawberries, peaches, pears, grapes, lemons, limes raspberries and mint finish this sangria off very nicely.
Christmas Citrus –
2.5 cups of Cranberry Vodka, 4.5 cups lemonade, 2.5 cups of cranberry juice and 1 cup Aperol.  Garnish with fresh cranberries.  A beautiful punch that is light and tangy.