Wedding Key West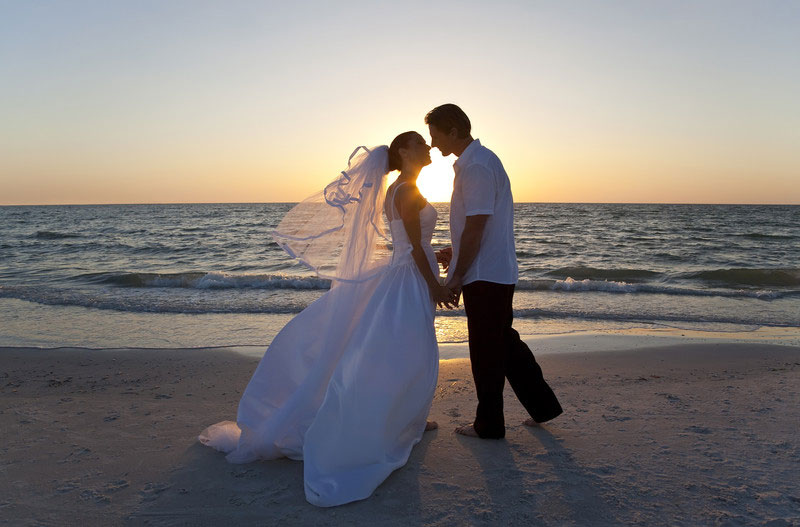 Key West:

Sunset on the beach, white sand and a cool breeze blowing
Cocktails: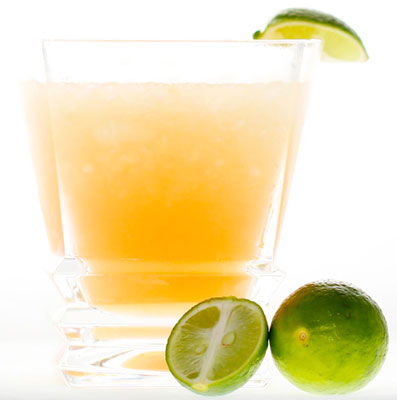 Hemingway –
2 oz Bacardi® White Rum, 1tsp Maraschino Liqueur, 1tsp Grapefruit Juice, Juice of 1 Key Lime, Crushed ice
Combine all ingredients in a shaker with ice.  Shake well and strain into a highball glass over crushed ice.  Garnish with a key lime wheel.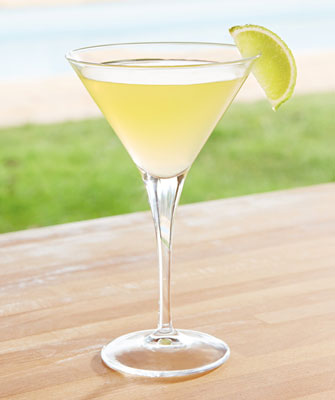 Classic Daiquiri –
2 oz Bacardi® Rum (usually Bacardi Superior)
1 oz Fresh Squeezed lime juice
1/2 oz Simple Syrup
Fill shaker with ice.  Pour in Rum, lime juice and simple syrup.  Shake well until chilled.  Strain into glass that has been rimmed in sugar.  Garnish with lime wedge.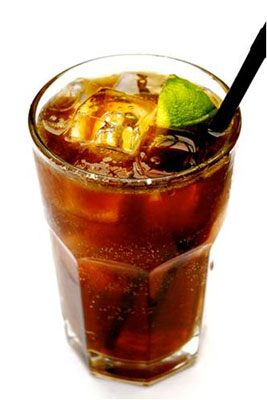 Cuba Libra –
1½ oz white Rum
Cola
In a highball glass over ice pour in Rum, top with cola and garnish with a lime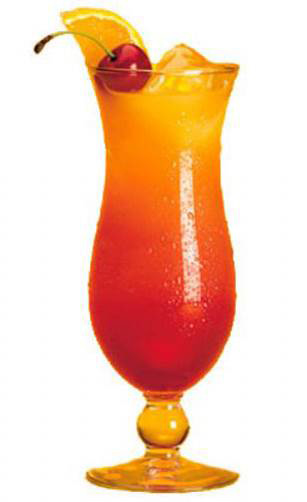 Rum Punch - 
Planters Punch
 is considered not a specific cocktail, but is the generic name for a set of rum-based punches. Recipes vary, containing some combination of lemon juice, pineapple juice, lime juice, orange juice, grenadine, soda water, curaçao, Angostura bitters, and cayenne pepper.  This is another one of the drinks popularized by Trader Vic's as part of the Tiki bar explosion.  The first mention of the drink is in the late 1800's and again in 1905.  It gained popularity in the 50's and 60's as the tropical drink craze swept the US.  Our recipe has all the standard ingredients but there are many variations on this theme.  This is a drink you can play around with, more pineapple or less…  It really is a matter of taste.
1 1/2 oz.) Appleton Estate Amber Rum
1 1 /2 oz of orange juice
1 oz fresh lemon juice
2 dashes Angostura bitters
2 dashes Monin Pomegranate Syrup
½ oz Simple Syrup
Orange slice and Cherry
In shaker glass with ice pour Rum, pomegranate syrup, simple syrup bitters and lemon juice.  Shake well and pour into a chilled hurricane glass.   Garnish with a orange wedge and cherry.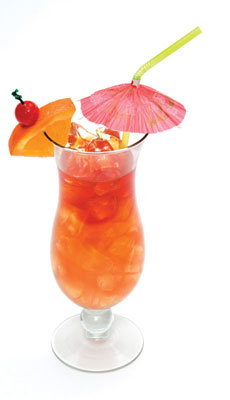 Legend has it, Rum Runners were invented in the late 1950's at the Holiday Isle Tiki Bar in Islamorada, Florida. Supposedly, the bar had an excess of rum and certain liqueurs that needed to be gotten rid of to make room in the liquor closet.  That's why the somewhat bizarre number of liqueurs that are contained in almost any recipe for a Rum Runner. They named the drink after the real "Rum Runners" that inhabited the Florida Keys in the early days running Rum in from Cuba and the islands.  Many changes were made as the Rum Runner passed through time. Most recipes are altered by using different amounts of the same ingredients. Sometimes an ingredient may be substituted or changed and the recipe will remain intact.  The only ingredient that remains sacred is of course the Rum.
1 oz light rum
1 oz dark rum or aged rum
1 oz blackberry liqueur
1 oz banana liqueur
Splash Monin® Pomegranate Syrup
1 oz pineapple juice
1 oz orange juice
Optional: one ounce of Bacardi 151 to float on top
Orange slice
Pour rum, blackberry liqueur, banana liqueur, pomegranate syrup, pineapple juice and orange juice into a mixer glass with crushed ice.  Shake well pour into a tall glass.  Float 151 on top and garnish with an orange and a cherry.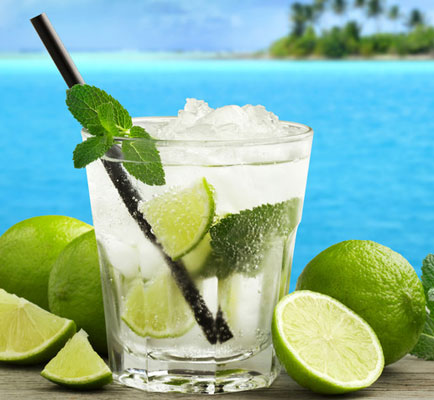 Mojitos - The Mojito is a rum drink that is based on a drink from the 1800's out of Cuba.  Classic Mojitos have only Rum, sugar, lime juice and fresh mint.  The ultimate summer cooler it is often served with a splash of soda to make it even lighter.  White or amber Rums are used for a crisp clean taste.  These go down way too easy so keep track of the number while sitting around the pool.
1 1/2 oz white rum
1/2 lime, cut into 4 wedges
1/2 oz of Simple Syrup
1 cup ice cubes
1/2 cup club soda
10 fresh mint leaves
Place mint leaves and 1 lime wedge into a sturdy glass. Use a muddler to gently crush the mint and lime to release the mint oils and lime juice. Add 2 more lime wedges and the simple syrup and muddle again to release the lime juice. Do not strain the mixture.  Fill the glass almost to the top with ice. Pour the rum over the ice, and fill the glass with carbonated water. Stir, taste, and add more syrup if desired. Garnish with the remaining lime wedge.   To make different types of mojitos vary/add the fruit you can use strawberries, blueberries, blackberries, watermelon, oranges…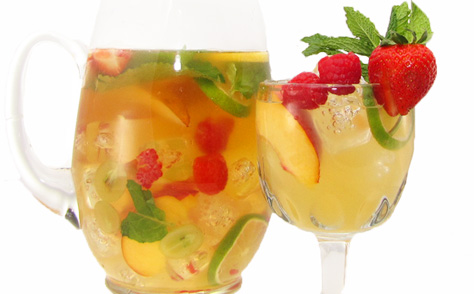 White Summer Sangria –
1 bottle 750lt White Wine
1/4 cup Passion Fruit Juice
1 cup Limeade
Cut up fresh Strawberries, peaches, pears, grapes, lemons, limes, raspberries and mint.
Pour all liquid ingredients into pitcher.  Stir well and add fruit.  Chill overnight, about 8 hours.  Add ice and serve.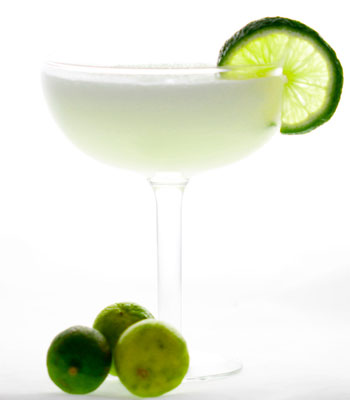 Key Lime Margarita –
1 1/2 oz White Tequila
1/2 oz Cointreau®
1/2 oz Simple Syrup
1 oz Fresh Key Lime Juice
2 oz Limeade
Combine all ingredients in a blender.  Blend till frozen.   Pour into a margarita glass, garnish with a lime wheel.