Luau Wedding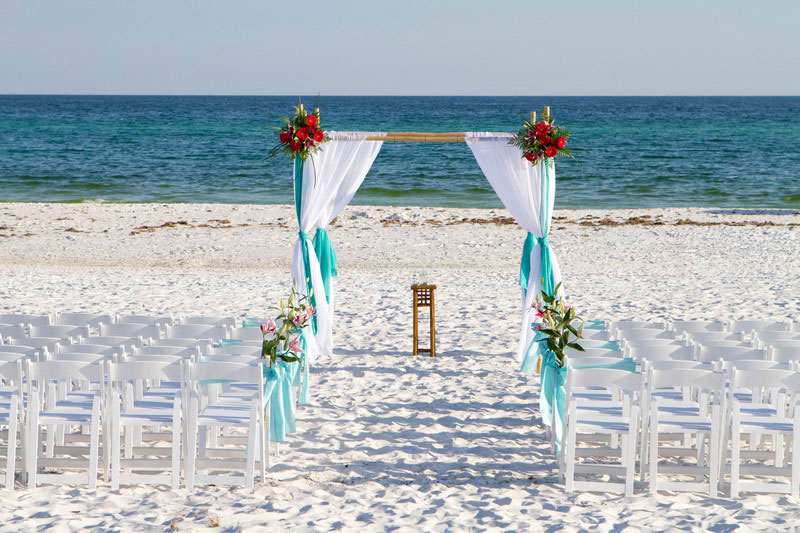 Luau or Hawaiian Wedding:
Cocktails: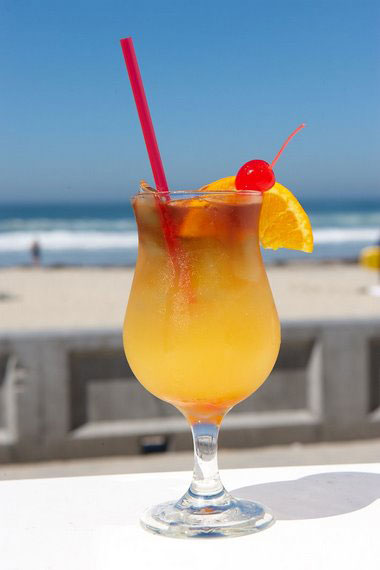 Mai Tai –
Mai Tai comes with multiple recipes depending on which version you like, the Trader Vic's (1940's) or Don the Beachcomber (1930's).  Either way both capitalized on the Polynesian trends of the 50's and 60's.  A great fruit and rum based drink; no Tiki party would be complete without with a Mai Tai with an umbrella!  Featured in the Elvis movie "Blue Hawaii" the drink has remained popular since then as a beach side have to have.   So whatever recipe you use this is a wonderful fun drink that will be the hit of any wedding or luau.
Juice from 1 whole lime
1oz Orange Curacao
3/4 oz Orgeat Syrup
1/2 oz Simple Cane Sugar Syrup
 1 Dash of Angostura Bitters
2 oz Aged Jamaican Rum
½ oz Meyers® Rum
Pour rum, Orgeat, Simple Syrup and Orange Curacao, in order, into a mixer glass with crush ice plus the dash a bitters. Add the juice from 1 whole line shake well  pour into a tall glass with a dark rum float and serve with an orange and cherry.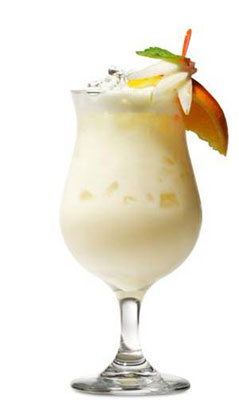 Pina Colada –
2 1/2 oz Rom del Barrilito® or Don Q Rum®
4 oz fresh pineapple juice
1 oz cream of coconut
Combine the rum, pineapple juice, and cream of coconut in a shaker of crushed ice.  Shake well.  Pour into a tall glass, garnish with a orange and a cherry.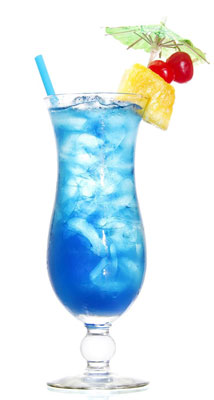 3/4 oz light rum
3/4 oz vodka
1/2 oz Blue Curacao liqueur
3 oz pineapple juice
1 oz sweet and sour mix
In a glass shaker pour all ingredients over ice.  Shake well until all ingredients are well mixed.  Pour into a cocktail glass and garnish with a pineapple wedge and brightly colored umbrella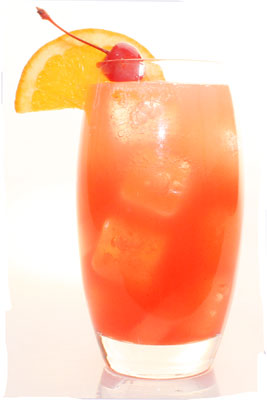 Kahala Sunset –
2 oz Coconut Rum
2 oz Papaya juice
2 oz Pineapple Juice
1 ounce fresh lime juice
Splash of grenadine
Splash of club soda
In a shaker add the ingredients along with ice and shake well. Strain into a tall glass filled with ice and garnish with an orange slice and cherry.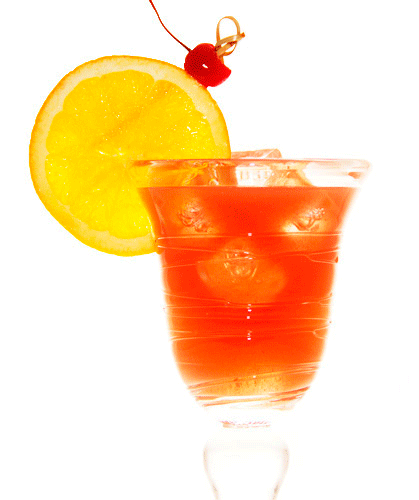 Mauna Kea Punch –
3 oz White Rum
1/2 oz Brandy
4 oz Guava Juice
2 oz Passion Fruit Juice
Add all ingredients into a shaker with ice. Shake well and pour into a large glass with either a pineapple or orange and cherry flag.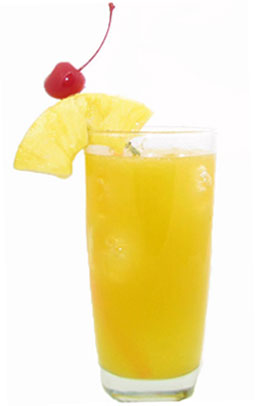 Passion Fruit Punch –
2 oz White Rum
1 oz Dark Rum
3 oz Hawaiian Sun® Lilikoi Passion Juice
1 oz of Pineapple Juice
In shaker pour all ingredients into glass with ice.  Shake well and pour into tall collins glass.  Garnish with a pineapple and cherry.  Umbrella optional.

Hawaiian Mimosa –
1 oz Grand Marnier®
2 oz Pineapple Juice
1/2 oz Fresh Lemon Juice
4 oz Champagne or Sparkling Wine
Pour all ingredients except Champagne or Sparkling Wine into a shaker glass filled with ice.  Shake well and strain into a chilled Champagne flute.  Fill with Champagne or Sparkling Wine and garnish with a fresh pineapple wedge.