Watermelon Mint Spritzer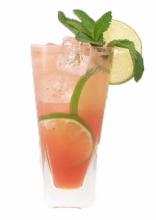 Spritzers are great summer drinks, cool and refreshing they lend themselves to variation wonderfully.  The addition of Watermelon and Mint to this drink will have you reminiscing about eating watermelon on a hot summer's day as a child.
Ingredients:
2 oz Gin
3/4 oz Fresh Lime Juice
1/4 cup Watermelon
4 Sprigs Mint
5 oz Club Soda
Preparation:
Muddle watermelon, mint and lime juice.  Add Gin and strain into a Collins glass.  Top with club soda.  Garnish with limes and mint.