Warm Love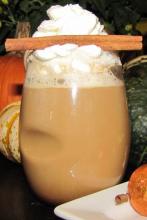 For a rich creamy night cap, Warm Love hits all the right marks.  Alone or with friends this is an amazing after dinner coffee.  Amazingly good and with a solid kick the combination of  Frangelica ®, Kahlua ® and Grand Marnier® makes for a smooth way to ease into a late night!
Ingredients:
1 1/2 oz Kahlua ®
1 1/2 oz Frangelica ®
1/4 oz Grand Marnier®
4 oz Coffee
2 oz of half and half
Whipped cream
Cinnamon stick
Sugared rim
Preparation:
Pour Kahlua, Frangelica and Grand Marnier into a glass or coffee cup, stir then add coffee and top with whipped cream and cinnamon.