Volcano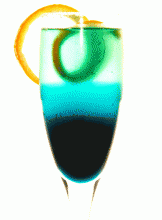 A very interesting the Volcano looking drink as it layers itself as you pour. Lots of fun for a brunch or baby shower it tastes great and looks really cool.
Ingredients:
¾ oz raspberry liqueur
¾ oz blue Curacao liqueur
Champagne
Preparation:
Pour Curacao and Raspberry liqueur in a sugar rimmed champagne flute. Top with champagne and orange twist to garnish.