Villains Tavern - LA

Let's start with the basics. It's in a weird part of downtown LA. But then again, I find a lot of downtown  LA kind of weird, and maybe that's what's so exciting about it. The warehouses have big gridlike windows with just the right number of random broken panes to look artfully constructed for a film set. (That's LA – where the genuine is always colliding with the artifice, even in your mind). Some of these old industrial edifices remain creepily abandoned, while others have been given an expensive makeover with promises of hipness – romantic lofts, art galleries, and dance clubs. Villains Tavern, established 2010, sits at the intersection of two of these Warehouse District streets, across from a Lucky Jeans building and flanked by a large parking lot. It's not easy (or advisable) to get there by public transit. But isn't that what you'd expect from a bar called Villains?  Everything wears the veneer of danger.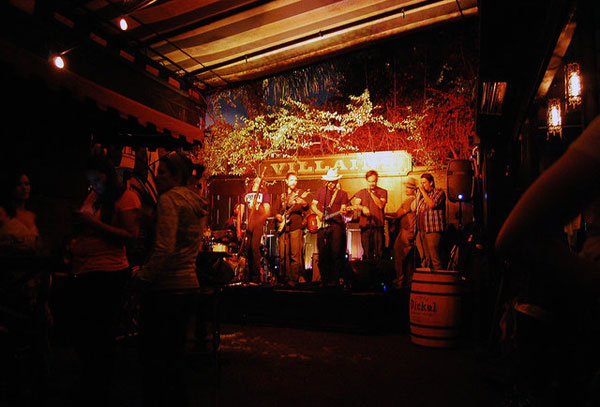 Beyond Villains's enclosed outdoor patio is a small but beautifully decorated two story bar and restaurant.  Vintage bottles in blue, yellow, orange, and green line shelves in the high arch window above the front door.  The mirror behind the bar is framed in symmetrical and ornate Gotchic-style cathedral arches. Medieval and Victorian paintings hang on the wall.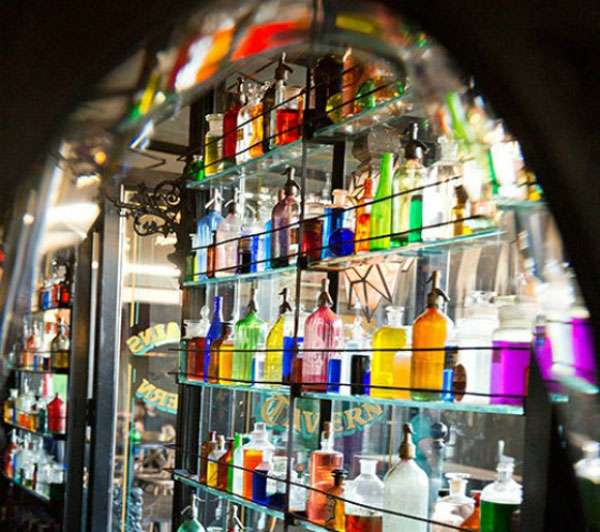 If you're one to scoff at mason jars, shaved ice, unusual garnishes, or vintage medicine bottles, Villains is not the place for you. The four-year old bar and blues music venue is proudly riding the mixology trends, and they serve it well. You might have to wait a few minutes for their well-bicepped-from-tossing-cocktail-shakers-all-day bartenders to whip you up an $8 Bella Donna at Happy Hour, but I assure you it's worth your patience. Following the obvious fact of science that cold air sinks, the bartender will strain this minty citrusy Maker's Mark cocktail into a Mason Jar, and then pack a heaping dome of shaved ice on top, like a snowcone, and pierce it with a straw. Your cocktail will stay nice and chilly under its igloo. Plus, it's really pretty.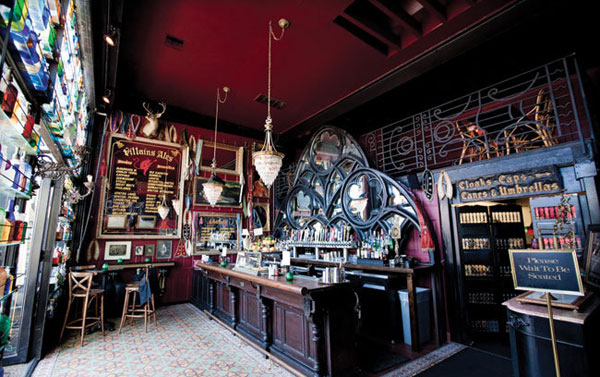 All of the cocktails at Villains reference bad guys in literature in history. It's a nice touch. They have a nice mix of spirit-bases too, which I found refreshing. I get tired of bars that offer ten vodka drinks and maybe one with tequila or rum. Villains offers cocktails made from cachaca, Chivas Regal 12 year scotch, Absolut Elyx, Avion Reposado, hibiscus and jasmine tea infused gin, and much more. At Villains, you can pick your poison. And they'll most likely have it. They also make interesting combinations  - like aperol and prosecco in the Vin Amaro.
Hungry? Even their happy hour menu is cheap and filling. Expect to not be able to finish your piled-high basket of fries or tempura-battered spicy green beans.
On weekends, Villains hosts a series of music events featuring afrobeat, disco, house, and soul Djs, live performers, and special guests. All of this adds up to the moral of our story: the people who created Villains are good guys.
1356 Palmetto St, Los Angeles CA
HOURS:
Tuesday - Friday: 5:30pm - 2AM
Saturday-Sunday:3pm-2am
Lauren Eggert-Crowe