The Velvet Cantina

I took a weekend jaunt up to San Francisco last week to see some family and friends. After a long sunny day of walking around the Historic Mission district, The Embarcadero, and Land's End, we cooled our heels and satisfied our appetites in one of my favorite San Francisco restaurants, The Velvet Cantina. Located on 23rd attracting a young, hip and diverse crowd. It's a convenient place to stop on your way to a show, in the middle of a bar crawl, or after a day of sightseeing. It's accommodating for big parties, quick friend- dates at the bar, or romantic date nights.
The vibe is hip and party-like, with its moody club music and red-infused lighting. The chips are that perfect kind of crunchy, and the servers keep watch like vigilant hawks to swoop in and refill empty baskets. The salsa is picante and liquidy. The drinks are, as they say in the Bay Area, hella strong.
I went for the cilantro gimlet this time, with 100% Agave Silver Tequila, lime juice, agave nectar, and muddled cilantro. Classic flavor pairings, a simple mix. It was heavy on the tequila side – those drinks pack a wallop. But it's worth it for the top-shelf tequilas and mescals that The Velvet Cantina serves. Their margaritas are made with 100% Agave Dos Manos, Herradura Silver, or Antigua Silver. Good stuff, to say the least. You won't find a second-rate pre-made marg mix here. Only fresh fruit juices, smooth fiery tequilas, and high-end liqueurs. You can also order shots from their selections of more than sixty different tequilas. As their informative menu explains, the silvers are aged fewer than 45 days in stainless steel, the reposados are aged from 2 months to one year in wooden barrels, and the wizened Anejos are aged for up to 3 years in wooden barrels. Depending on how much smooth agave or other complex flavors you want, you can choose the right tequila for what strikes your fancy.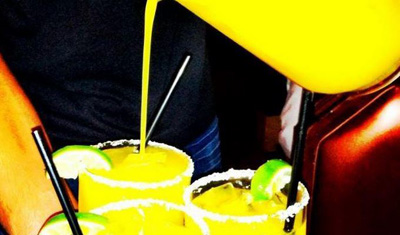 I haven't even gotten to the food yet. If you can resist the temptation to fill up on the delicious, free, and copious chips and salsa that ceaselessly appear on your table, go for The Velvet Cantina's hearty entrees like the Chicken Mole, the Bordello Burrito, or the Shrimp Diablo. The latter is smothered in spicy garlic tomato sauce. If you're in the mood for lighter fare, the ceviche from the appetizers menu is a small refreshing citrus delight. If you have room for dessert, spring for the 'smores nachos, a genius food combination worthy of a medal. College students everywhere should be grateful. Fried flour tortilla strips dusted with cinnamon and sugar, crushed graham crackers, Mexican chocolate and flaming marshmallows. St. just off of Valencia, The Velvet Cantina is riding the wave of Mission District cool,
Lauren Eggert-Crowe
3349 23rd Street,
San Francisco, CA 94110
On 23rd and Bartlett, between Mission and Valencia.
Ring-a-ding-ding:
415.648.4142
415.648.4142
Bar Hours: Sunday–Thursday: 5PM-12AM Friday–Saturday: 5PM–2AM