Upstream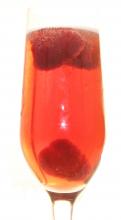 That is a champagne cocktail that has an additional kick.  The rum makes it strong and the raspberry liqueur makes it sweet.  The champagne pulls it all together.  This is a cocktail that is fun with just enough kick and makes up well without the rum for those who don't like as much proof.  
Ingredients:
1 ½ oz light rum
1 ½ raspberry liqueur
Top with Champagne
Preparation:
Pour Rum and Raspberry liqueur in a sugar rimmed champagne flute.  Top with champagne and drop a few fresh raspberries.