Unique Summer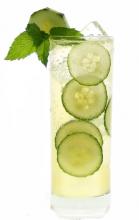 The Unique Summer is a very crisp and refeshing cocktail that is different than the usual tropical summer drinks.  The use of mint and cucmber makes for a wonderful flavor that will have you going back for seconds every time.
Ingredients:
1 oz Vodka
2 oz Cointreau
1 oz fresh lime juice
3 to 4 ounces club soda
4 slices cucumber skinned
5 mint leaves, plus a sprig for garnish
Preparation:
Muddle  slices of cucumber and the mint  leaves in the bottom of a shaker glass.  Add the remaining ingredients and ice. Shake well and strain over ice.  Garnish with a slice of cucumber and mint sprig.