Ultimate Chocolate Martini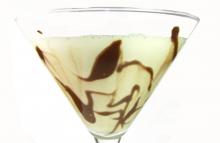 Bartender Robin B sent us this recipe as the ultimate chocolate martini. We tasted and have to agree it is pretty incredible. Rich and creamy it is the perfect dessert drink and very guilty pleasure.  Want it even richer?  Blend it up with ice and vanilla ice cream and top with whipped cream.  Perfect for spend time with the girls or good enough for a boyfriend breakup Friday night.
Ingredients:
1 1/2 oz Vanilla Absolut® Vodka
1/2 oz Godiva® White Chocolate liqueur
1/2 oz Godiva® Dark Chocolate liqueur
1/2 oz Baileys®
1/2 oz Frangelico®
Splash of cream
2 TBS of Chocolate Syrup
Preparation:
Pour all ingredients in a shaker filled with ice shake well and strain into a chilled cocktail glass with chocolate sauce swirled in it.  Freeze the glass first then add the chocolate syrup, stick back in the freezer to allow the chocolate the set for a really pretty drink.  Also, this drink goes well as a frozen drink with an additional scoop of ice cream and crushed ice in the blender.  Enjoy!