Tropical X-Mas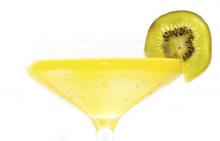 Tropical and fun this drink is great for a Christmas get together or well any get together.  Colorful and fun the ginger liqueur and mango play well together making a drink that is tasty and unusual.  Enjoy!
Ingredients:
1 1/2 oz Vodka
1/2 oz Ginger Liquor
1 oz Mango Juice
1/4 oz Fresh Lime Juice
Kiwi
Preparation:
Muddle 3 slices of fresh kiwi in the bottom of a shaker.  Add ice and all ingredients.  Shake well and strain into a chilled cocktail glass.  Garnish with a kiwi wheel.