Tropical Storm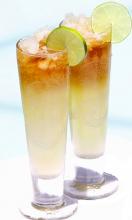 A twist on the Dark and Stormy the Tropical Storm is fun and tasty with hints of pineapple and dark rum floats!
Ingredients:
1 1/4 oz Dark Rum
3 oz Ginger Beer
2 oz Pineapple Juice
1 oz Fresh Lime Juice
Preparation:
Mix Lime Juice and Pineapple Juice in a mixing glass, fill tall glasses with crushed ice, pour in juice then fill the glass to about 1.5 inches from the top with the Ginger Beer.  Float the dark Rum on top and garnish with a lime wheel.