Tropical New Years Eve Punch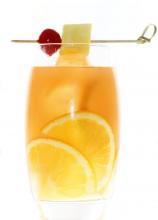 A light fun Punch drink that works up well in a batch.  This punch has a fairly low proof but lots of flavor.  Nice punch to serve to make sure all your guests have an option to stronger libations.  Tastes a lot like citrus fruit punch with just a little tang from the sake.  Very tasty.
Ingredients:
3 oz Sake
1/2 oz Maraschino Liqueur
2 oz Fresh Pineapple Juice
2 oz Fresh Orange Juice
1oz Fresh Lemon Juice
Preparation:
Pour all ingredients into a shaker glass filled with ice.   Shake well strain into a Collins glass with crushed iced and orange slices.  Garnish with pineapple and a maraschino cherry.