Tropical Island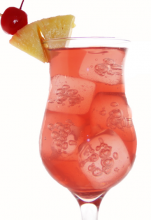 The Topical Island is our version of a Long Island Iced Tea, if it grew up in the tropics.  Though full of fruit flavor, this cocktail is just as dangerous as the original.
Ingredients:
1 1/2 oz Passoa
1 1/2 oz Citrus Vodka
1 1/2 oz Mango Vodka
1 1/2 oz Chambord®
4 oz Coconut Water
Preparation:
Mix all ingredients together in a shaker.  Shake well and strain over ice.  Garnish with a slice of pineapple and cherry flag.