Tom Collins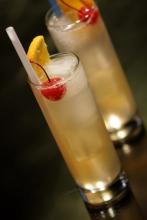 Tom Collins – Born in the late 1800s as part of a joke that was based on a man "Tom Collins" who was talking about the listener.  This Tom Collins was usually just around the corner at a bar where the listener would rush off to see to this person talking about him.  The drink gained great popularity and even had songs created around it.  It was made with Gin and sparkling lemonade and remains much unchanged even in current days.  Other Collins drinks like Whiskey or Vodka Collins follow much the same format with just a different spirit. 
Ingredients:
2 oz gin
juice of 1/2 lemons
3 – 4 oz Sweet and sour mix
Splash of soda water
Preparation:
Shake gin, lemon juice and sweet and sour with ice and strain into a collins glass filled with ice. Fill with carbonated water, and stir. Garnish with slices of orange and lemon, and top with a cherry.