Thanksgiving Spice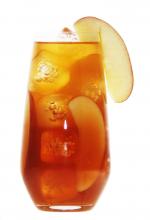 This is the perfect Thanksgiving drink. It goes well before during and after dinner, is low proof, can be served as a punch for a large group.
Ingredients:
2 oz Brandy
4 oz Apple Cider
1/2 oz Aperol®
1 oz Cranberry Juice
Preparation:
In a shaker with ice mix all ingredients well.  Strain over ice in a tall glass with apple slices and garnish with a apple slice.  
For a batch:
2 cups Brandy
4 cups Apple Cider (half gallon)
1/2 cup Aperol
1 cup Cranberry Juice
Thin slice apples and drop those into the punch bowl.  Pre-freeze Apple Cider in an ice cube tray to use as ice to keep the punch from watering down.  Makes approximately one gallon.