Thanksgiving Cocktails
Thanksgiving is all about friends, family and food. Cocktails are a way to enjoy those time together. Think of the cocktails as another layer of taste that should bring something to the table regardless of if it is the food or cocktail. We have punches, classic drinks, dessert drinks, low proof and well higher proof but all tested and tasting like they should. Find one or more that appeals to you and add them to your menu!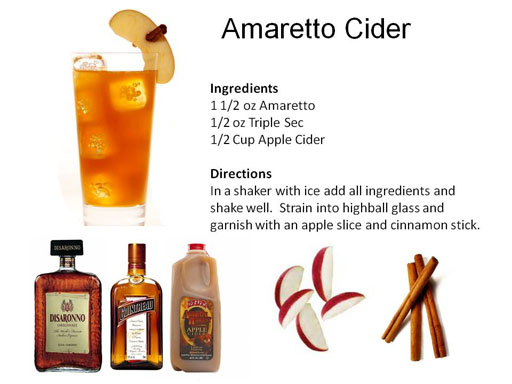 Perfect for family gathering, Thanksgiving or parties where you want to offer a lower proof punch, this cocktail is perfect. Amaretto Cider makes up well into a batch and keeps everyone enjoying the party for those long Fall afternoons.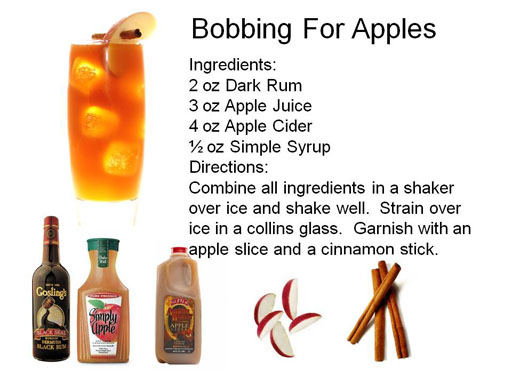 Fall drinks with Cider signal the coming of cooler temps and football games. One of our favorite times of the year. Spiced Rum, Cider and Apple Juice make a great drink that will make your party something special. Try Bobbing For Apples for you next party.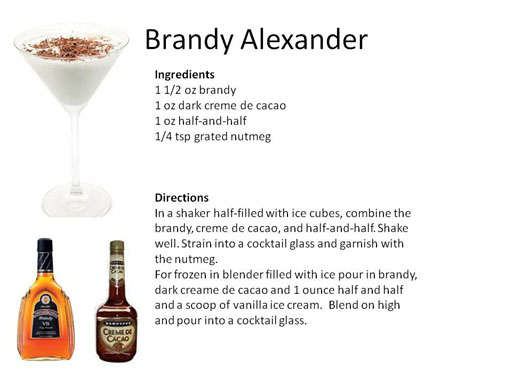 Classic drinks are classic for a reason!  This is a great low proof drink that goes well in a party situation or to sip with dessert.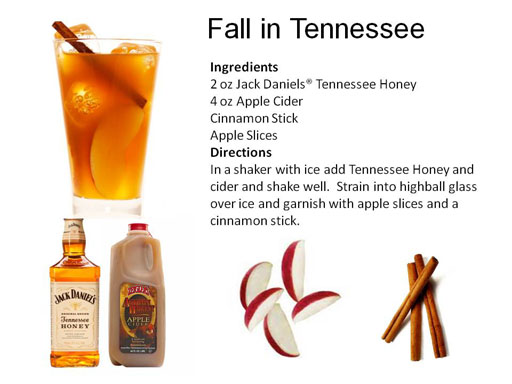 Fall in Tennessee is the quensiential Fall lDrink. Smooth and sweet with a back end of ginger and a hint of cinnamon this one checks all the boxes.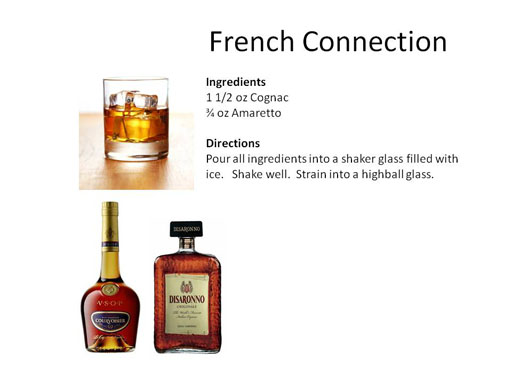 The origins of the French Connection is vague but the drink is not. This is a great after dinner drink. Great for sipping with Cognac and Amaretto it counts on great ingredients instead of mixers to give it its unique taste. With drinks like this it is always best to use the best ingredients you can afford. We like Amaretto DiSaronno and Hennessey VSOP in ours. Affordable but still great quality.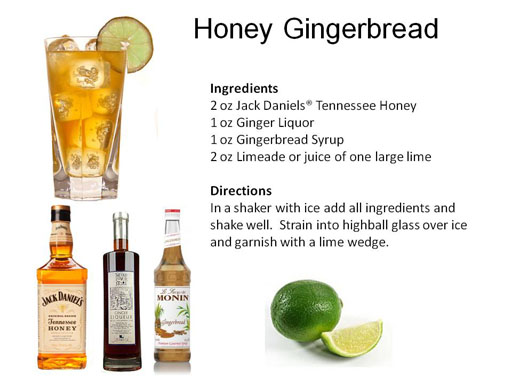 What a great drink! If you like gingerbread you will love this Honey Gingerbread. Smooth, sweet and flavorful it is a great drink to serve with food and for parties. It will go with anything! The lime cuts the sweetness a little and adds a tart after bite.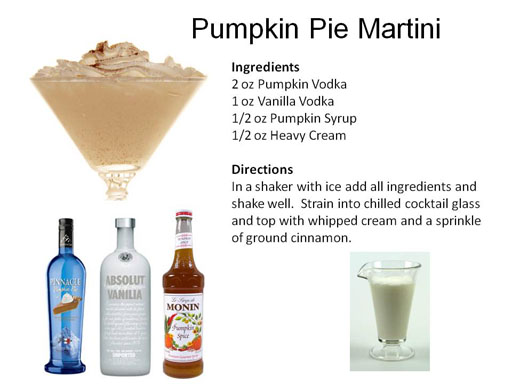 This is amazing, it's pumpkin pie with a kick. If you love pumpkin pie with a scoop of ice cream and a sprinkle of cinnamon, you will love, love love this drink. Pumpkin Pie Martini is like fall in a glass. Enjoy!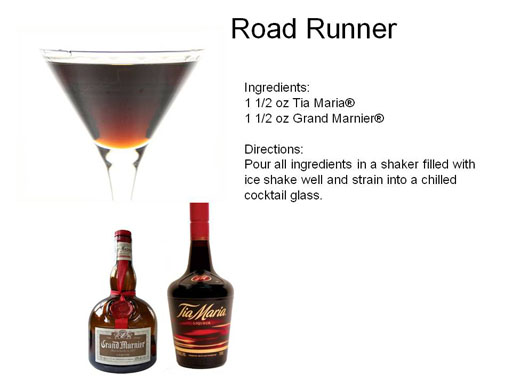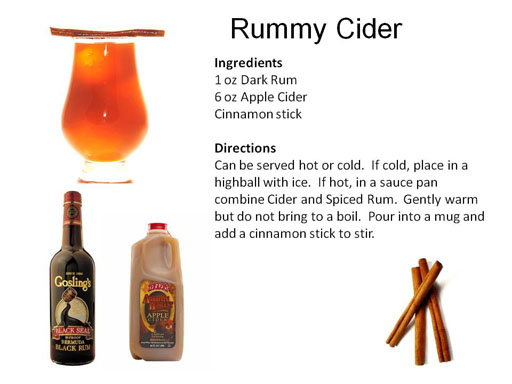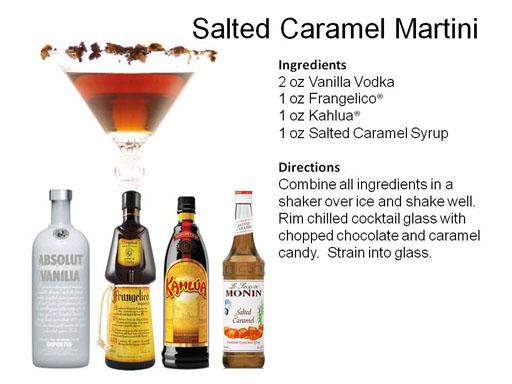 OMG, this is like drinking your favorite candy bar! Salted Caramel Martini is awesome if you you want something sweet and yummy. Vanilla Vodka, Frangelico and Kahlua along with some salted Caramel Syrup blend to perfection.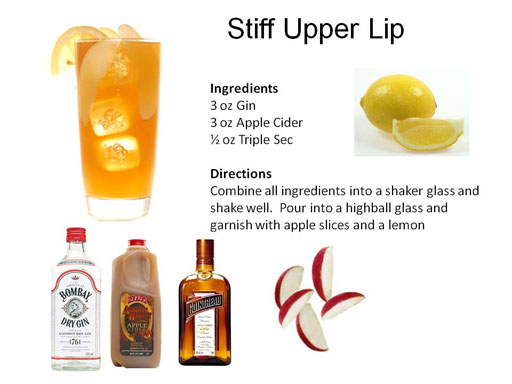 Cider and Gin, what's not to like. Try the Stiff Upper Lip and enjoy the taste of Fall. We used a smoother Gin like Blue Coat American Gin versus one with heavy juniper notes. Your preference but either way this one was a winner.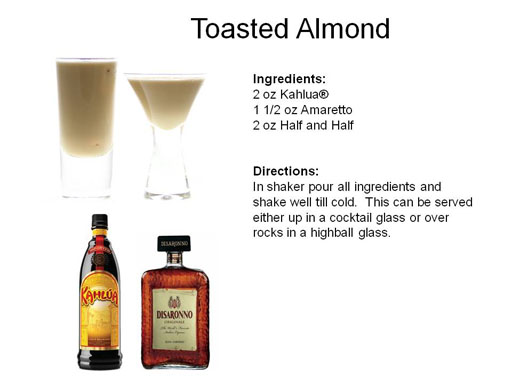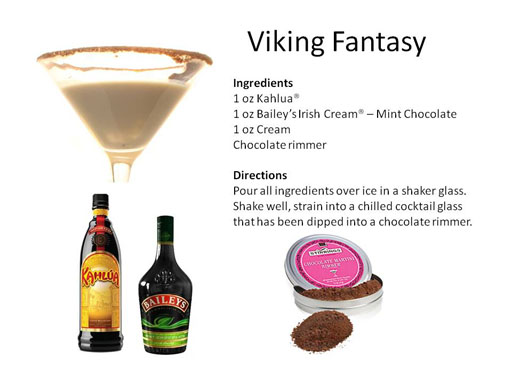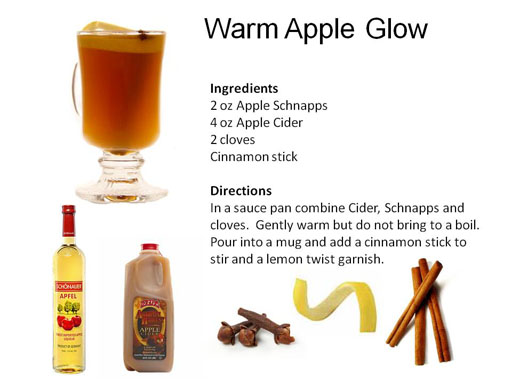 This drink can be served warm or cold. Great for a Halloween party or family party this drink has a little kick but not too much. This also can translate well into a non-alcholic drink for those designated drivers. Try the Warm Apple Glow and you'll know what I mean.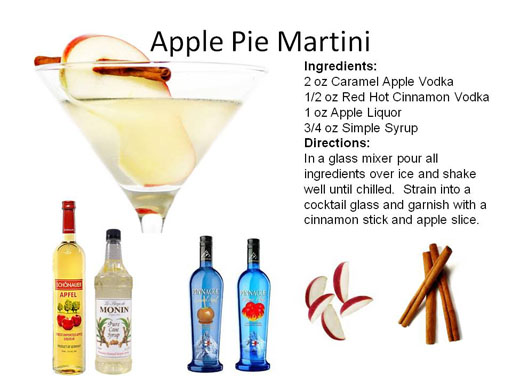 Anyone for pie? Apple Pie Martini is just that, lots of apple pie taste with a nice little kick! Save one of these for after dinner or just to get the party started.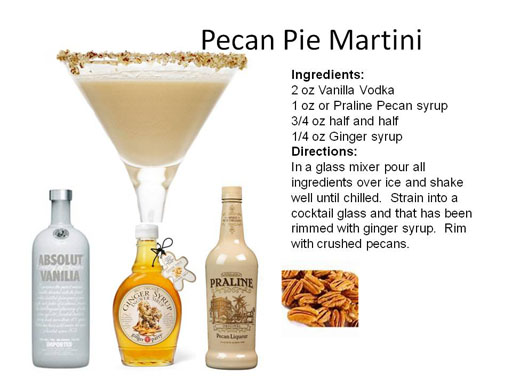 This is a great drink for fall and holiday parties!  The Pecan Pie Martini is sweet, beautiful to look at and tastes just like a Pecan Pie.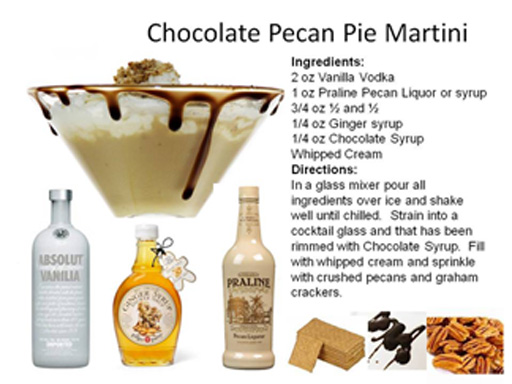 If you like pecan pie, this Chocolate Pecan Pie Martini is for you. Amazing good and the perfect holiday drink for those family get togethers or fun parties. They go down easy and sweet with just the right amount of kick.