Tennessee Summerade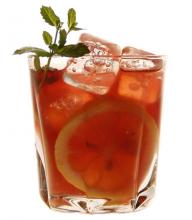 A great summer drink that goes into fall. The Tennessee Honey blends well with the lemonade and the pomegranate adds a nice touch. Try a Tennessee Summerade for that drink that eases you into fall.
Ingredients:
2 oz Jack Daniels® Tennessee Honey
1 oz Pomegranate Juice
1 oz simple syrup
Splash of lemonade or the juice of one lemon
Fresh Mint
Preparation:
Muddle fresh mint in shaker with all ingredients except lemonade. Add lemonade and ice and shake well. Strain into highball glass over ice and garnish with thin sliced lemons and a sprig of mint.