10 Classic Cocktails To Learn
There are classic cocktails that every mixologist should know how to make either behind the bar for their own home entainment!  Links to even more at the bottom.
Martini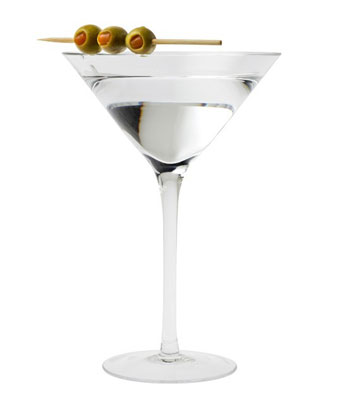 There have been whole blogs books and articles written on the Martini and if it should be shaken or stirred. Stirring is recommended for all drinks that do not contain fruit juice as it keeps the ice pieces created when shaking from diluting the drink. Martini people take their gin very seriously. So let's break it down, Martinis = Gin and Vermouth. Modern Martinis use dry or white Vermouth. Now a days a dry Martini is one that has very little Vermouth, the dryer the smaller the portion of Vermouth to Gin, those with more Vermouth are wet. A dirty Martini is one where the brine from the olive jar is poured into the drink adding a salty taste. When you move into Vodka Martinis these are not true Martinis but are part of the drinks that are called Martinis or fill in the blank – tinis. Since we are more interested in what tasted good, a personal choice, we have a variety of Martinis including some that are tini's called that more because of the glass they are served in as opposed to being a classic Martini. So have yours shaken or stirred, it's up to you! Just enjoy. Like all spirit only drinks this is where you want to spend you dollars on the good stuff. Have a Gin tasting party with everyone bringing different brands and you'll find that the tastes vary wildly. Have fun and bottoms up.
Bloody Mary/Marie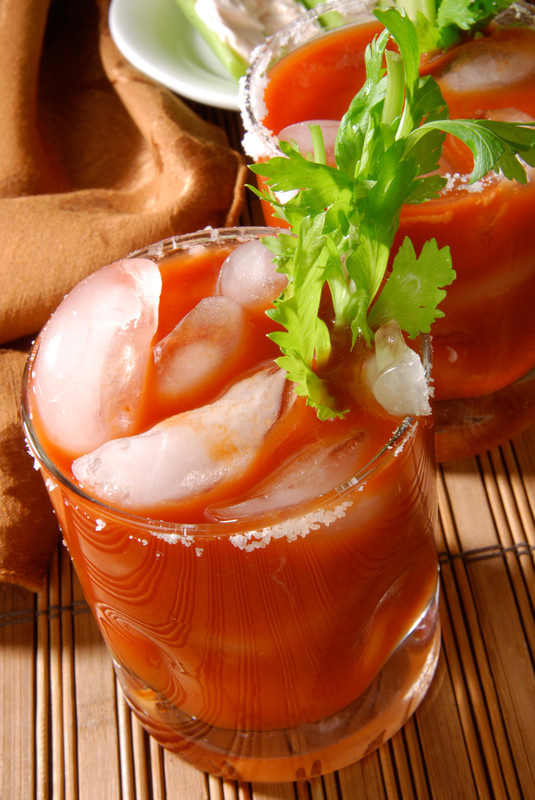 The Bloody Marie, tequila, and Bloody Mary, vodka, both are well served by using the best mixers possible, while there are many great bottled mixes out there the best ones are home made with fresh ingredients. Recipes abound and based on taste can range from very spicy to very smooth and classic. Great for brunch or Sunday morning get togethers, they are also seen as a classic hang over drink to take the Saturday night edge off!
Gibson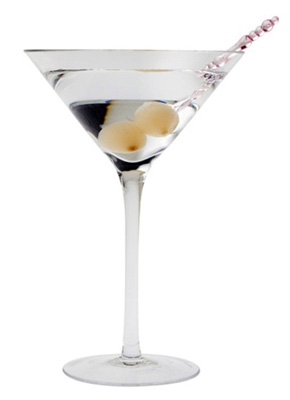 One theory on the origin of the
Gibson
has Charles Dana Gibson responsible for the creation of the Gibson, when he supposedly asked Charley Connolly, the bartender of the Players Club in New York City, to improve upon the martini's recipe, so Connolly simply substituted an onion for the olive and named the drink after the patron. Another story given by Charles McCabe of the San Francisco Chronicle states it is from San Francisco. A.P. Gibson remembered that when he was a boy, his great-uncle, prominent San Francisco businessman Walter D. K. Gibson (1864–1938), was said to have created it at the Bohemian Club in the 1890s. Whatever the origin the drink remains a classic twist on the martini. Simple and clean usually served with a single onion it remains a standard.
Classic Daiquiri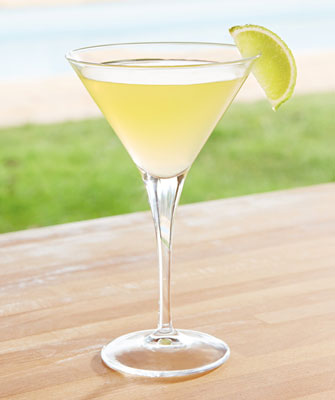 The classic Daiquiri as originally sipped by Hemingway in Cuba. Elegant and simple this is a easy cocktail to prepare ahead of time and serve to your guests either straight up or if they prefer on the rocks.
Hurricane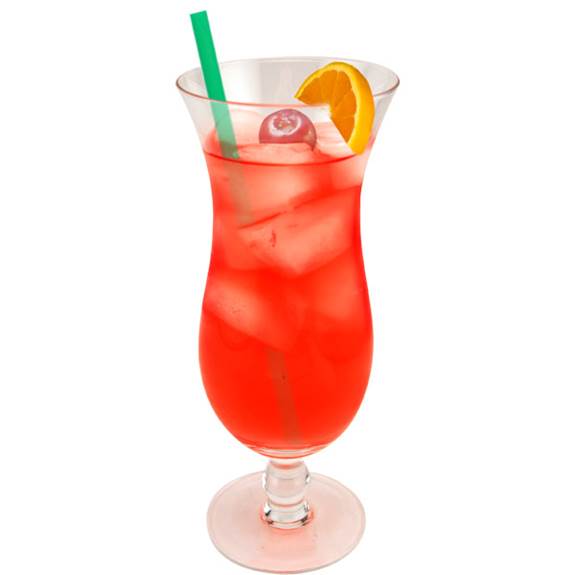 The creation the Hurricane a passion fruit-colored relative of a Daiquiri drink is credited to New Orleans tavern owner Pat O'Brien. In the 1940s, he needed to create a new drink to help him get rid of all of the less popular rum that local distributors forced him to buy before he could get a few cases of more popular liquors such as scotch and whiskey. He poured the drink into hurricane-lamp-shaped glasses and gave it away. The drink caught on, and it has been a trademark in the French Quarter ever since. It is a great drink that has enough flavor that you can use a less expensive run and it still tastes great. Great as a party drink on June 1st or mixes easily into batches.
French 75

The French 75 was created in 1915 at the New York Bar in Paris---later Harry's New York Bar---by barman Harry MacElhone. The combination was said to have such a kick that it felt like being shelled with the powerful French 75mm field gun, also called a "75 Cocktail", or "Soixante Quinze" in French. The French 75 was popularized in America at the Stork Club in New York. An elegant drink with Gin and Champagne with a great kick its a drink that was enjoyed by the upper class elite both men and women. Shades of Downton Abbey all that is needed is lace gloves or an ascot.
Negroni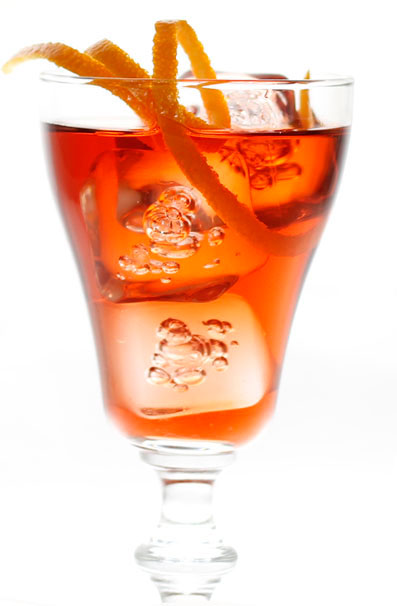 An aperitif the Negroni is a classic drink from 1919. Slightly bitter, many people double the amount of gin since the flavors of the Campri and sweet vermouth are no longer needed to mask the flavor of gin that would have been available during that time. It has seen a resurgence in popularity in the last few years as mixology and classic cocktails become more popular.
Rob Roy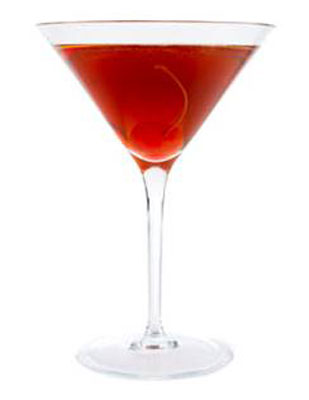 The Rob Roy is a cocktail created in 1894 by a bartender at the Waldorf Hotel in New York City. The drink was named in honor of the premiere of Rob Roy, an operetta by composer Reginald De Koven and lyricist Harry B. Smith loosely based upon Scottish folk hero Robert Roy MacGregor. Like a Manhattan, the Rob Roy can be made sweet, dry, or perfect. The standard Rob Roy is the sweet version, made with sweet vermouth. A dry Rob Roy is made by substituting dry vermouth for the sweet vermouth, this is not usual. A perfect Rob Roy is made with equal parts sweet and dry vermouth. Overwhelmingly, the Rob Roy is made with sweet Vermouth. The Rob Roy is usually served in a cocktail glass and granished with a maraschino cherry (for the sweet version). Funniest use of this drink in a move is the 1970's movie "Turning Pointe" where the heroine goes on stage after being dumped and drinking a half a dozen of these. Drunk ballerinas are always funny.
Hemingway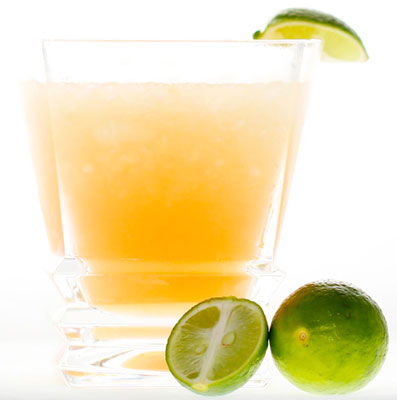 A great classic cocktail of Rum, Maraschino Cherry Liqueur, key lime juice and grapefruit juice, this drink is the perfect summer drink.  Time to go back to the 40's. 
Want more classic cocktails - Classic