Tangerine Rosemary Spritzer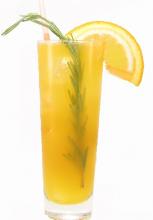 The Tangerine Rosemary Spritzer is a woderfully refreshing beverage with lots of herbal flavors.  The citrus, rosemary, and gin blend well together making for a drink with just the right balance of sweet and savory.
Ingredients:
2 oz Gin
3 oz Tangerine Juice
3/4 oz Fresh Lime Juice
Sprig or Romemary
Club Soda
Preparation:
In Collins glass with ice mix Gin, tangerine juice and fresh lime juice.  Stir then top with club soda.  Garnish with lemon/orange and a rosemary sprig.