Summer Drinks

We put together a bunch of drinks to keep your summer going. So have a party and fire up the lawn chairs and BBQ by the pool. These drinks are sure to inspire you to pull out the stops when setting up a poolside bar. Need an excuse to throw a party? A Hawaiian or Island themed party is just the thing to get summer moving in the right direction.
To start we picked the perfect summer drink, the Blue Hawaiian. Originating in Hawaii in a bar on Waikaki over looking the Pacific Ocean it owes it's blue color to Blue Curacao. Challenged to come up with a drink to use the liquor the bartender pulled off this twist on a tropical drink. Brings to mind long boards, sun, small bikinis and long tan legs!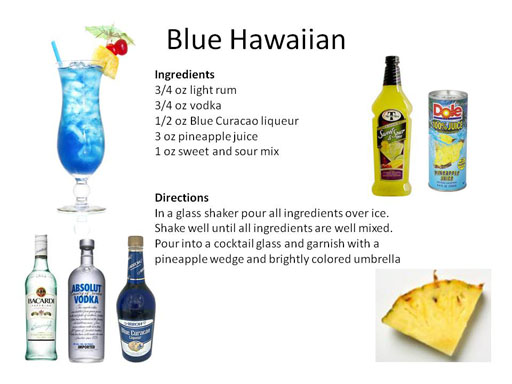 English Summer is a drink that sounds a little strange but is cool crisp and inviting. Give it a try for something that is delightfully different.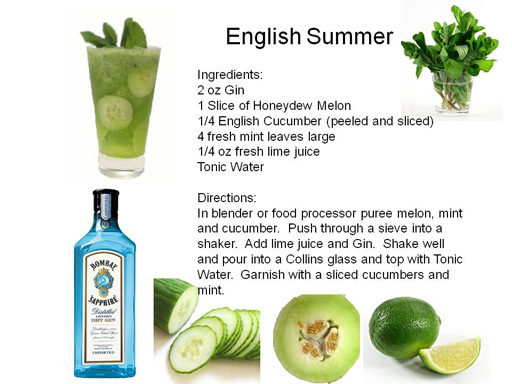 Strawberry Thyme Lemonade light an cool with a hint of green. A perfect drink for pairing with food or just enjoying a summer afternoon. Perfect for those vodka lovers that don't like sweet.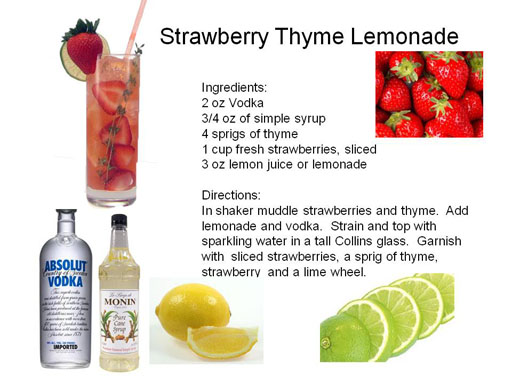 Quite A Mango a rum based drink that is as fun to drink as it is to say. Rum and Mango juice go so well together but the basil and the lime keep it smooth and light but not too sweet. Enjoy!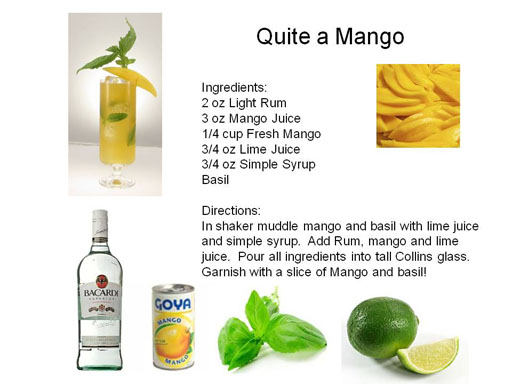 Watermelon Mint Spritzer is sure to be a summer hit. One of our favorites using Gin and fresh watermelon it is light, cool and breezy. Give it a try for something that is a step outside the ordinary.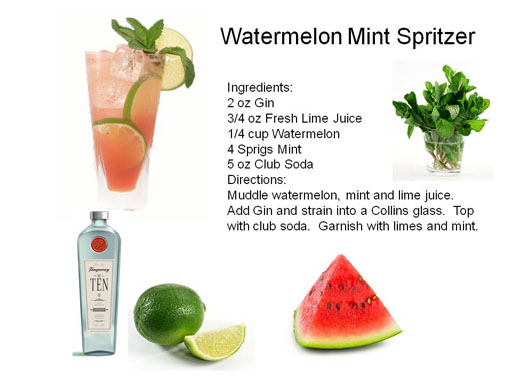 Tangerine Rosemary Spritzer is a play on some wonderful summer flavors that would be great all the way into the fall. Using Gin and and keeping it light and flavor packed it is yet another twist on the classic spritzer.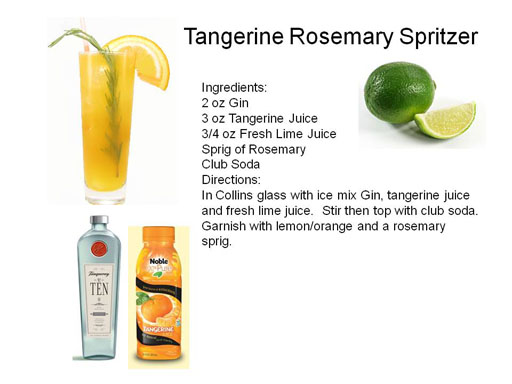 Some times you just need a bloody good drink! Blood Orange Mojito fills that spot and then some. Try it out and you may never go back!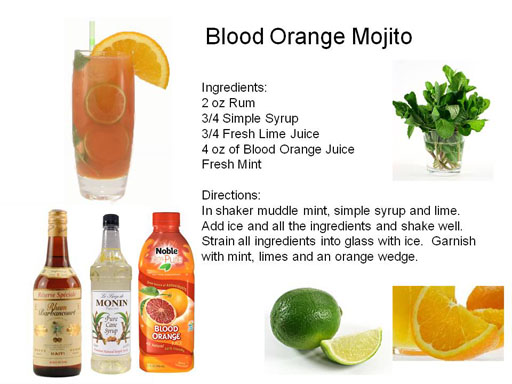 One of our more interesting combinations the Sake Cucumber Cooler has to be tasted to be believed. Perfect with pairing with Sushi or at a Luau this drinks sets itself apart from the rest. Give it a try; you'll be surprised.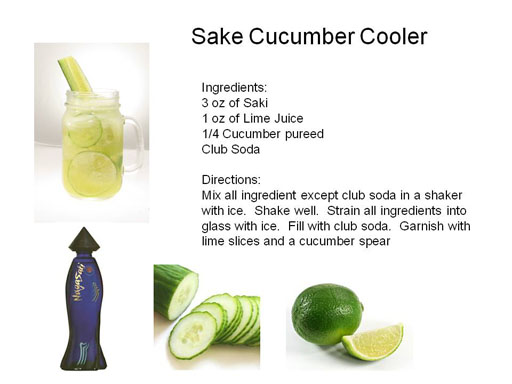 A perfect Luau drink Guava Lime Cooler it is like a breezy tradewind in your face in a pool chair overlooking the Pacific. Perfect.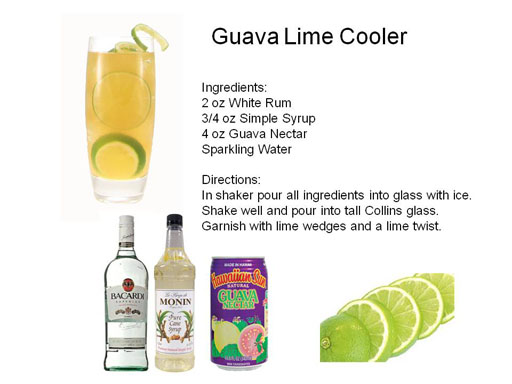 Great for Brunch or any party where you want to offer something not too strong Neverland Bellinis fit that bill. Great with Brunch Food or afternoon parties the combination of citrus, rosemary and raspberries combined with sparking wine is wonderful.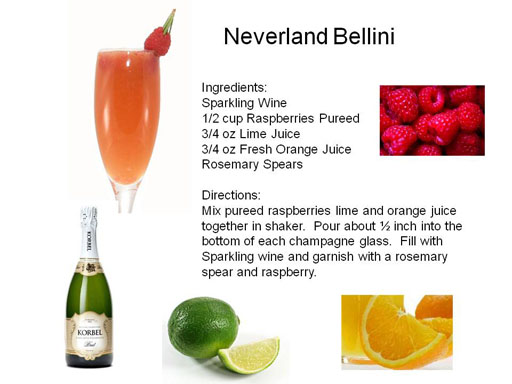 Quote The Raven combines blueberries, vodka and sparkling wine for a full flavored drink. Great for something that is a little off the wall and delightfully different.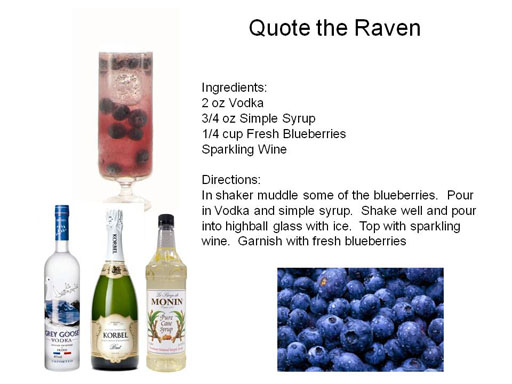 One of our frozen concoctions Kiwi Sunset is just good. The perfect pairing of a margarita base with cool summer fruits!.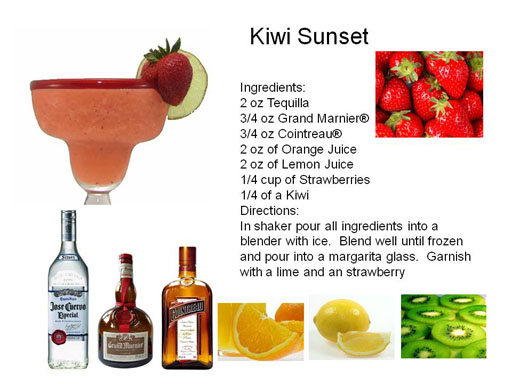 Now that Cuba is almost open to tourists it gives new meaning to the term Rum Runner. Think of lazy summers on beaches watching the sail boats move between Cuba and the Keys.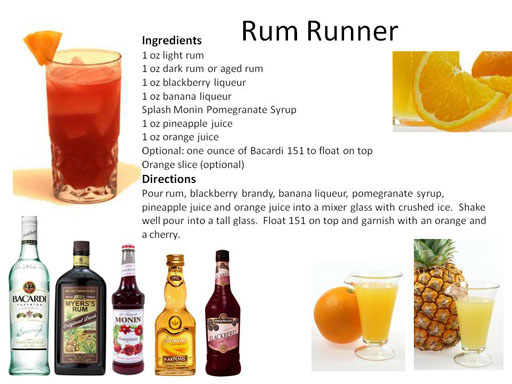 The Ice Bomb is just that! Drink carefully because these go down light and smooth. Great for cooling down on a hot summer day, the blend of 2 flavored vodkas and regular vodka mask the fact this drink has a serious kick. Cool and refreshing.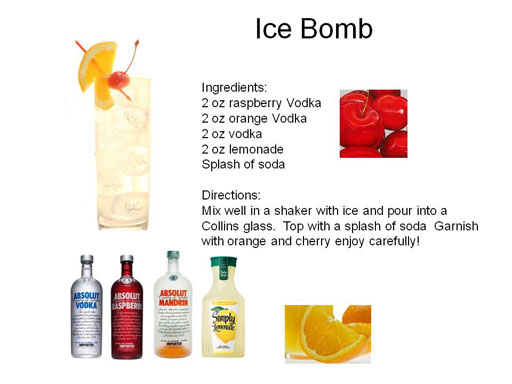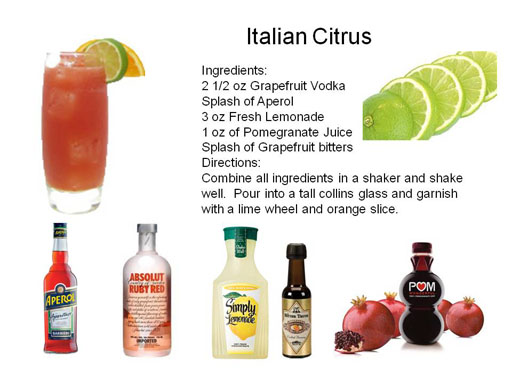 A killer Citrus drink with the hint of Italy, the Italian Citrus is a refreshing drink that takes you to a sidewalk cafe people watching and taking in ocean views.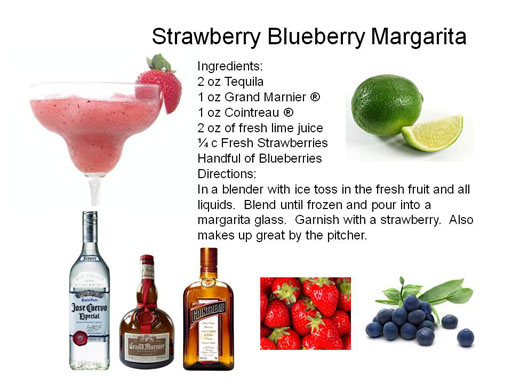 This icy cool drink is great by the pitcher or glass. The Strawberry Blueberry Margarita takes the best off fresh summer fruit and make a drink that will be the hit of any pool party or brunch.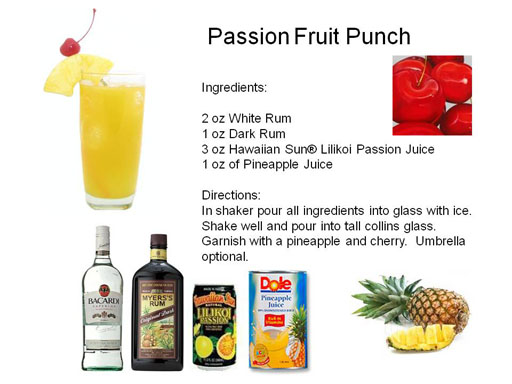 This Passion_Fruit_Punch is a tropical treat. Rum and Hawaiian Sun Passion Fruit Juice make this drink something you can sip all day long. Great for a poolside brunch or party it mixes up well in large batches.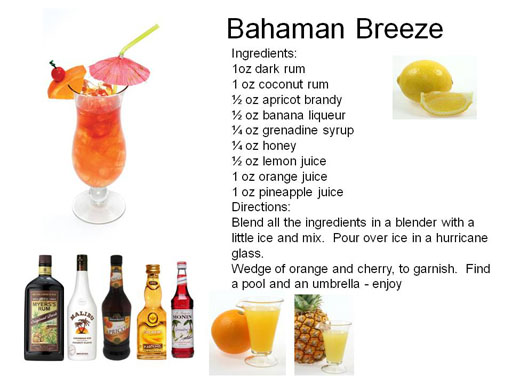 A light classic that is easy to make, tastes great and uses only a few ingredients the Vodka Collins is an easy drink for the novice bartender.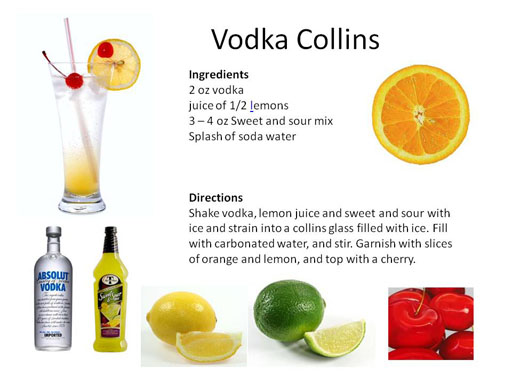 Hurricanes kick off June with a bang and if you drink enough of them you may miss hurrican season all together!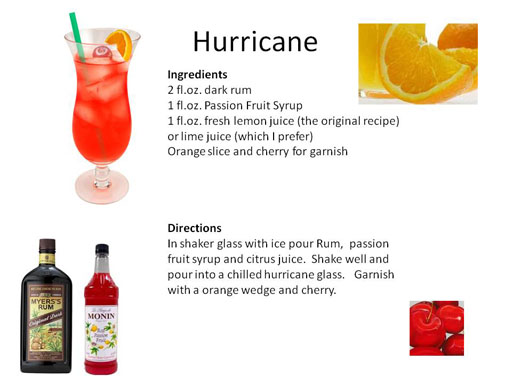 Island Swizzle is a great drink to impress your friends. Light good and a step above the run of the mill it combines all the things we love in a summer cocktail. Interesting taste with unique flavors make it a summer favorite.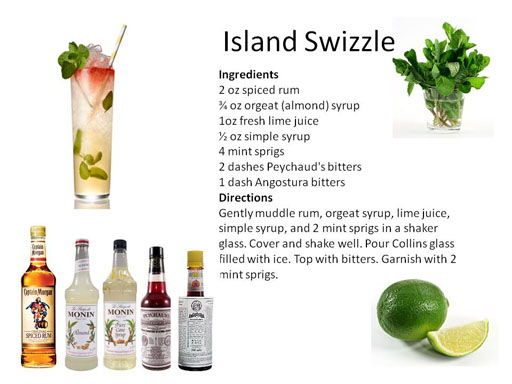 One of the classics Mojito is a rum based drink that is based on a drink from the 1800's out of Cuba. Classic Mojitos have only Rum, sugar, fresh lime juice and mint. The ultimate summer cooler it is often served with a splash of soda to make it even lighter. White or amber Rums are used for a crisp clean taste. These go down way too easy so keep track of the number while sitting around the pool.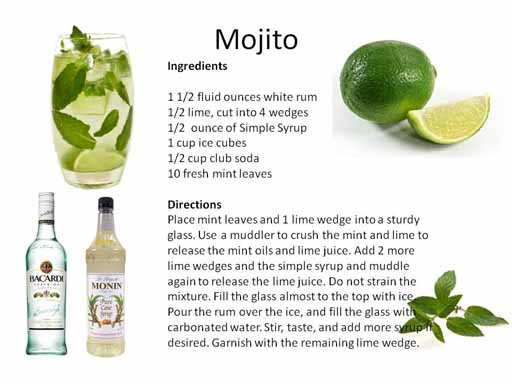 A clean classy drink that will dress up any summer afternoon activity or party Turn a New Leaf is a great tasting drink that goes well with food and keeps the party going. Nice use of botanticals help to make this a change up to the normal summer cocktail.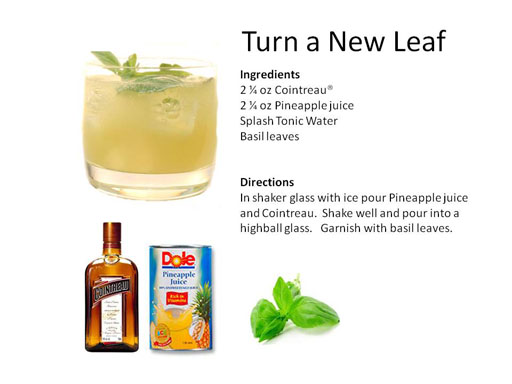 For something light and fresh try Kiss On The Lips as a drink that will keep you sipping all evening long. More of a kiss than a make out session it keeps you going for the long haul.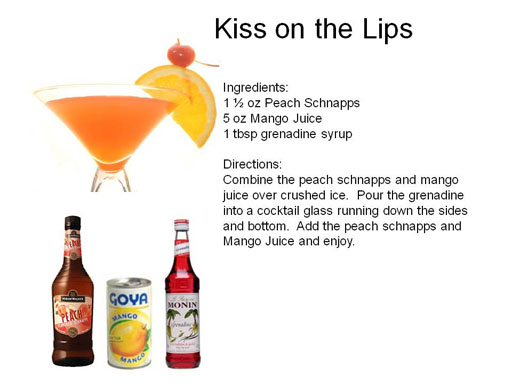 Tropical Peach Soda is a way to take advantage of summer fruit to make a drink that is light refreshing and fun. Visually it looks like you want summer to be, colorful, light and pretty. So bottoms up!