Suffering Bastard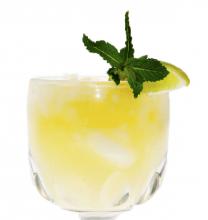 Originally called the suffering Bar Steward, Suffering Bastard was supposed to cure a hangover. Not sure that it would but you don't need to wait to try it, this was one of our favorites of this batch.
Ingredients:
1 oz Bourbon
1 oz Gin
1/4 oz Fresh Lime Juice
1 dash Angostura Bitters
1/2 oz Ginger Liqueur
Ginger beer
Mint Sprig
Preparation:
Pour all ingredients, except Ginger Beer into a shaker glass filled with ice.   Shake well and strain into a Don Ho or Tiki mug filled with crushed ice.  Fill with Ginger Beer and garnish with a Mint Sprig and a slice of lime.