Strawberry Thyme Lemonade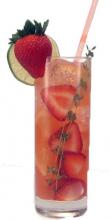 A twist on the old summer standby, lemonade, the Strawberry Thyme Lemonade is a woderful adult treat for those hot summer days.
Ingredients:
2 oz Vodka
3/4 oz of simple syrup
4 sprigs of thyme
1 cup fresh strawberries, sliced
3 oz lemon juice or lemonade
Preparation:
In shaker muddle strawberries and thyme.  Add lemonade and vodka.  Strain and top with sparkling water in a tall Collins glass.  Garnish with  sliced strawberries, a sprig of thyme, strawberry  and a lime wheel.