Strawberry Blueberry Margarita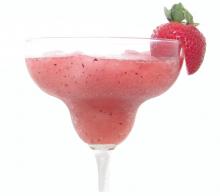 Fresh strawberries and blueberries with a traditional approach to a margarita make this a very refreshing and fruity drink. Great on hot summer days, it makes up well by the pitcher for brunch or pool side parties.
Ingredients:
2.5 oz of silver tequila
1 oz of Cointreau®
1/2 oz Gran Marnier®
4 oz fresh squeezed lime juice
1/4 cup fresh strawberries washed and quartered
small handful of fresh blueberries washed
Preparation:
In a blender combine all the liquid ingredients. Add ice and fruit. Blend till smooth about 3 minutes for a single drink. Pour into a margarita glass a garnish with a sliced strawberry!